Chapter 3: BRANCHING WAYS

IT HAS BEEN MANY DAYS AND NIGHTS. THOUGH WORMWOOD DID NOT COUNT THEM AS THEY PASSED. HE HAD NO INTEREST IN KNOWING WHAT TIME IT WAS. NOR WHAT WAY HE WAS GOING.
AS HE WENT THROUGH STRANGE NEW PLACES. ALONG THIN PATHS THAT HE HAD NEVER SEEN BEFORE.
YET WORMWOOD COULD NOT STOP SOBBING. AND IT WAS NOT ONLY HIS SHATTERED HEART THAT HURT IN HIS CHEST. BUT SO WAS HIS BODY STRAINING. WITH EACH STEP, GREAT PAIN SURGED THROUGH WORMWOODS MUSCLES. HOWEVER, HE WAS UNABLE TO STOP.
SO DID HIS LUNGS BURN WITH EVERY BREATH. AND HIS STOMACH CRAMPED FROM THE HUNGER. THOUGH HE COULD NOT EAT. HIS ONLY DRINK WERE THE SALTY TEARS STILL ROLLING DOWN HIS FACE.
WORMWOODS MIND HAD TROUBLE CARRIYING A SINGLE TRAIN OF THOUGHT. AS ALL OF HIS ENERGY WENT INTO STAYING UPRIGHT.
EVEN WHEN THORNY BRANCHES CUT INTO HIS SKIN. HE DID NOT REACT. THE FRESH BLOOD WOULD ONLY TEMPORARILY WARM HIS TIRED LIMBS.
THOUGH HIS BRAIN COULD NOT REMEMBER, HIS BODY DID. AND IT DID WITHOUT HIS CONSENT.
SO, WORMWOOD WOULD FEEL EMOTIONS. ONES THAT HE HAD NOT FELT FOR DECADES. YET THEY WERE SOMEHOW FAMILIAR TO HIM.
BUT THESE WERE NOT KIND THINGS THAT HE FELT. AS THEY WERE TO HIM LIKE BILE RISING IN HIS STOMACH.
WORMWOOD DID NOT KNOW WHAT CAUSED HIM TO BE IN THIS STATE. AND IT DID NOT SEEM AS IF IT ONLY CAME FROM πS DEPARTURE. UNBEKNOWNST TO HIM, IT WAS BROUGHT ON BY SIMILAR EVENTS THAT TOOK PLACE IN HIS PAST.
AS IT HAPPENED WHEN HE WAS JUST A CHILD. THE JOURNEY WAS LONG. AND THEY WERE NOT WELL PREPARED. AS THEY HAD NOT MANY BELONGINGS LEFT. SO WAS THE FOOD AND DRINK SCARES.
ALL THE ODDS WERE AGAINST THEM. STILL, THEY HAD TO FLEE THEIR HOME. AS IT WAS NO LONGER INHABITABLE. TOWARDS SOMEPLACE NEW.
AT FIRST THERE WERE MANY PEOPLE. OVER TIME THEIR NUMBERS SHRUNK HOWEVER. SOON THERE WAS NO ONE LEFT EXCEPT FOR WORMWOOD AND HIS FATHER.
AND ALONE THEY WOULD MOVE ON. THROUGH DEAD AND DYING UNDERBRUSH. THEY WALKED FOR ENDLESS DAYS.
BUT NEVER WOULD THEY REACH WHEREVER THEY HAD TO GO. AND HIS FATHER GREW BITTER.
EVENTUALLY WORMWOOD WOULD BECOME TIRED. AS THEY ONLY RESTED FOR SHORT TIMES. IT WAS NOT NEARLY ENOUGH FOR A SMALL CHILD.
BUT HIS FATHER KEPT ON GOING. AND EVEN WHEN WORMWOOD CRIED OUT, HE WOULD NOT CARRY HIM. HIS TINY LEGS COULD NOT KEEP UP WITH THE LONG STRIDES OF AN ADULT. AND THE DISTANCE BETWEEN THEM WOULD STRETCH.
"Papa!"
WORMWOOD WOULD CRY THROUGH THE NIGHT.
"I can no longer walk! Please! Please wait for me!"
BUT HIS FATHER WOULD NOT WAIT. INSTEAD, HE ONLY TURNED HIS HEAD. AND OVER HIS SHOULDER HIS FATHER GAZED AT WORMWOOD. HIS EXPRESSION SEEMED STRANGE TO HIM.
"Die then."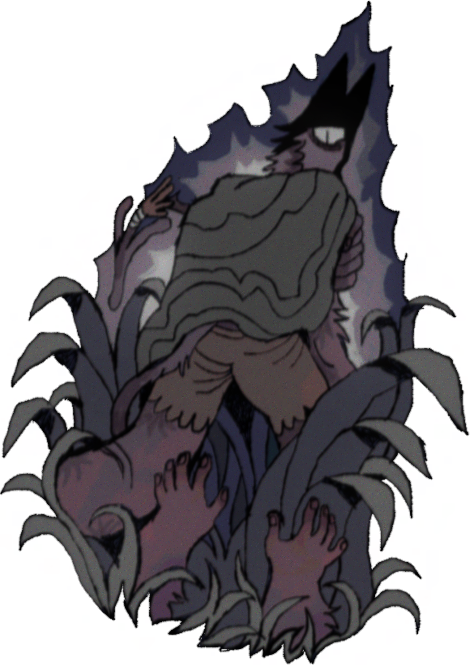 THESE WERE THE LAST WORDS HE EVER HEARD FROM HIM. AS WORMWOOD STUMBLED AND FELL INTO THE DIRT. HIS FATHER WALKED ON FURTHER. AND SOON HE DISAPPEARED BETWEEN THE SHRUBBERY.
WORMWOOD WOULD CRY UNTIL HIS VOICE WAS GONE. AND HE WOULD STILL CRY WHEN THE NIGHT TURNED INTO MID DAY. BUT NO ONE EVER CAME TO HIS RESCUE. AND HE WOULD NEVER SEE HIS FATHER AGAIN.
OR ANYONE ELSE AT ALL.
WORMWOOD GRABBED HIS HORNS. AND HE SHOOK HIS HEAD VIOLENTLY. IN A LAST EFFORT TO BANISH OFF THESE HORRID FEELINGS.
IT ALMOST CAUSED HIM TO SLIP IN THE WET EARTH BENEATH HIM. HE COULD ONLY HOLD ONTO A TREE BRANCH TO KEEP HIS BALANCE.
FOR A SHORT MOMENT THOUGH, HIS BRAIN BECAME OCCUPIED WITH NOTHING BUT THIS VERY BRANCH.
AS HE STUDIED ITS STRUCTURE. FEELING ITS SURFACE ON HIS PALM. NEVER HAD HE SEEN SUCH A STRANGE PART OF A TREE. OR HAD HE?
IT SEEMED TO BE WOVEN.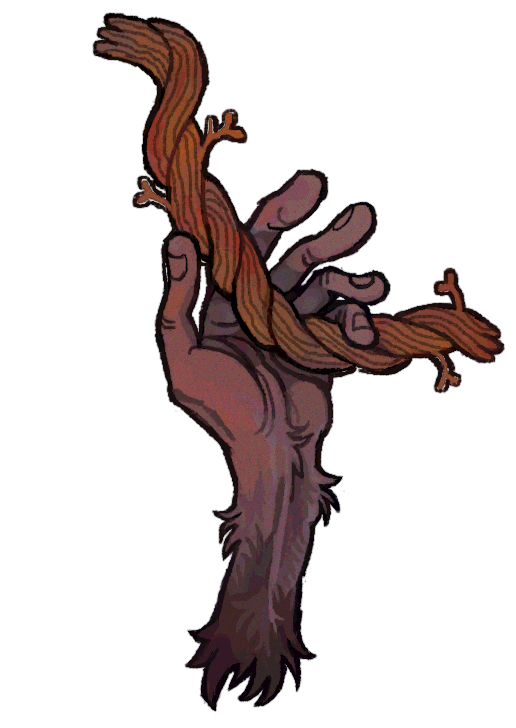 YET WORMWOOD KEPT ON GOING FURTHER. THE LONGER HE WALKED, THE SLOWER HIS STEPS BECAME. AS THE SHADOW OF DEATH LOOMED CLOSER ABOVE HIM THAN EVER.
DESPITE THAT HE COULD NOT CARE. THIS WAS THE ONLY REASON WHY HE KEPT MOVING. WALK ON UNTIL HE WOULD FALL OVER DEAD!
THOUGH IN HIS BRAIN, IT SEEMED HYPOCRITICAL. IF HE WANTED TO DIE, WHY WAS HE RUNNING FROM DEATH? WOULD IT NOT BE BETTER TO JUST LAY DOWN AND STARVE?
AND THERE WERE MANY BEAUTIFUL PLACES THAT HE PASSED. THE MOST WONDERFUL ETERNAL RESTING SPOTS THAT ONE COULD CHOOSE. HOWEVER, HE WAS UNABLE TO STOP HIMSELF FROM WALKING.
AS IF SOMETHING WAS MAKING HIM MOVE. EVEN IF HE WANTED TO, HE COULD NOT SLOW DOWN. WAS HE STILL SO AFRAID OF DEATH? OR WAS IT NOT HE WHO DECIDED TO WALK?
IT SEEMED CRUEL TO HIM. FORCED TO CONTINUE LIVING AND SUFFERING LIKE THIS. AND EVEN IN HIS LAST HOURS HE WAS NOT GRANTED ANY PEACE.
WHAT A SAD EXISTENCE HE HAD LIVED. HE PITIED HIMSELF.
AND WORMWOOD WISHED THAT HE HAD DIED WITH HIS MOTHER. OR STARVED IN THE FOREST SOONER. GOTTEN MAULED BY A MOUNTAIN LION. IMPALED BY πS ARROW. BURNED TO ASH WITH HIS TREE.
YET FATE SEEMED TO HAVE TAKEN A LIKING TO HIS AGONY. NOW IT WAS TOYING WITH HIM. WORMWOOD DID NOT WANT TO GIVE IT THE SATISFACTION OF SEEING HIM SUFFER ANY LONGER. THEN WHY WOULD HE NOT JUST FALL OVER? SOMETHING WOULD NOT LET HIM.
HIS MIND WAS TIRED. AND SO WAS HIS BODY. HE HAD NO ENERGY TO FIGHT OFF THIS COMPULSION. SO EVENTUALLY HE ACCEPTED IT. AS WORMWOOD CAME TO TERMS THAT HIS PATHETIC LIFE WOULD FIND AN EQUAL END.
EACH ADDITIONAL DAY FELT INFINITE. AND WORMWOOD WAS SURPRISED THAT HE STILL COULD GO SO FAR. YET IT SEEMED FITTING. OF COURSE, HIS FINAL TORTURE WOULD BE AS DRAWN OUT AS POSSIBLE.
EVENTUALLY HIS SURROUNDINGS BEGAN TO CHANGE. HIS MIND WAS CLOUDY BUT STILL HE NOTICED IT.
HE COULD NOT EXPLAIN WHAT CAUSED HIM THIS FEELING. BUT THE GROUND BENEATH HIM APPEARED TO BE MORE FORGIVING TO HIS FEET. SO DID THE WAY WIDEN.
AND HE REALIZED THAT HE WAS NO LONGER FOLLOWING A DEER TRAIL. INSTEAD, HE WAS ON A PATH.
FURTHERON, HE SAW BRANCHES FAR ABOVE HIM. BUT THEY WERE NOT THIN AS THE ONES HE WAS USED TO. AS THESE ONES WERE MASSIVE PATHWAYS. AND THEY SEEMED TO BE WOVEN. JUST LIKE THE BRANCH THAT HE SAW DAYS AGO.
THE SIGHT GAVE WORMWOOD A SENSATION IN HIS CHEST. ONE THAT HE COULD NOT PLACE.
AND THEN IN THE DISTANCE THE WAY SEEMED TO OPEN INTO A BRIGHT CLEARING. WORMWOOD WOULD NOT HAVE PAID THAT FACT ANY MIND. AS THESE WERE A COMMON SIGHT FOR HIM ON HIS DEATH MARCH. IT WOULD HAVE BEEN UNREMARKABLE.
IF IT WERE NOT FOR THE VOICES THAT CLEARLY EMANATED FROM THIS PLACE.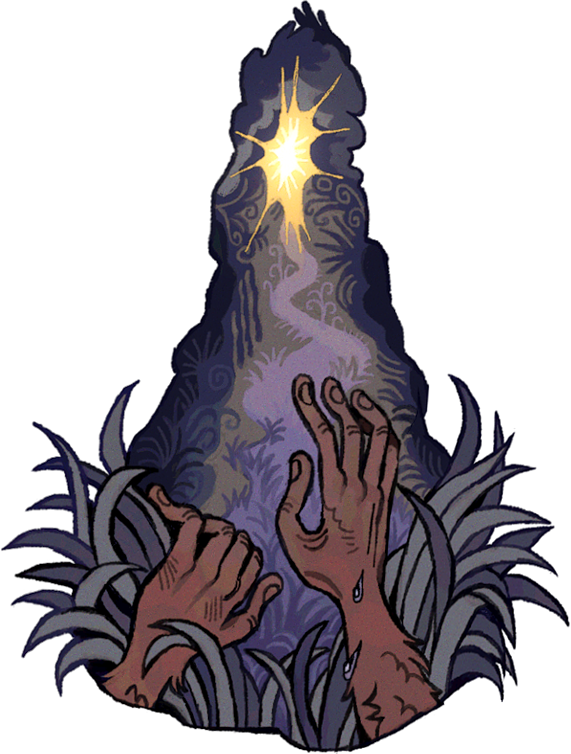 A SUDDEN SHOCK TRAVELED THROUGH WORMWOODS ENTIRE BODY. AND IT WAS THE FIRST TIME IN MANY DAYS THAT HE CAME TO A COMPLETE HALT. HIS HEART WAS BEATING AGAINST THE INSIDE OF HIS CHEST. IT FELT LIKE IT WOULD EXPLODE AT ANY MINUTE. AND HE DID NOT DARE TO TAKE A BREATH AS HE LISTENED.
THE WORDS WERE SPOKEN IN A LANGUAGE THAT SOUNDED FAMILIAR TO WORMWOOD. IT TOOK HIM A LONG MOMENT UNTIL HE REALIZED THAT THEY WERE SPEAKING IN HIS OWN TONGUE.
AND EVEN THOUGH IT WAS IMPOSSIBLE, HIS FIRST INSTINCT WAS TO CALL OUT FOR π. TO HIM IT COULD HAVE BEEN NOT ANYONE OTHER.
BUT HIS THROAT WAS SORE FROM THE THIRST. WORMWOOD COULD NOT EVEN WHISPER IF HE WANTED TO. INSTEAD, HIS BODY SURGED WITH SUDDEN ADRENALINE. AND WITH THE LAST ENERGY THAT HE COULD MUSTER, HE RAN TOWARDS THE OPENING BETWEEN THE TREES.
AS HE BROKE THROUGH THE TREE LINE, HE EXPECTED NO ONE ELSE BUT π. TO STAND BEFORE HIM AND TAKE HIM IN HIS ARMS.
AND HE WOULD APOLOGIZE TO WORMWOOD. FOR BEING SO HORRIBLE AND LEAVING HIM LIKE THIS. WORMWOOD WOULD FORGIVE HIM. AND AT LAST, THEY WOULD HAVE FOUND EACH OTHER AGAIN.
BUT IT WAS NOT π WHO STOOD THERE IN THE TALL GRASS.
BEFORE WORMWOOD WAS A MAN. AND HE DID NOT RESEMBLE π AT ALL.
THERE WAS NO BONY FACIAL DISC. INSTEAD, HE HAD TALL BLACK HORNS ON HIS SKULL. AND HIS LONG SPADE TAIL WAS NERVOUSLY TWITCHING BEHIND HIM. AS HIS FUR STOOD ON EDGE.
HE EYED THE MAN IN CONFUSION. HIS FACE WAS CONTORTED IN AN UNUSUAL WAY. ONE THAT WORMWOOD COULD NOT READ.
IN FACT, HE HAD NEVER SEEN A FACE LIKE THIS BEFORE. IT MIGHT HAVE BEEN FEAR. OR WAS IT HORROR? IT PUZZLED WORMWOOD.
NEITHER OF THEM SAID A WORD. ONLY WORMWOODS HEAVY BREATHING COULD BE HEARD IN THE SILENCE.
AND HE GAZED DOWN ON HIS OWN BODY. WORMWOOD UNDERSTOOD NOW WHY THE MAN WAS LOOKING AT HIM SO STRANGELY. IN THE BRIGHT DAY LIGHT IT WAS APPARENT THAT HE WAS IN BAD SHAPE.
HIS LIMBS WERE BRUISED AND BLOODY. OPEN WOUNDS WERE COVERING ALL OF HIS EXPOSED SKIN. SO WAS HIS FUR MATTED FROM THE DIRT AND SWEAT. AND HIS FRAME SEEMED EVEN SKINNIER THAN IT HAD EVER BEEN. HE LOOKED LIKE A WANDERING CORPSE.
THEN IT FELT AS IF THE GROUND GAVE WAY UNDERNEATH WORMWOOD. BEFORE HE COULD COMPREHEND WHAT WAS HAPPENING, HIS BODY WAS LAYING IN THE GRASS. WORMWOOD TRIED TO FIND HIS BALANCE AGAIN.
HE STRUGGLED TO GET UP. BUT IT WAS AS IF HE COULD NO LONGER CONTROL HIS OWN MOVEMENTS. HIS BRAIN SEEMED TO SPIN.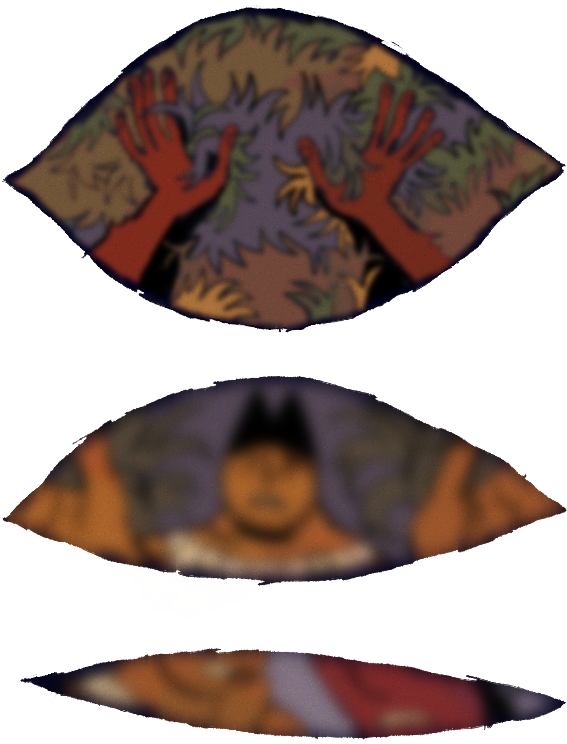 HE COULD FEEL HANDS ON HIS SKIN. AND FOR SOME REASON WORMWOOD THOUGHT THAT HE WAS BEING SPOKEN TO. YET HE WAS UNABLE TO HEAR OR SEE ANYTHING AROUND HIM. THE WORLD TURNED DARK AS HE SLIPPED INTO UNCONSCIOUSNESS.

π FELL ONTO THE PULSING FLESH. HIS FUR WAS WET AND STICKY. SO WAS HIS BODY SHAKING FROM THE COLD.
AND HIS CHEST STRAINED AS HE COUGHED UP THE AMNIOTIC FLUID OUT OF HIS LUNGS. GAGGING ON ITS SOUR TASTE.
π LAYED THERE CATCHING HIS BREATH. HIS LIMBS SEEMED TO SINK INTO THE SOFT PULP. BUT IT COULD NOT HOLD HIS WEIGHT FOR VERY LONG.
AS THE THIN LAYER OF CONNECTIVE TISSUE BROKE, HOT BLOOD BEGAN TO POOL AROUND HIM. IN AN AMOUNT GREATER THAN A GROWN BULL WOULD HAVE LET AFTER SLAUGHTER.
THE VILE OUDERS MIXED INSIDE HIS NOSE. SO DID THE NEW TASTES AND SOUNDS AND TOUCH ASSAULT HIS SENSES. HIS STOMACH TURNED. AND HE WOULD EMPTY IT IN FRONT OF HIM.
MOMENTS LATER, RACHIEL BROKE OUT OF HER OWN PLACENTA NEXT TO π. THOUGH SHE DID NOT STUMBLE. AS HER MOVEMENTS WERE AS GRACIOUS AS THEY HAD BEEN ON EARTH. AND SHE LOOKED DOWN TO π. HE WAS STILL CHOKING ON HIS OWN GALL.
"The first moments are always the most bothersome. Threaten not π! Your system will become used to the new environment quickly."
π COULD NOT SPEAK HOWEVER. AS HIS MIND WAS OVERSTIMULATED WITH THE SITUATION. AND IT TOOK HIM AN INFINITE SPAN OF TIME BEFORE HIS BREATH WOULD STABILIZE.
"Wh- where are we?"
EVENTUALLY π MANAGED TO TALK.
"Inside the Body! The Body Hidden Above The Heavens! At the outermost lens. Look upon your world π!"
RACHIEL TURNED AWAY. AND π FOLLOWED HER WITH HIS SIGHT.
IT WAS THEN WHEN HE SAW THE GREAT SPHERE THAT THEY WERE SURROUNDED BY. IT STRETCHED IN EACH DIRECTION AS FAR AS HE COULD SEE. AND ITS MATERIAL GLISTENED OPALESCENT. YET IT WAS TRANSPARENT.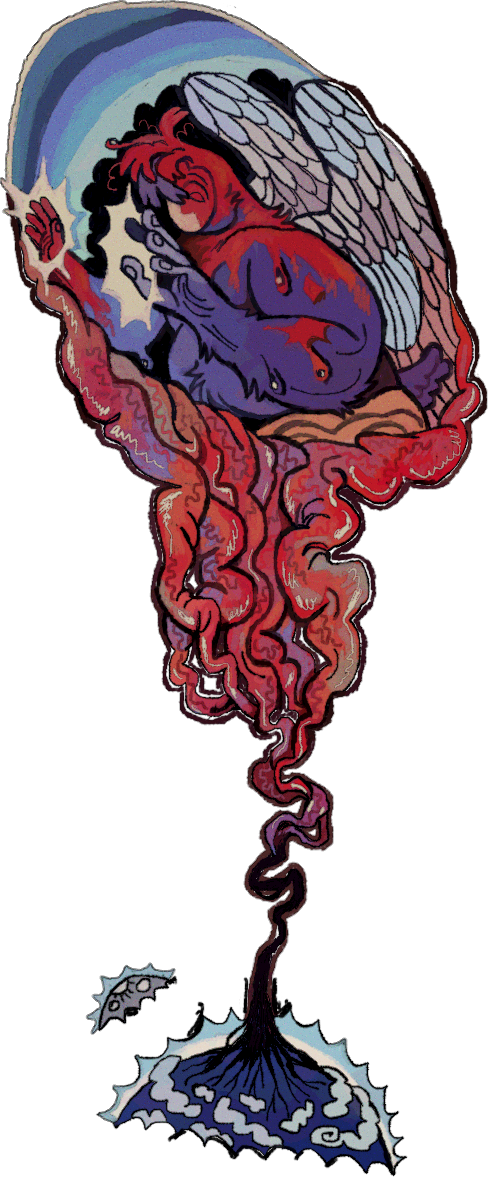 AND LOOKING THROUGH IT π WAS IN AWE.
THERE BEFORE HIM LAY EARTH SUSPENDED IN THE BLACKNESS OF SPACE. HIS VERY HOME PLANET. IT WAS SO FAR AWAY. BUT CLOSE ENOUGH THAT HE COULD SEE CLEARLY THE OUTLINE OF THE TWIN CONTINENTS ON ITS SURFACE.
FROM WHERE THEY STOOD, THE TENDRILS SEEMED TO ORIGINATE. AT THEIR BASE THEY WERE MANY KILOMETERS THICK. AS THEY STRETCHED ON, THEY APPEARED TO THIN OUT. AND THEY LOOKED LIKE NUMEROUS FILAMENTS AS THEY TOUCHED THE GROUND.
IT WAS DEATHLY QUIET. AND π HAD NEVER EXPERIENCED SUCH ALL-ENCOMPASSING SILENCE. HE COULD HEAR HIS OWN HEART BEATING THROUGH HIS BRAIN. IT WAS DEAFENING TO HIM.
AND AS HE GAZED UPON HIS BLUE PLANET, SOMETHING TIGHTENED IN HIS CHEST. A FEELING CAME OVER HIM THAT HE HAD NOT FELT PREVIOUSLY.
HE REALIZED THAT HE FELT AT HOME.
AS HE HAD NEVER FELT ANYTHING CLOSE TO THIS. NEVER IN HIS MOUNTAIN NOR IN THE BEAUTIFUL FOREST HE HAD LONGED TO BE IN FOR SO LONG.
EVEN THOUGH RACHIEL TOLD HIM ABOUT ITS APPALLING NATURE. THIS SCAPE FILLED π WITH EASE.
YET HE COULD NOT DENY HOW HIS SENSES WERE STRAINED BY THE GORE. THESE FEELINGS WERE CLASHING WITHIN HIM. AND IT WAS THAT MIXTURE OF EMOTIONS WHICH PARALYZED HIS BODY AND MIND.
MANY DECADES PASSED UNTIL π WAS ABLE TO STAND ON HIS OWN. WITH EACH STEP HE TOOK, THE EPIDERMIS RIPPED UNDER HIS FEET. AND HE WOULD BE COVERED TO HIS ANKLES IN FRESH BLOOD.
"Better?"
RACHIEL ASKED.
"I think so."
πS VOICE BROKE AS HE ANSWERED. ONLY WITH EFFORT COULD HE BRING THE WORDS FROM HIS THROAT.
"Let's get this over with-"
"Not so eager π!"
RACHIEL CUT HIM OFF.
"How would you be able to kill without an appropriate tool!"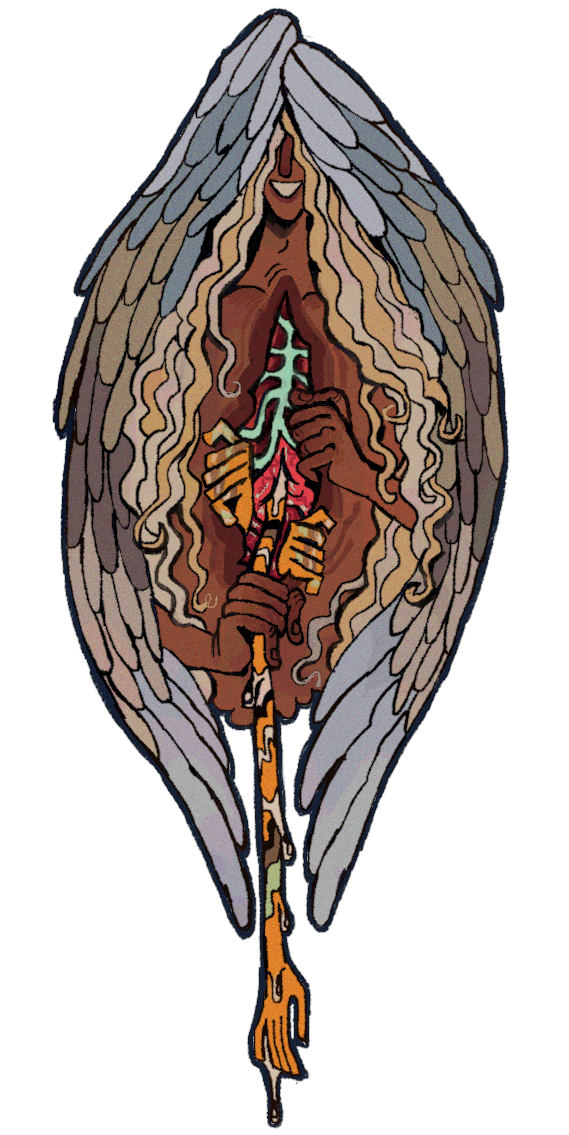 AS SOON AS SHE FINISHED SPEAKING, SOMETHING SHIFTED BENEATH HER SKIN. ALL AT ONCE HER RIBCAGE TORE. BUT JUST LIKE WHEN SHE OPENED πS SPINE, NO BLOOD WOULD FLOW. AND FROM BETWEEN HER PULSING ORGANS, SHE WOULD BRING FORTH A WEAPON.
IT WAS A BOW AND A SINGLE ARROW.
"Take good care of it π! As I will only let you borrow it for the time being."
GOLDEN WAS BOTH ITS APPEARANCE. SO WAS IT HEAVIER THAN THE CONSTRUCTION WOULD SUGGEST. π HAD TROUBLE HOLDING IT AS RACHIEL GAVE IT TO HIM.
YET HE EYED ITS SHAPE. THE ARROWHEAD WAS LIKE A MIRROR. AND THE ARC WAS COMPOSED OF TWISTING STRANDS. THE THREAD SEEMED THINNER THAN HAIR. π COULD NOT AVERT HIS GAZE AS HE SPOKE.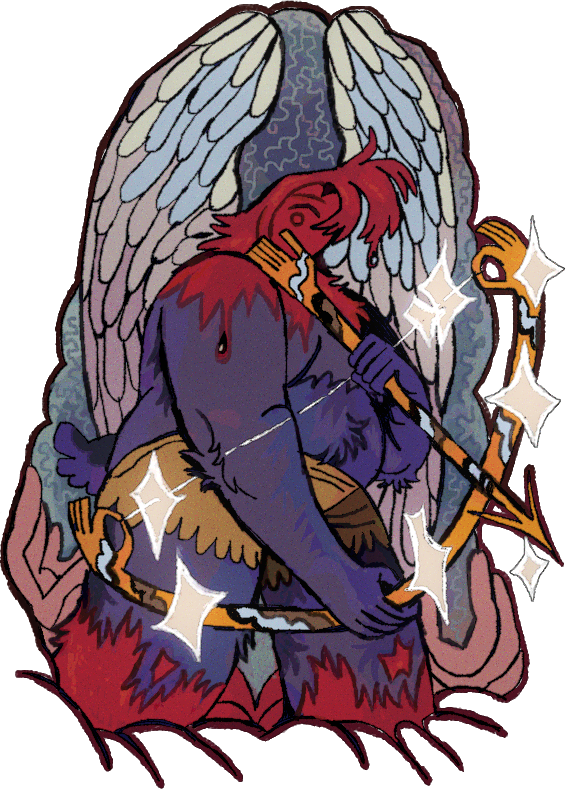 "I am not good at archery."
"Don't threaten π! It will be more than sufficient as there is no need for combat. Its use will only be to harm its vital tissue!"
"I see…"
WITH THAT π ROSE THE BOW. AND HE PREPARED TO SHOOT THE ARROW DEEP INTO THE FLESH.
BUT BEFORE HE WAS ABLE TO LET GO, RACHIEL HELD HIS ARM. STOPPING HIM MID-MOVEMENT.
"Contain your murderous instinct for now though! It will start soon enough. But it is best if we begin deeper within the body. As we should be careful to avoid triggering a confrontation with the immune response too soon."
πS FACE TURNED TO A LOOK OF CONFUSION.
"Confrontation? But you said there would be no need for fighting?"
"Correct π!"
RACHIEL LAUGHED. AND WITH HER BEAUTIFUL SMILE SHE CONTINUED.
"It would be useless! For a meeting with the immune response would end for you in only one way."
SHE TURNED AWAY FROM THE LENS. π FOLLOWED HER GESTURE. SO DID HE FEEL LIGHTHEADED.
BEHIND THEM A DARK CORRIDOR HAD APPEARED. OR IT HAD BEEN THERE THE WHOLE TIME.
"Shall we?"
RACHIEL SPOKE IT LIKE A QUESTION. YET THEY BOTH KNEW THAT THERE WAS NO OTHER WAY TO GO. WITH WET STEPS THEY DISAPPEARED DOWN THE PATH.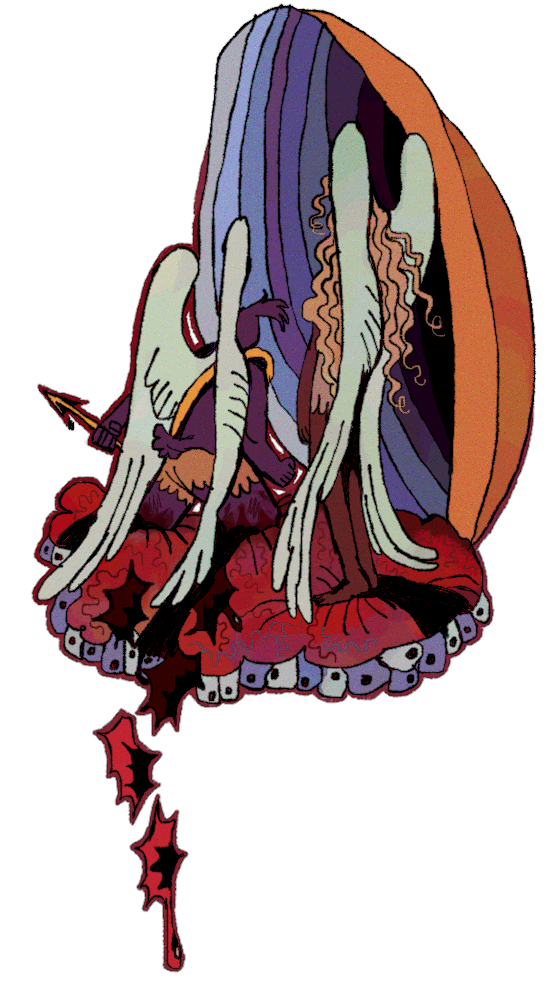 WORMWOOD AWOKE FROM HIS DREAMLESS SLUMBER.
SLOWLY HAD HE REGAINED HIS CONSCIOUSNESS. IT TOOK HIS EYES A LOT OF STRENGTH TO OPEN UP.
BUT BEFORE HE COULD SEE, HE WAS ABLE TO FEEL HIS SURROUNDINGS. HE TRIED TO TURN HIS TORSO. YET EVEN SMALL MOVEMENTS OF HIS LIMBS BROUGHT UPON HIM A PAINFUL STING.
STILL, HE COULD UNDERSTAND THAT HE WAS NO LONGER OUTSIDE. AS THE AIR WAS WARM. AND HE SEEMED TO LAY ON SOFT FABRIC.
SO WAS HIS FUR NOT WET AND DIRTY. INSTEAD, IT FELT MORE CLEAN THAN IT EVER HAD BEEN. EVENTUALLY WHEN HIS SIGHT RECOVERED, HIS SUSPICIONS WERE CONFIRMED.
WORMWOOD FOUND HIMSELF IN AN UNFAMILIAR ROOM. TUCKED INTO A BED ON THE GROUND.
THE WALLS WERE ADORNED WITH PLENTY OF THINGS. BOTTLES WITH LIQUID IN ALL COLORS INSIDE. CONTAINERS FILLED WITH GOO. STRANGE GADGETS OF WHICH WORMWOOD DID NOT KNOW THE PURPOSE OF.
SO, WAS ON THE OTHER SIDE FROM HIM A FIREPLACE OPENED INTO THE WOOD. FROM WHERE THE HEAT ORIGINATED.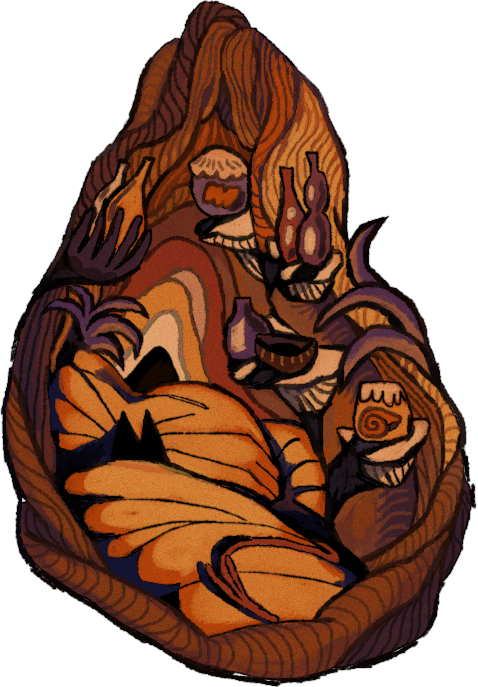 HE LOOKED UNDERNEATH HIS BLANKETS. THERE HIS LIMBS WERE WRAPPED IN BANDAGES. THESE ONES HOWEVER, WERE NOT WHITE TEXTILE LIKE π HAD USED. AS THEY WERE A DULL BROWN AND KNITTED FROM SPONGY GRASS.
SO TOO WAS HE DRESSED IN FRESH CLOTHING. AND HE FELT HIS BREAST. HIS OLD BINDINGS WERE GONE AS WELL.
HIS BRAIN TOLD HIM TO BE AFRAID. AND A DESIRE TO ESCAPE AND RUN FAR AWAY CAME ABOUT FROM WITHIN. ALAS HIS SYSTEM WAS TOO WEAK. WORMWOOD COULD NOT EVEN RISE HIS HEAD.
BUT DESPITE HIS SICKLY CONDITION, SOMETHING EASED HIS NERVES. AND EVEN IF HE HAD THE ABILITY TO, HE WOULD NOT HAVE RUN. WITH EFFORT HE LIFTED HIS ARM.
HIS HAND WOULD GLIDE ALONG THE WOODEN WALL. PERCEIVING ITS TEXTURE.
THIS BARK WAS NOTHING LIKE THE ONE IN HIS OLD TREE. IT WAS NOT SMOOTH AND FLAT LIKE HE WAS USED TO.
INSTEAD, HERE THE SHAPES WERE ORGANIC, TWISTING AROUND EACH OTHER. THIS PLACE WAS NOT CARVED INTO THE WOOD. AS IT APPEARED TO HAVE GROWN INTO THIS SHAPE WITHOUT THE NEED FOR CUTTING.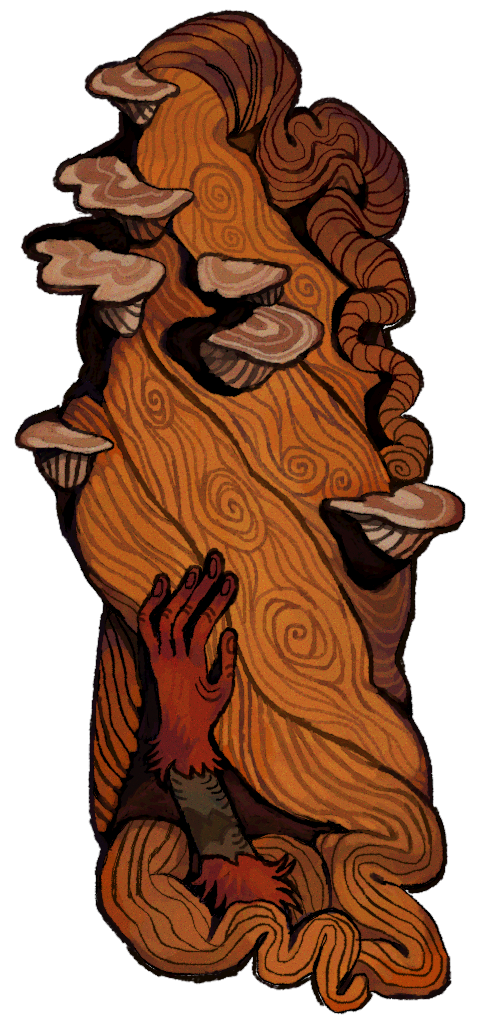 AND AS HE LAID HIS HAND ON ONE OF THE PORTUTIONS, IT WAS NOT DEAD!
HE REALIZED WITH GREAT SURPRISE. TO WORMWOOD IT FELT ALIVE UNDER HIS TOUCH. HE COULD ALMOST SENSE THE WATER TRAVELING BENEATH THE SURFACE.
IT WAS AS IF HE SLEPT IN THE ARMS OF SOMETHING HUGE. THOUGH IT WAS NOT THREATENING TO HIM. AND FOR A REASON THAT HE DID NOT KNOW, HE FELT SAFE.
THEN SUDDENLY HE WAS SHAKEN FROM HIS DIZZY STATE. HIS MIND CLEARED UP AT ONCE. AS HE HEARD A PERSON ENTERING THE ROOM.
IN A SPURT OF PANIC, HE FORGOT ABOUT HIS INJURIES. AND HE WOULD SLIP INTO THE FARTHEST CORNER OF HIS BED. THERE WORMWOOD WOULD MAKE HIMSELF SMALL. PRESSING HIS BACK AGAINST THE UNEVEN BARK.
"Oh, you are awake!"
WORMWOOD LOOKED AT THE PERSON WITH WIDE EYES. HE NOTICED THAT HE KNEW THE MAN.
AS IT WAS THE SAME DEMON WHO STOOD IN THE GRASS BEFORE HE HAD PASSED OUT. HOW COULD HE FORGET HIS DISTINCTIVE STRIPED FUR PATTERN? HE HAD NEVER KNOWN THAT SUCH COLORATION WAS POSSIBLE. THEIR GAZES WOULD MEET FOR A MOMENT.
"I didn't mean to scare you. I'm sorry! I should have knocked first."
WORMWOOD COULD NOT SPEAK. THOUGH HIS MIND HAD MANY THINGS TO SAY. AND IT WAS ONLY HIS SORE THROAT THAT KEPT HIM FROM TALKING.
THE MAN GOT DOWN ON HIS KNEES. SO THAT THEY BOTH WERE ON THE SAME EYE LEVEL. AND HE PUT DOWN THE BASKED THAT HE WAS CARRYING.
"I brought you some snacks."
AND HE SHOWED THE BASKETS CONTENT TO WORMWOOD. IT WAS FILLED WITH GOLDEN BROWN ORBS. NEXT TO IT WERE UNKNOWN BERRIES AND DRIED MAGGOTS. SO TOO DID HE BRING A BOTTLE OF WATER.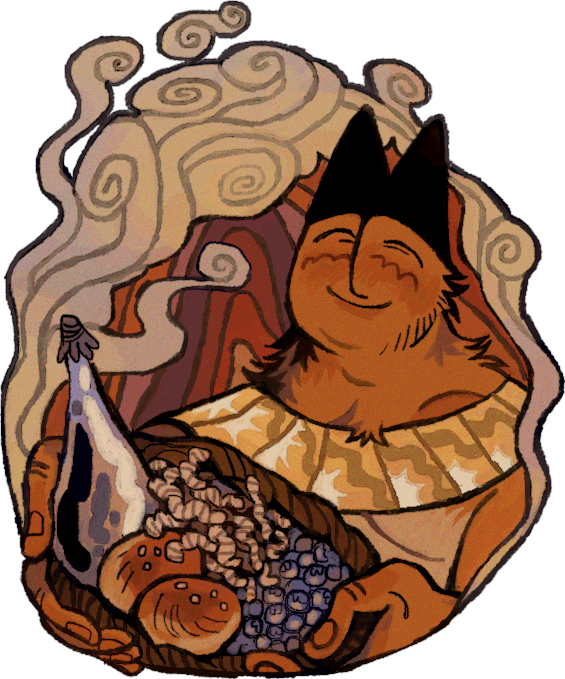 DESPITE WORMWOODS UNFAMILIARITY WITH THE FOOD, THE HUNGER OVERTOOK HIS MOVEMENTS. WITHOUT MUCH HESITATION HE WOULD TAKE ONE OF THE SPHERES. ITS TEXTURE WAS BOUNCY AS HE SQUEEZED IT WITH HIS FINGERS. AND WHEN HE TOOK A BITE, THE INSIDE WAS WARM AND FLUFFY.
"Do you like it? I baked it this morning."
THE MAN SPOKE WITH A SMILE ON HIS FACE. THOUGH WORMWOODS ATTENTION WAS SOLELY OCCUPIED BY THE FOOD IN FRONT OF HIM. IT WAS ONLY NOW THAT HE REALIZED HOW STARVED HE HAD BEEN. HE WOULD EAT AND DRINK EVERYTHING IN THE BASKET ON HIS OWN.
"Looks like I should have brought more."
THE DEMON CHUCKLED AT LAST. AND AS WORMWOOD CLEANED HIS HANDS ON THE BLANKET, IT BECAME QUIET AGAIN.
"Oh! I haven't even introduced myself yet, how rude of me! My name is Eiael but you can call me Eel."
EELS LIPS FORMED A GENTLE SMILE. AND IT MADE WORMWOOD THINK OF RACHIELS UNWAVERING GRIN. THOUGH HIS SEEMED TO BE GENUINE. SO DID IT ALSO NOT CAUSE HIS SPINE TO RUN COLD.
AND AFTER HE SPOKE, EEL SEEMED TO WAIT FOR WORMWOOD TO RESPOND. IT TOOK HIM LONG BEFORE HE COULD ANSWER.
BUT THIS TIME IT WAS NOT BECAUSE OF A LACK OF WORDS. AS THERE WERE PLENTY TO SPEAK. IT WAS HIS INJURIES THAT CAUSED HIM TROUBLE.
HOWEVER, THE MEAL GAVE HIM STRENGTH BACK. AND HE WOULD USE IT TO TALK.
"I'm Wormwood."
HIS VOICE WAS SO QUIET. YET EEL WAS ABLE TO UNDERSTAND HIM. AND HIS FACE LIT UP AS HE LISTENED TO WORMWOODS WORDS.
"Where am I?"
"You are in our med room! But don't worry, you will be alright again in no time. Gomory took good care of your wounds! I washed your clothes for you. Although I don't know if you want to continue to wear them. They're in a... rough state but I can try to fix them for you if you really insist-"
"No. What is this place? Where am I?"
WORMWOOD CUT HIM OFF. HIS MIND HAD A HARD TIME COMPREHENDING ALL OF THE SPEAKING. AND FOR A MOMENT EEL FELT CONFUSED. NONETHELESS HE WOULD EAGERLY RESPOND TO WORMWOODS QUESTION.
"You are in our home tree! Sprouted in the third millennia. Belonging to Teegarten Saint of Thunder and Rain."
STILL, IT DID NOT HELP WORMWOOD AT ALL. EVERYTHING THAT EEL SAID MEANT NOTHING TO HIM. HE UNDERSTOOD THE WORDS. THOUGH THE ACTUAL MEANING OF THEM WAS LOST TO HIM.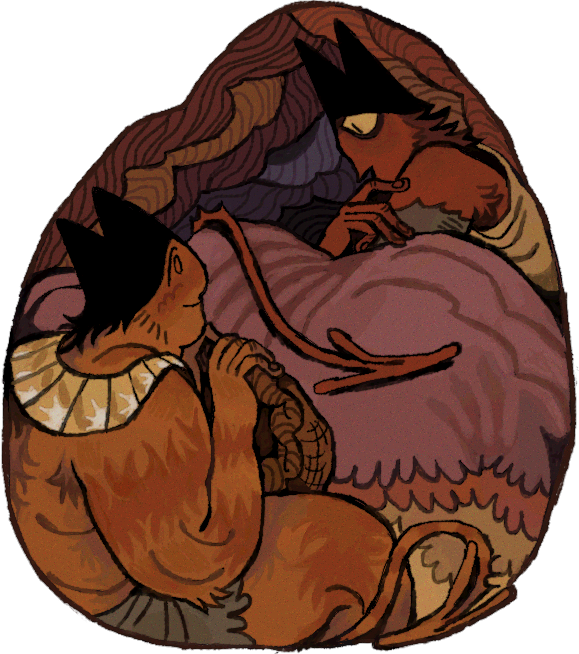 "Say wormwood, where are you from?"
THERE WAS EXCITEMENT IN EELS TONE. AND HE COULD NOT HIDE IT, EVEN THOUGH HE TRIED TO. BUT WORMWOOD DID NOT REPLY. SO, EEL WOULD BREAK THE SILENCE AGAIN.
"And your people? What Saint do they belong to? And where is your home tree? Is it nearby?"
WORMWOOD COULD ONLY SHAKE HIS HEAD IN RESPONSE. AND EELS HAPPY EXPRESSION CHANGED TO A PUZZLED LOOK.
HE WOULD TRY TO FORM HIS QUESTIONS DIFFERENTLY. MAKE THEM EASIER TO UNDERSTAND. BUT THE ISSUE WAS NOT WITH EELS WORDS. HE JUST COULD GIVE HIM NO ANSWER.
EVENTUALLY EEL WOULD GIVE UP ON HIS INQUIRIES. AND HE WOULD GET UP ON HIS FEET. NOW HIS DEMEANOR WAS MORE SOMBER THAN BEFORE.
"I'll let you rest some more. My apologies for disturbing your sleep."
EEL WOULD DISAPPEAR THROUGH THE DOOR. LEAVING WORMWOOD ALONE IN THE ROOM AGAIN. AND DESPITE HIS BEST EFFORT, EELS MIND WAS RUNNING. AS HE WAS TRYING TO MAKE SENSE OF THIS STRANGE MAN.
THAT EVENING EEL WOULD RETURN. BUT THIS TIME IN ADDITION TO ANOTHER MEAL, HE BROUGHT TWO OTHER PEOPLE.
AS JUST MOMENTS BEFORE HE MET WITH HIS SISTER GOMORY AND THEIR GRANDMOTHER LOAIEL. WHO WAS ALSO THE HIGH PRIESTESS OF THEIR SMALL VILLAGE.
HE TOLD THEM ABOUT THE SHORT CONVERSATION THAT HE HELD WITH WORMWOOD. BUT AS SOON AS HE HAD MENTIONED THAT NAME, LOAIEL STOPPED WHAT SHE WAS DOING. WITHOUT A WORD SHE WOULD GET UP AND MAKE HER WAY TO THE MED ROOM.
GOMORY AND EEL WOULD FOLLOW CLOSE BEHIND. AND THEY ASKED LOAIEL TO EXPLAIN HER SUDDEN BEHAVIOR.
BUT SHE DID NOT SPEAK. AS SHE WOULD BE THE FIRST TO ENTER THE ROOM. SITTING DOWN NEXT TO WORMWOOD ON THE BED.
HE WAS AWAKE. AND JUST AS PREVIOUSLY, HIS HEART SKIPPED WHEN HE SAW THE NEW FACES AROUND HIM. OR JUST THE ONE NEW FACE. AS LOAIEL WORE HER COLORFUL HOOD THAT OBSCURED HER HEAD FROM VIEW.
SHE HAD HER HANDS OUTSTRETCHED TO HIM. THOUGH SHE DID NOT TOUCH HIM. LOAIEL EYED WORMWOODS FACE FOR A LONG TIME. STUDYING IT INTENTLY.
AND WORMWOOD WAS AS CONFUSED AS THE TWINS WHO STOOD IN THE DOORWAY. WATCHING THE SITUATION UNFOLD.
"Wormwood?"
SHE WOULD FINALLY SAY.
"Is it really you? Can it be possible?"
HER HANDS WERE NOW HOVERING ONLY INCHES FROM HIS FACE. AND WORMWOOD STARRED BACK AT HER. FRUITLESSLY TRYING TO UNDERSTAND WHAT WAS HAPPENING.
IN ONE MOVEMENT, LOAIEL TOOK OFF HER HOOD. SHOWING HER FACE TO HIM AT LAST. HE NOTICED THAT SHE WAS CRYING. BUT FOR HER IT WERE TEARS OF JOY.
WORMWOOD WOULD READ HER FEATURES IN RETURN. AND A NEW SENSATION APPEARED WITHIN HIM.
HE SEEMED TO RECOGNIZE HER IN SOME WAY. ONE, THAT HE COULD NOT UNDERSTAND WELL. BUT HE FELT CERTAIN THAT HE HAD SEEN SOMEONE WITH FUR AS BLACK AS HORNS BEFORE.
"Loaiel?"
THE NAME WAS NOT SPOKEN BY HIS MIND REMEMBERING. INSTEAD, IT WAS MORE OF A MUSCLE MEMORY ON HIS TONGUE.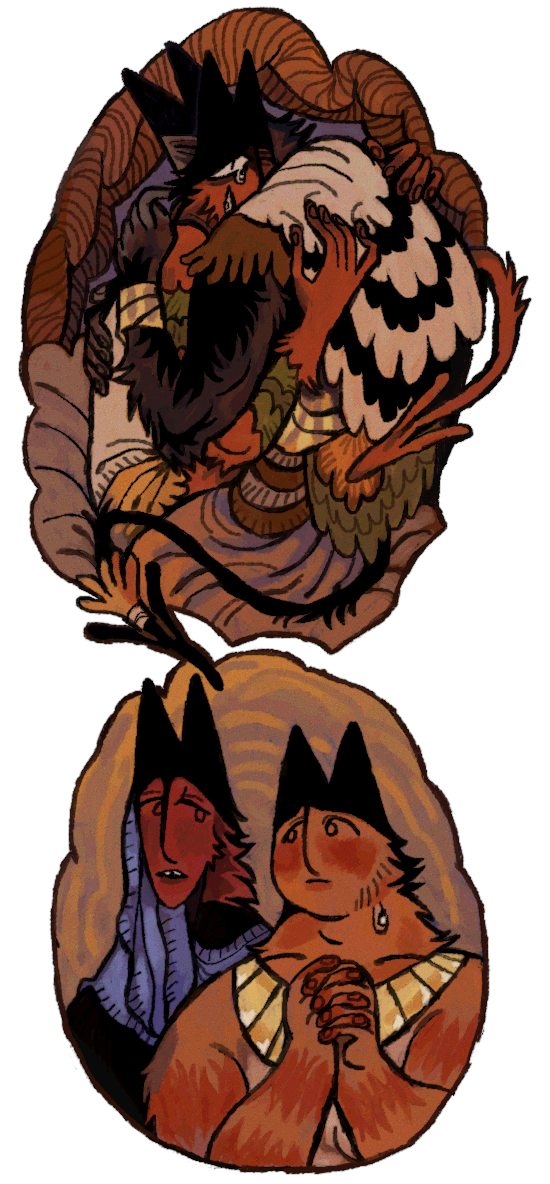 LOAIEL COULD CONTAIN HERSELF NO LONGER. ALL AT ONCE SHE WOULD TAKE WORMWOOD INTO HER ARMS. AND HE WAS CONFUSED BUT HE DID NOT RESIST. INSTEAD, HE WOULD HUG HER BACK.
"Thank the Saints! It is a miracle!"
SO TOO WOULD WORMWOOD BEGIN TO SOB. HOWEVER, IT WAS NOT FROM HAPPINESS. AS HIS BRAIN WAS OVERWHELMED BY THE SITUATION. AND ALL THE NEW EXPERIENCES SEEMED TO BRING HIM DISTRESS.
EVENTUALLY GOMORY WAS THE ONE TO SPEAK AGAIN.
"Uh, might want to explain the miracle to us too?"
SO LOAIEL WOULD TELL THEM ABOUT WHAT SHE KNEW. SHE WOULD EXPLAIN IT IN GREATER DETAIL THAN WORMWOOD COULD REMEMBER HIMSELF.
ALL OF THEM HAD COME FROM THE VERY SAME VILLAGE. BEFORE THEIR OLD HOMETREE HAD SUCCUMBED TO THE BITTER RIVER. IT HAD BEEN THEIR SHARED HOME. THOUGH EEL AND GOMORY NEVER MET WORMWOOD AS CHILDREN.
HOWEVER, LOAIEL WAS VERY FAMILIAR WITH WORMWOODS MOTHER. AS SHE WAS IN NEED OF CONTINUOUS MEDICAL HELP AFTER HER PREGNANCY. AND SINCE LOAIEL HAD ALWAYS BEEN THE HIGH PRIESTESS, SHE WAS THE ONE TO TAKE CARE OF HER.
SO DID LOAIEL ALSO KNEW WORMWOOD QUIET WELL. AS SHE WOULD BRING HER SON WITH HER EVERYWHERE SHE WENT. AND SHE WOULD SHOW HER PRIDE TO EVERYONE SHE MET.
IN THE AFTERMATH OF THE DISASTER, NOT ONLY HAD WORMWOOD AND HIS PARENTS SURVIVED. LOAIEL HAD TOO. SO WERE EEL AND GOMORY AND THEIR FATHER BETWEEN THEM. AS WELL AS MANY MORE PEOPLE.
BUT IN THE SHORT TIME OF RECOVERY, AN ARGUMENT AROSE.
LOAIEL WAS THE ONE TO SPEAK OF HOMETREES IN THE SOUTHWEST. YOUNG AND FERAL BUT STILL UNTOUCHED BY THE SOUR RIVER. AS SHE HEARD OF THEIR EXISTENCE FROM LONE TRAVELERS YEARS PRIOR.
AND SHE SPOKE OF A POSSIBLE ROUTE. HER WAY WOULD TAKE THEM FOR MANY MONTHS THROUGH ROUGH TERRAIN. YET IT WAS ALONG A STILL HEALTHY STREAM. SO, THEY WOULD NOT HAVE TO WORRY ABOUT FOOD AND DRINK.
BUT IT WAS WORMWOODS FATHER WHO CONJECTED. SINCE HE WAS AN EXPERIENCED HUNTER, HE ALSO KNEW OF PATHS. AND HE SUGGESTED A QUICKER JOURNEY.
THOUGH IT WOULD LEAD THEM THROUGH THE HEART OF THE CALAMITY. WITH NO ACCESS TO CLEAN WATER. HOWEVER, HE SAID THAT IT WOULD ONLY TAKE DAYS FOR THEM TO ARRIVE. THE LACK OF SUSTENANCE WOULD THUS BE NO ISSUE.
THEY WOULD ARGUE FOR LONG HOURS. EVENTUALLY THE GROUP SPLIT IN TWO. AND THE PEOPLE CHOOSE THE PATH THAT THEY THOUGHT WOULD BE BEST.
MOST DID GO WITH LOAIEL. BUT SOME WERE CONVINCED BY THE WORDS OF WORMWOODS FATHER.
HIS MOTHER TOO DECIDED TO TAKE THE QUICKER ROUTE. SHE LOVED LOAIEL, THOUGH SO DID SHE LOVE HER HUSBAND. AND SHE TRUSTED THEM BOTH.
IN HER MIND SHE HAD NO REASON TO WORRY. AS SHE WAS CERTAIN THAT ALL OF THEM WOULD MAKE IT. JUST AT DIFFERENT TIMES. AND AS THEY SAID GOODBYE, SHE TOLD LOAIEL.
"See you soon!"
SHE WOULD WAVE WHILE HOLDING WORMWOOD IN HER ARMS. BOTH GROUPS DEPARTED FROM THEIR OLD HOME. AND THEIR FATES WERE SEALED IN TRAGEDY.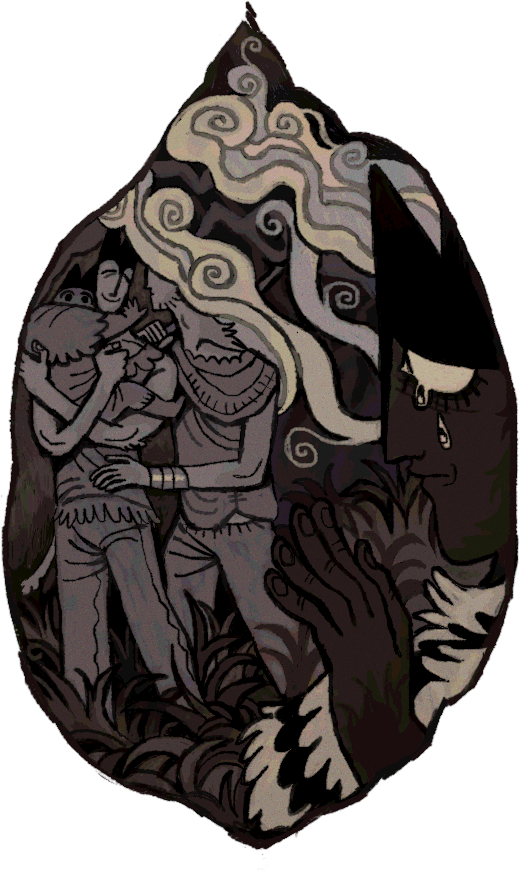 "We thought you all had perished. But we were wrong! Thank the Saints we were wrong! Tell me Wormwood, where are the others? How is Lillith, is she okay?"
WORMWOODS STOMACH FELT ODD. AS HE HAD NOT HEARD THAT NAME IN DECADES. BUT AGAIN, HE COULD ONLY SHAKE HIS HEAD.
"There's no one else."
HIS VOICE CRACKED AS HE SPOKE. FINALLY HE WAS ABLE TO ELABORATE.
"For a long time. Just me."
"But... that's impossible."
IT WAS GOMORY WHO RESPONDED. EEL ALSO INTERJECTED. BUT HIS VOICE WAS LOUDER AND HIS TONE SOUNDED URGEND.
"Are you really sure?! You have to have come across some other village!"
WORMWOOD HOWEVER ONLY CONTINUED TO SHAKE HIS HEAD.
"Eel!"
GOMORY GLANCED AT HER BROTHER. AS HIS SUDDEN SHIFT IN LOUDNESS SEEMED TO HAVE SCARED WORMWOOD. DESPITE THAT HE SPOKE FURTHER.
"I'm telling the truth! What reason would I have to lie?"
WORMWOOD BEGAN TO FEEL FRUSTRATED AT THESE PEOPLES STRANGE BEHAVIOR. HE WAS CONFUSED THAT HIS WORDS WERE BEING INTERROGATED IN THIS WAY.
"I believe you, Wormwood. Whatever happened. It does not matter. You are here now at last! You have found your way back home!"
LOAIEL WOULD SAY. THEN SHE WOULD ASK GOMORY AND EEL TO LEAVE. AND THEY WOULD COMPLY. ALTHOUGH EEL DID SO RELUCTANTLY.
LOAIEL WOULD CONTINUE TO TALK TO WORMWOOD ALONE.
OUTSIDE ON THE GREAT BALCONY, EEL WOULD LEAN AGAINST THE REELING. HE WAS UNABLE TO SMILE ANYMORE. AND A FEELING OF DISAPPOINTMENT GREW IN HIS BODY.
"What's bothering you?"
GOMORY SAID AS SHE SAT ON A BRANCH NEXT TO HIM.
"Don't let it be what I think it is, Eel."
"It's nothing."
HE WOULD NOT HAVE SAID ANYTHING ELSE. BUT THE WORDS SEEMED TO FORCE THEMSELVES FROM HIS THROAT.
"I hoped this would have been it! Finally finding other people. Proof that we are not the last ones! But..."
A LOUD SIGH ESCAPED HIS MOUTH. MEANWHILE GOMORY COULD ONLY CHUCKLE.
"Okay, that's rude. it doesn't matter to you that Wormwood is here? Despite the odds?"
"That's not how I meant it!"
"Is this still about your relationship issues?"
EELS FUR PUFFED UP AS HE HEARD THOSE WORDS. AND SUDDEN EMBARRASSMENT MADE HIS CHEEKS FLUSH HOT. HE WOULD MURMUR IN RESPONSE.
"Shut up."
GOMORY WAS NOW AUDIBLY LAUGHING. BUT EEL DID NOT SHARE HER JOY.
"You really don't get it."
HIS TONE OF VOICE SOUNDED DEFEATED. AND GOMORYS EXPRESSION CHANGED TO A MORE SERIOUS ONE. AS SHE GOT ON HER FEET AND GENTLY PET HER BROTHERS BACK.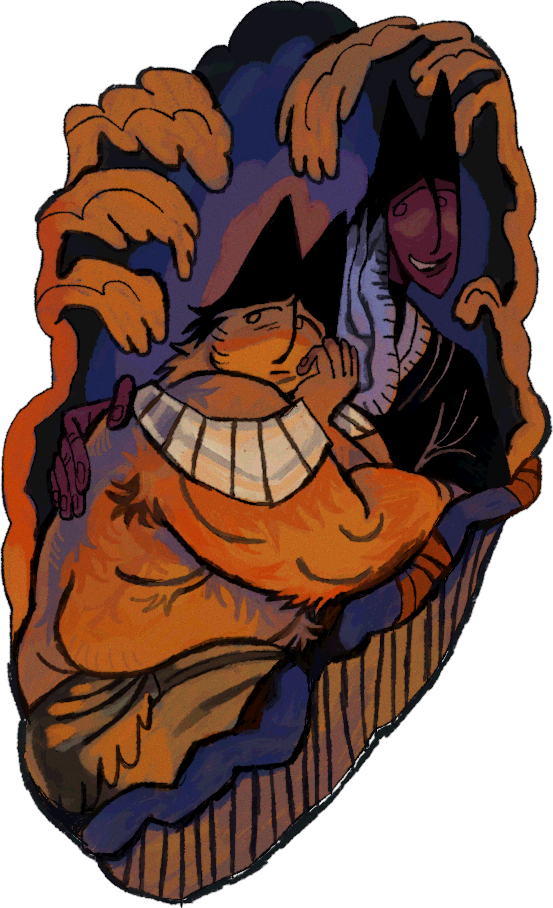 "You think way too much Eel."
"Papa used to say that."
"And he was right!"
HER ATTEMPT TO LIFT EELS SPIRIT SEEMED UNSUCCESSFUL. HE WOULD STILL PITY HIMSELF.
"Get some rest."
GOMORY WOULD SPEAK AT LAST.
"You have barely slept the last couple of days. Take a nap and you will feel better."
WITH THOSE WORDS GOMORY WOULD DISAPPEAR DOWN A WOVEN PATH. EEL WOULD STAY ON THE BALCONY FOR A WHILE LONGER. IT WAS ONLY WHEN NIGHT FELL AND THE AIR BECAME COLD THAT HE WOULD LEAVE AS WELL.

ALONG THE BASAL GANGLIA THEY WALKED. DOWN THE ESOPHAGUS. NEXT TO SCENERIES OF BRONCHIAL CAPILLARIES.
ITS SCAPE WOULD GO ON FOR AS FAR AS π COULD SEE IN ANY DIRECTION. THOUGH IT WOULD ONLY TAKE SECONDS TO TRAVERSE.
THE AIR WAS ICY COLD. BUT SO WAS IT SATURATED WITH MOISTURE. AND π DID NOT FREEZE. THE CONTINUOUS FLOW OF FRESH BLOOD WOULD WARM HIS LIMBS.
SOON π WOULD FEEL EXHAUSTED. DESPITE THAT HE HAD NO DESIRE TO SLEEP. AND EVEN THOUGH HE WALKED FOR CENTURIES. HE DID NOT FEEL HUNGRY NOR THIRSTY.
STILL RACHIEL WOULD STOP SOMETIMES. ON BUNDLES OF SPLEEN AND OVARIES. SHE WOULD PICK THE RIPE MUTTERKUCHEN. AS SHE BIT INTO, IT SPRAYED ITS JUICES. REMINDING π OF ROTTEN GRAPES IN THE SWELLING SUMMERTIME.
"Try it π! They will replenish your strength!"
SHE WOULD SAY. AND π TOOK ONE FROM THE FALLOPIAN TUBES HIMSELF. HE WOULD HOLD IT IN HIS HANDS. FEELING ITS SHAPE.
THE TEXTURE WAS REPULSIVE TO π. STICKY YET FIRM. IT WOULD ALMOST MELT BETWEEN HIS FINGERS. SO WAS ITS SMELL HORRID.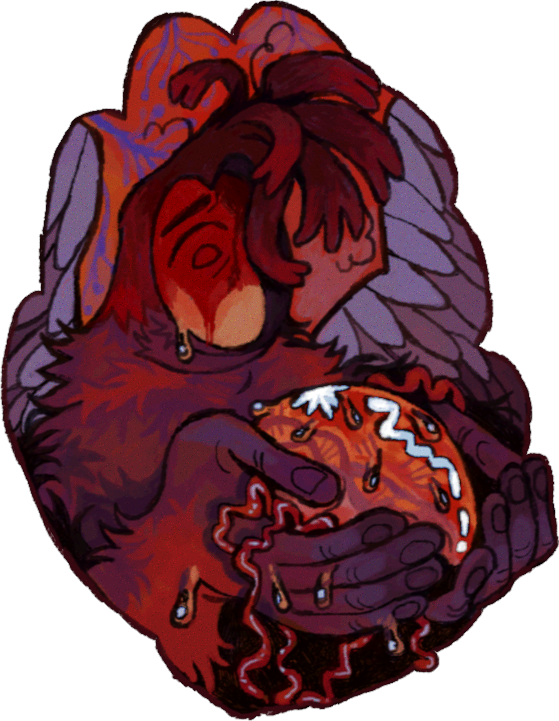 DESPITE THAT HE ATE IT WHOLE. IN ONE MOVEMENT HE SHOVED IT INTO HIS MOUTH. HE SENSED THE THIN MEMBRANE BUT QUICKLY IT WOULD RUPTURE. COVERING HIS THROAT IN STRINGY GOO.
HE PREPARED TO CHOKE. GAG ON ITS SOUR INSIDES AS HE DID ON THE AMNIOTIC FLUID.
INSTEAD, HE SWALLOWED IT ALL. ITS TASTE WAS SWEETER THAN HONEY. FRESH AND LIGHT. HOWEVER STILL RICH. AND ONLY A SINGLE ONE FILLED πS STOMACH.
"This is so good. How did you know that these ones were edible?"
π ASKED RACHIEL. BUT SHE DID NOT RESPOND. JUST AS π HAD EXPECTED HER TO.
AS THEY WENT ON, THEY WOULD HARVEST EMPTY ANY OVARIES THAT THEY CAME ACROSS. NEITHER OF THEM DID CARE FOR THE FLORA OF THE FLESH. SO, THEY BINGED ITS FRUITS WITHOUT REMORSE.
YET THERE ALWAYS APPEARED TO BE MORE SPROUTING FROM THE GROUND. TO BOTH OF THEM IT WAS CLEAR THAT THIS METHOD WOULD CAUSE NO LETHAL HARM. BUT SO DID IT TRIGGER NO IMMUNE RESPONSE. INITIALLY NOT. THUS, THEY WOULD CONTINUE THE PRACTICE.
RACHIEL WOULD LEAD THE WAY FURTHER. AND AS SHE WALKED, THE SOFT TISSUE FEATHERED HER STEPS. SHE SEEMED TO BOUNCE OFF IT EFFORTLESSLY.
IN COMPARISON πS STRIDES WERE TROUBLESOME. THE MEAT HAD A CONSISTENCY OF THICK MUD. TO HIM IT WAS AS IF HE WERE CROSSING A SWAMP.
"We are less than stealth π."
STOPPING HER MOVE, RACHIEL SPOKE. AND SHE LOOKED BEHIND THE WAY FROM WHERE THEY CAME. A BLOODY TRAIL GAVE AWAY THEIR LOCATION.
"I can't do anything about it!"
π COMPLAINED IN RESPONSE.
"I'm not as light as you."
"Oh π!"
SHE LAUGHED AS SHE SPOKE.
"I weigh as much as a dwarf planet! It is not about the mass one possesses. I tell you, take these wings of yours to good use!"
"I can't!"
π YELLED AS HE REPLIED. FRUSTRATION GREW IN HIM WHILE HE DESPERATELY TRIED TO FREE HIS LEGS FROM THE TISSUE. HE MOVED HIS WINGS SPORADICALLY. BUT THEY WERE UNSUCCESSFUL IN GIVING HIM FLIGHT.
"It would be a shame if you were to succumb so soon."
IN ONE LONG STRIDE RACHIEL MOVED TO π. HER HANDS WOULD WRAP AROUND HIS WRISTS. WITHOUT MUCH FORCE SHE HAD LIFTED HIS BODY OFF THE GROUND.
"Spread your wings!"
SHE WOULD SAY. AND π DID SO.
AS HIS FEET MET THE THIN SKIN BENEATH, HE SUNKED IN SLIGHTLY. BUT TO HIS AMAZEMENT, IT DID NOT BREAK. SO TOO WOULD IT HOLD AS HE TOOK ANOTHER STEP. AND ANOTHER AFTER IT.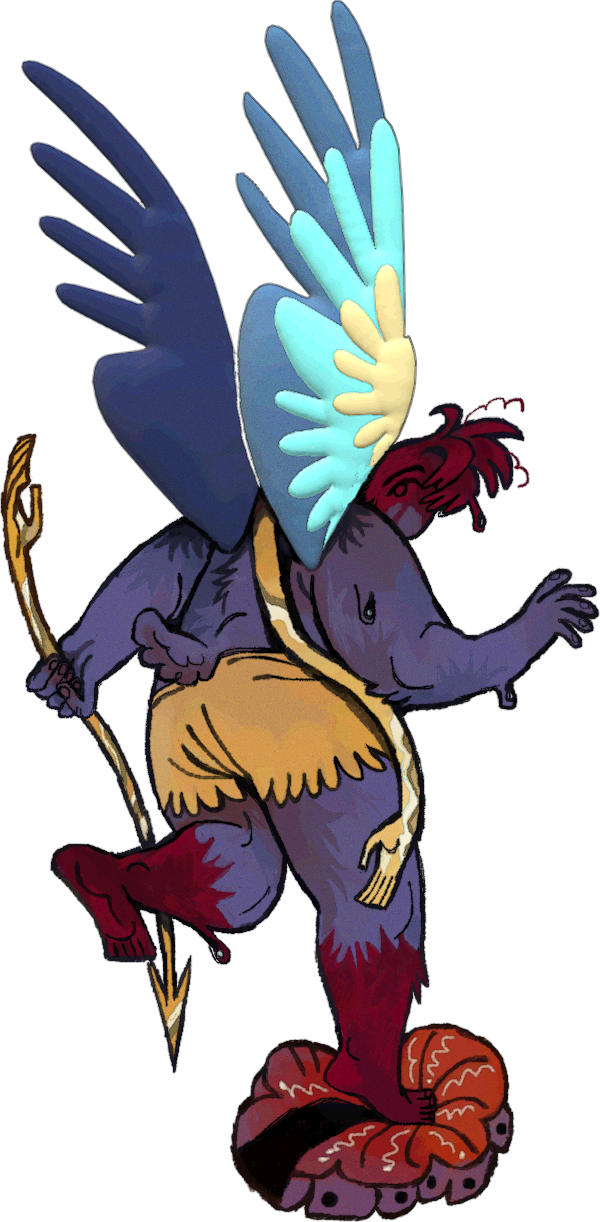 "Ride on the current! There is not even a need to flap your wings!"
"Why haven't you told me how to do this earlier?"
"I was under the impression that it was easy enough so you could figure it out on your own."
EVEN A LAUGH ESCAPED RACHIELS THROAT AS SHE SAID THIS. π LOOKED AWAY IN SHAME. THOUGH IT WAS IMPOSSIBLE FOR HIM TO STAY MAD AT HER FOR LONG. AS HER BEAUTIFUL SMILE SEND AWAY EVEN THE SLIGHTEST BITS OF ANGER WITHIN HIM.
WITH THEIR HANDS STILL HELD THEY WOULD GO ON. THIS TIME FASTER ON THEIR LEGS. AND NO LONGER WOULD THEY LEAVE BLOODY PRINTS BEHIND. EVIDENCE OF THEIR EXISTENCE.
IT HAD NO USE HOWEVER. UNBEKNOWNST TO HIM, THE BODY! THIS VERY FLESH THAT THEY WERE INSIDE OF, WAS ALREADY AWARE. IN FACT, IT HAD KNOWN OF πS PRESENCE FOR EONS. AS IT PATIENTLY WAITED IT PREPARED.
THOUGH THE FLESH ITSELF WAS NOT WORRIED. NOT EVEN WHEN IT BLED ON THE INSIDE OR ITS FRUITS WERE STOLEN. AS IT WAS NOT THE FIRST TIME IT HAD TO DEAL WITH MERE PARASITES.
A MORTALS BRAIN IS EASY TO SIFT THROUGH.
IT IS EQUALLY SIMPLE TO SQUISH IT INTO PULP.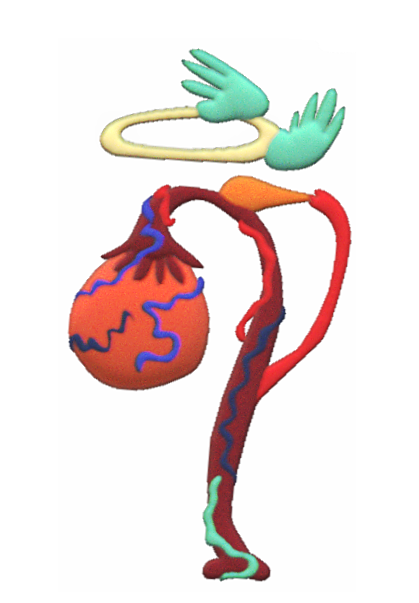 IN THIS PLACE THE YEARS FELT LIKE SECONDS. SO DID THE SECONDS FEEL LIKE YEARS. AND WITH EVERY BLINK OF πS EYES, A NEW MILLENIUM WOULD TURN.
HE THOUGHT OF HIS EARTH HOME. THE ONE THAT WAS NOT REALLY HIS HOME AS HE NOW KNEW. SO FAR AWAY IN TIME AND SPACE.
WHEN HE STILL LIVED THERE, HE WOULD SEE BLOOD NOT OFTEN. TOUGH IN THE FEW INSTANCED THAT HE DID, IT NEVER GAVE HIM ANY ISSUES.
AND BEFORE HE WAS NEVER EXPOSED TO VICERA. EXCEPT FOR ONE TIME THAT CAME TO HIS MIND.
ONE DAY, HE WAS TASKED BY ALEPH TO GET MEAT FROM THE MARKET FOR DINNER. AND WITH MUCH ARGUMENT, HE WOULD GO.
DOWN THE CENTRAL CAVERNS, TO THEIR LOCAL BUTCHER. HE WAS AN ODD FELLOW π WOULD RECALL. A KIND MAN BUT TOO ECCENTRIC IN HIS OPINION. AND AS THEY HELD THEIR CONVERSATION, HE WOULD ASK.
"Hey kid! I bet you never saw how your jerky is cut before drying. Care to take a look?"
π WOULD STAND THERE FOR A MOMENT WITH WIDE EYES. ALEPH WOULD HAVE SURELY DISAPPROVED OF SUCH BEHAVIOR. TAKING STRANGERS UP ON SKETCHY OFFERS.
SO OF COURSE, HE AGREED TO THE VIEWING.
THE MAN WOULD USHER HIM THROUGH THIN PASSAGES. ALMOST AS THIN AS THE VEINS HE WAS SQUEEZING THROUGH NOW. AND THEY WOULD ARRIVE IN A SPACIOUS HALL. SO TOO WAS THE AIR CHILLY.
BUT IT WAS NOT THE COLDNESS THAT MADE π TAKE A STEP BACK. INSTEAD, IT WERE THE MANY CORPSES THAT HUNG FROM THE CEILING.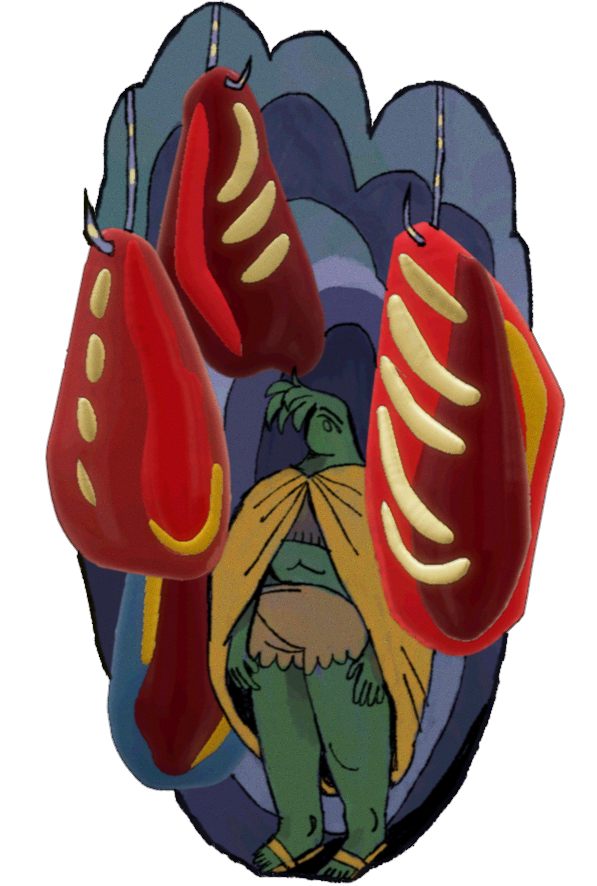 SKINNED THEY WERE, RED AND SHINY. THEIR RIB CAGES GAPING OPEN. INSIDE THERE WAS NOTHING LEFT.
THEY WERE SO CUT APART, π COULD NOT TELL WHAT ANIMALS THEY ONCE WERE. IT WAS ONLY WHEN THE MAN TOLD HIM THAT HE COULD SEE IT IN THEIR SHAPE. AS THE SMALL ONES WERE SHEEP AND THE LONG ONES WERE DEER.
ONE HOWEVER, π COULD IDENTIFY EASILY. SINCE IT STILL HAD ITS SKIN AND LIMBS. IT WAS A MASSIVE OXEN. THOUGH IT HUNG DEAD TOO.
THE MANS WORDS CARRIED PRIDE AS HE TOLD π THAT HE WAS TASKED WITH ITS PREPARATION. AND SO SHOULD HE FEEL PROUD TO BE ALLOWED TO WATCH.
AS HE CUT AND RIPPED THE FLESH FROM THE BONES, THE MAN CONTINUED SPEAKING. TELLING π WHAT METHOD HE USED AND WHERE HE LEARNED IT FROM. WHY HE WAS USING IT AND HOW OTHER WAYS WERE INFERIOR.
HE SEEMED TO TAKE GREAT JOY IN HIS OCCUPATION. AND SO DID HE LOVE TO SHARE HIS PASSION WITH OTHERS.
π HOWEVER DID NOT LISTEN TO A SINGLE WORD. AS HIS WHOLE MIND WAS OCCUPIED WITH THE PLETHORA OF STEAMING ORGANS THAT NOW LAID BEFORE HIM. HE WAS UNABLE TO AVERT HIS SIGHT FROM THE MASS. STUDYING ITS SHAPES, HE EXPECTED TO BE MORE REPULSED.
AND TO AN EXTENT HE WAS. DESPITE THAT, A MORBID CURIOSITY TOOK OVER HIS BRAIN.
WITHOUT THINKING π WOULD REACH DOWN AND CARESS THE COLON. HIS FINGERS TRAVELED OVER THE SOFT SURFACE. HE COULD NOT BREATH FOR A MOMENT.
WHATEVER FEELINGS APPEARED IN HIS BODY, HE COULD NOT PLACE THEM. WAS HE DISGUSTED? INTRIGUED? OR WAS IT EQUAL FASCINATION THAT HAD POSSESSED THE MAN?
IT COULD NOT HAVE BEEN. π HAD NO INTEREST IN ANY OTHER ASPECT OF THE LABOR. IT WAS ONLY THESE GUTS THAT TOOK HIS THOUGHTS.
"Woha, hold on buddy! You should wear gloves for that. You don't want to get sick!"
THAT NIGHT HE CAME BACK WITH PLENTY ADDITIONAL MEAT THAT WAS GIFTED TO HIM. BUT π WAS BARELY ABLE TO EAT ANYTHING.
NEVER COULD HE SHAKE THE IMAGES FROM HIS HEAD. OF THE SKINNED BODIES AND THE ORGANS. THEY DID NOT CAUSE HIM DISTRESS. FOR A REASON THAT HE COULD NOT EXPLAIN.
HE WONDERED IF THAT WAS THE FIRST GLIMPSE HE EVER GOT OF HIS HOME.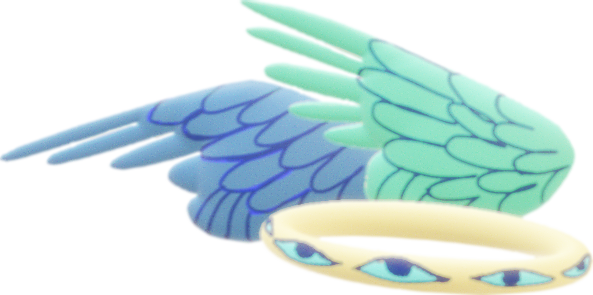 IT WAS ONLY THEN, WHEN π WAS TAKEN OUT OF HIS THOUGHTS. AS HE COULD NO LONGER FEEL RACHIELS FINGERS AROUND HIS.
THE TEXTURE OF THE GROUND CHANGED AS WELL. NO LONGER WAS HE WALKING ON SPONGY TISSUE. NOW THE FLOOR WAS DIRTY LEAVELITTER.
SO TOO WERE HIS SURROUNDINGS DIFFERENT. TO BOTH OF HIS SIDES WAS THICK FOLIAGE. AND HE REALIZED THAT HE STOOD ON A TRAIL IN THE FOREST.
FOR A MOMENT A SENSE OF WORRY GREW WITHIN HIM. IT CONFUSED π. TO HIM THERE WAS NO REASON TO FEEL THAT WAY. HE SHOOK OFF THE SENSATION AND RAN ON FURTHER.
AS HE WALKED, HE COULD HEAR RUSTLING IN THE BRANCHES ABOVE. AND A SMILE FORMED ON HIS FACE AS THE NOISE BECAME LOUDER. JUST AS HE ARRIVED AT THE GRASSY CLEARING, ITS SOURCE MADE HIMSELF KNOWN.
WORMWOOD WOULD JUMP FROM THE TREE, LANDING ON π. BOTH WOULD BE KNOCKED OVER BY THE SUDDEN SHIFT IN WEIGHT. YET THEY WOULD ONLY LAUGH AS THEY ROLLED IN THE SOFT GRASS.
"Found you."
WORMWOOD SAID. THEY LAID SO CLOSE TO EACH OTHER, THEIR FACES ALMOST TOUCHED. ONLY SECONDS LATER THEY WOULD SHARE A KISS.
SO TOO WOULD THEY EMBRACE. AND THEY WOULD HOLD EACH OTHER AS CLOSE TOGETHER AS THEY COULD.
"I missed you."
π WOULD WHISPER INTO WORMWOODS NECK.
"Why?"
WORMWOOD CHUCKLED.
"When have you ever left?"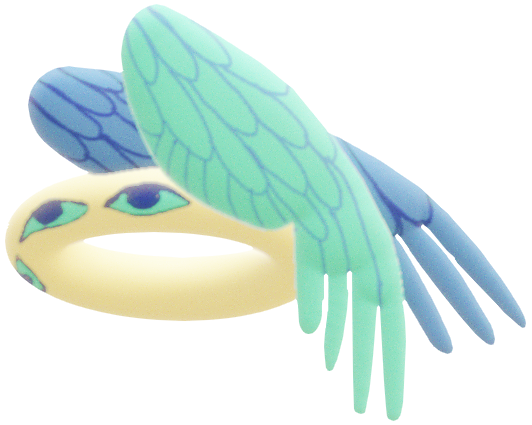 SUDDENLY π GOT UP FROM HIS BED. AS HE HAD HEARD SOMEONE ENTER THE ROOM. AND WHILE HE PULLED HIS LEGS FROM THE BLANKETS, HE WONDERED WHY THERE WAS LEAFLITTER IN HIS HAIR.
"π?"
IT WAS ALEPH WHO SPOKE.
"Oh sorry! Did I wake you?"
"No, it's ok. I wasn't sleeping."
πS VOICE WAS SHAKING AS HE ANSWERED. THOUGH HE DID NOT KNOW WHY.
ALEPH WOULD WALK OVER TO HIM. AS HE SAT NEXT TO π ON THE BED. AND HE WOULD LET OUT A SIGH.
"I'm sorry π."
HE SOUNDED AS IF HE WERE ABOUT TO CRY.
"I'm so sorry that you died. That they ripped you to shreds. Gutted you and strewn your organs all around. That they burned off your skin alive. Carved out your braincase and used your skull to drink your blood.
I'm so sorry that they ate the flesh from your bones. Sucked out the marrow and made flutes from them. Wore your fur as dresses and danced through the night.
I'm so sorry that they defiled whatever was left of your body. And that they threw you in a ditch to rot. π I'm so sorry."
THEN IT WAS QUIET BETWEEN THEM. AND IT TOOK LONG FOR π TO FIGURE OUT WHAT TO SAY NEXT. AS HE WAS NOT USED TO ALEPH ACTING SO KIND. ADDITIONALLY, SIBLING APOLOGIES ALWAYS FELT AWKWARD TO HIM.
"You don't have to be sorry. It wasn't your fault."
π COULD BRING HIMSELF TO SAY AT LAST. ALEPH WOULD TAKE HIM INTO HIS ARMS. THEY WOULD HUG EACH OTHER SO TIGHTLY. IN FACT, IT WAS BECOMING HARD FOR π TO BREATH.
"I'm so sorry π. I'm so sorry. so sorry. so sorry…"
IT WAS ONLY NOW THAT π HAD REALIZED THAT THEY WERE NOT HUGGING. INSTEAD, LARGE HANDS WERE WRAPPED AROUND HIS THROAT. CONSTRICTING HIS AIRWAY.
HE WAS NOT LAYING ON HIS BED ANYMORE. AS HIS HEAD WAS PRESSED FAR INTO THE PULSING MEMBRANE. IF IT WERE TO RUPTURE THE BLOOD WOULD SURELY DROWN HIM BEFORE HE WOULD CHOKE.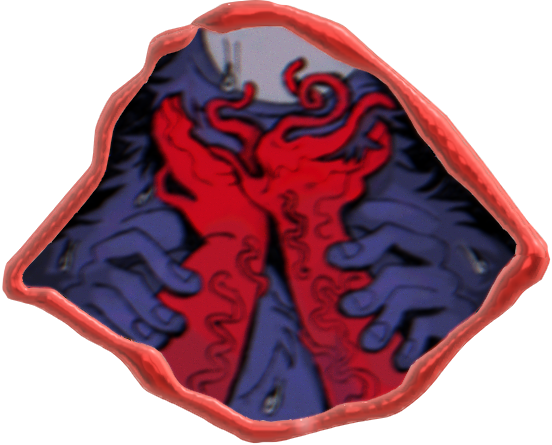 IT TOOK π LONG TO OPEN HIS EYES. AND AS HE DID SO, HE COULD SEE THAT IT WAS NOT ALEPH ABOVE HIM. IT DID NOT LOOK LIKE ANYTHING AT ALL.
THE BEING THAT WAS KILLING HIM RIGHT NOW. ITS SHAPE WAS LIKE HEAT FROM A FIRE PIT. AND THE COLORS OF ITS SURFACE WERE SHIFTING ENDLESSLY.
IT WAS THE MOST BEAUTIFUL PERSON π HAD EVER SEEN. HIS FACE WOULD BLUSH WHEN THE ETHEREAL FORM WOULD OPEN ABOVE HIM. SHOWING HIM ITS INSIDES.
THERE WITHIN, π WAS CERTAIN, HIS TRUE HOME WOULD RESIDE. SO BREATHTAKING WAS IT, π WOULD ALMOST FORGET THAT HE WAS DYING.
IT WAS ONLY HIS INNATE EARTHLY DESIRE TO STAY ALIVE THAT SHOOK HIM FROM ITS TRANCE. π WOULD STRUGGLE UNDER ITS GRIP. THE MORE HE WOULD MOVE, THE TIGHTER ITS CLAWS BECAME.
IN THE VERY LAST MOMENT HOWEVER, π FELT THE THIN SHAPE OF THE ARROW INSIDE HIS HAND. HE WOULD GATHER ALL THE STRENGTH THAT HE HAD LEFT. AND THE BONES IN HIS WRIST WOULD STRAIN UNDER ITS OBSCENE WEIGHT. OR WERE HIS MUSCLES WEAK FROM THE LACK OF OXYGEN. THE PAIN WAS SO GREAT, π THOUGHT HIS ARM WOULD SNAP.
DESPITE THAT HE WAS ABLE TO LIFT IT. IT WAS NOT BY MUCH. AND ONLY THE SHARP TIP TOUCHED THE BEINGS STOMACH SLIGHTLY. HOWEVER, IT WAS ENOUGH.
AS SOON AS THE ARROW MET WITH ITS SKIN, ITS BODY SEEMED TO DISINTEGRATE. ITS GRIP WOULD DISAPPEAR IMMEDIATELY. LEAVING BEHIND ONLY TRANSLUCENT PUSS OVER πS FUR.
HE WAS UNABLE TO GET UP FOR MANY HOURS AFTER. AND HIS LUNGS WOULD BURN WITH EACH BREATH. FROM FAR ABOVE HIM IN THE DARKNESS, LIQUID WOULD DRIP. COOLING HIS FACIAL DISK.
π FELT AS IF HE JUST AWOKE FROM A DEEP DREAM. HIS BRAIN FELT HAZY INSIDE HIS SKULL.
EVENTUALLY A VOICE WOULD TRAVEL THROUGH THE SPACE. IT SOUNDED FAMILIAR TO π. AND IT TOOK HIM A MOMENT BEFORE HE REALIZED THAT IT WAS RACHIEL.
"π!"
SHE WOULD CALL OUT. THERE WAS A WORRY IN HER VOICE THAT π HAD NEVER HEARD BEFORE. AS SHE REACHED HIM, SHE GOT ON HER KNEES. AND WHEN SHE SAW THAT HE WAS STILL ALIVE, ALL THE TENSENESS LEFT HER MUSCLES. HER VOICE WOULD RETURN TO ITS USUAL TONE.
"There you are. I was looking for you!"
π HOWEVER WAS STILL UNABLE TO SPEAK. RACHIEL WOULD EYE HIS INJURIES. THEY WERE ONLY MINOR.
IT WAS THE SHOCK THAT CAUSED HIS CONDITION. DESPITE THAT RACHIEL SEEMED NOT SURPRISED AT ALL.
"I will bring you more fruits. But recover quickly π! Since they have tasted you, we should hurry! More than before even."
SO, HE WOULD EAT. EAT AS MANY MUTTERKUCHEN AS HE COULD. UNTIL HIS CHEST STARTED TO CRAMP.
AND SOON HE WOULD WALK AGAIN. EVEN THOUGH HE WAS STILL DIZZY. IT TOOK π A LOT OF STRENGTH TO JUST STAND UPRIGHT.
RACHIEL WOULD LEAD HIM BY THE ARM AGAIN. THIS TIME SHE WOULD HOLD HIS WRIST TIGHTER. ALMOST BURYING HER NAILS INTO HIS SKIN.
SO TOO WOULD SHE LOOK BACK OFTEN. MAKING SURE THAT π WAS STILL THERE. CLOSE BEHIND.

WORD SPREAD QUICKLY. SOON EVERYONE IN THE VILLAGE WAS AWARE OF WORMWOODS PRESENCE. AND OVER THE PASSING DAYS, MANY WOULD COME TO VISIT.
YOUNG PEOPLE AND THE ONES HIS OWN AGE WOULD BRING HIM FOOD THAT THEY HAD PREPARED. THEY WERE BEWILDERED BY HIS STORY.
MANY SHARED EELS AND GOMORIES INITIAL DISBELIEF. AS THEY THOUGHT IT TO BE IMPOSSIBLE FOR SOMEONE TO SURVIVE ALONE IN THE FOREST FOR THAT LONG. BUT THERE WORMWOOD WAS, LIVING PROOF OF THAT VERY FACT.
SO TOO WOULD ELDERS COME TO HIM. SOME STILL REMEMBERED WORMWOOD FROM WHEN HE WAS A CHILD. AND THEY WOULD REMINISCE ABOUT THE OLD DAYS. EVEN THOUGH WORMWOOD COULD NOT REMEMBER, HE WOULD LISTEN.
AFTER ALL HE HAD NOTHING BETTER TO DO ANYWAYS. AS HIS INJURIES BOND HIM TO THE BED.
BY NOW WORMWOOD WAS USED TO LONG PERIODS OF RECOVERY. IT SEEMED AS IF THEY WOULD NOT STOP HAPPENING IN HIS LIFE. THOUGH THIS ONE WENT PAST QUICKER.
MOST OF HIS WOUNDS WERE ONLY SHALLOW CUTS. AND HIS FEVER WAS BROUGHT ON BY HIS STARVATION. NOW HOWEVER HE WAS ABLE TO EAT AND DRINK DAILY. SO, HIS SYSTEM COULD REGAIN ITS STRENGTH. IN JUST DAYS HE WAS ABLE TO WALK AGAIN.
DESPITE THAT WORMWOOD WOULD NOT LEAVE THE MED ROOM. HE HAD NO REASON TO. WORMWOOD ONLY EVER LEFT HIS OLD DEAD TREE TO GATHER FOOD AND NECESSITIES. BUT NOW EVERYTHING THAT HE COULD ASK FOR WAS BROUGHT TO HIM. SO THERE WAS NO NEED TO STEP OUTSIDE.
THIS ROUTINE WOULD CHANGE HOWEVER. ONE EVENING LOAIEL SPOKE TO HIM.
SHE ASKED WORMWOOD IF HE WANTED TO JOIN HER ON THE BALCONY. TOGETHER THEY WOULD EAT AND TALK INTO THE NIGHT. AS IT WAS A CUSTOM OF THEIR PEOPLE.
AND WORMWOOD WOULD AGREE TO HER OFFER. SINCE THE TINY ROOM GREW BORNING TO HIM. ADDITIONALLY HE WAS CURIOUS TO GET A BETTER LOOK AT THE WHOLE TREE. PERHAPS EVEN EXPLORE THE SURROUNDINGS.
BUT WHEN DAWN CAME, HIS EXCITEMENT WOULD VANISH. AS HE WENT OUTSIDE FROM THE INNARDS OF THE TREE, HE SAW THE SCENE UNFOLD BEFORE HIM. IT APPEARED THAT HE MISUNDERSTOOD LOAIELS WORDS.
AND WITH 'TOGETHER' SHE MEANT NOT ONLY THE TWO OF THEM. INSTEAD, SHE WAS TALKING ABOUT THE ENTIRE VILLAGE. AS IT SEEMED EVERYONE HAD CONGREGATED ON THE GREAT PLATFORM.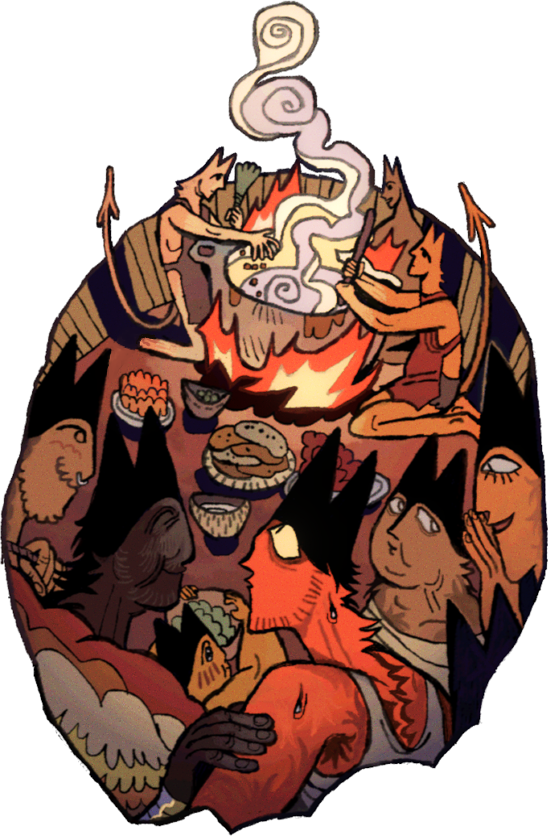 IN THE MIDDLE BURNED A FIRE. AND AROUND IT STOOD THE PEOPLE. THEY WOULD COOK, EAT AND DRINK. SO WOULD THEY TALK WITH EACH OTHER AND LAUGH.
CHILDREN WOULD RUN AROUND PLAYING. OTHERS WOULD SING AND DANCE. AND SUDDENLY WORMWOODS HEARTBEAT INCREASED.
THE MAJORITY OF THE PEOPLE WERE NOT STRANGERS TO HIM. SINCE MANY HAD VISITED HIM BEFORE AND SPOKEN HOWEVER BRIEFLY. STILL, HE NEVER MET MORE THAN THREE AT ONCE. WORMWOOD HAD NEVER SEEN THAT MANY PEOPLE TOGETHER IN ONE PLACE.
SO TOO WAS IT LOUD. THIS MUST HAVE BEEN THE SOURCE OF THE ODD MUFFLED NOISES HE HEARD ALMOST EVERY NIGHT.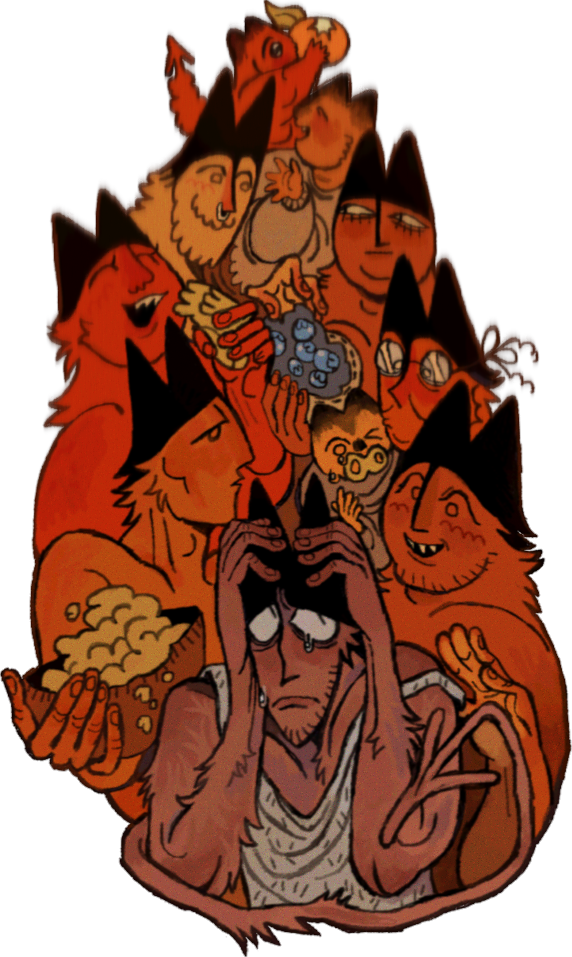 AND AS HE SAT NEXT TO LOAIEL, HE WAS UNABLE TO FOCUS ON ANYONE. AS SOME WOULD LEAN OVER AND GREET WORMWOOD. WHEN HE RESPONDED HIS VOICE WAS DROWNED IN BETWEEN THE NOISES.
THOUGH HE TRIED TO HIDE HIS GROWING UNEASE. IT QUICKLY BECAME ALMOST UNBEARABLE TO HIM.
HE COULD NOT EAT THE FOOD THAT WAS OFFERED TO HIM. NOR COULD HE UNDERSTAND A SINGLE ONE OF HIS OWN THOUGHTS. WORMWOOD FELT TEARS SWELL IN HIS EYES. AND HIS MIND WAS CLOSE TO BURSTING.
THE PASSING TIME WAS INFINITE. BUT AFTER A WHILE, WORMWOOD WAS ABLE TO SLIP UNNOTICED FROM THE CROWD.
HOWEVER, HE COULD NOT GO BACK TO THE MED ROOM. AS IT WAS LOCATED CLOSE TO THE BALCONY. HE WOULD HAVE NO PEACE. AS WORMWOOD KNEW THE CHATTER OF THE PEOPLE WOULD REACH HIM THERE.
SO WOULD IT BE THE FIRST PLACE WHERE LOAIEL WOULD LOOK FOR HIM. AND HE FEARED TO EXPLAIN HIMSELF TO HER.
HE DID NOT EVEN KNOW WHAT CAUSED HIM TO ACT LIKE THIS. BUT WHATEVER IT WAS IT MADE HIM ASHAMED.
INSTEAD, HE WOULD TAKE ONE OF THE WOVEN PATHS THAT LEAD AWAY FROM THE TREE. WORMWOOD HAD NO DESIRE TO GO FAR. JUST ENOUGH TO FIND A QUIET PLACE. AND HE WOULD COME BACK WHEN THE GATHERING HAD SUBSIDED.
THUS, HE WOULD WALK DOWN THE THICK BRANCHES THAT STRETCHED BETWEEN THE CANOPY. IT WAS DARK AROUND HIM.
ONLY CAREFULLY CULTURED GLOWING MUSHROOMS PAVED HIS WAY. AND THEY PREVENTED HIM FROM ACCIDENTALLY WALKING OFF THE EDGE. STILL, HE WAS CAREFUL WITH EVERY STEP HE TOOK.
BUT NO MATTER HOW FAR HE WENT HE WOULD ALWAYS SEE EVIDENCE OF THE NEARBY VILLAGE. AS HIS WAY WAS ALMOST LITTERED WITH BASKETS. SO WERE ROPES AND LADDERS HANGING FROM THE BRANCHES. AND BRIDGES WERE BUILT BETWEEN CERTAIN PLACES. WHERE THE WOODEN PATHS WERE NOT YET BIG ENOUGH TO CARRY A PERSON.
WORMWOOD LIKED THIS NEW PLACE, HE WAS SURE. THE PEOPLE WERE KIND TO HIM.
HOWEVER, HE STILL ENJOYED THE QUIET BLACKNESS AROUND HIM. IT COMFORTED HIM IN ITS FAMILIARITY.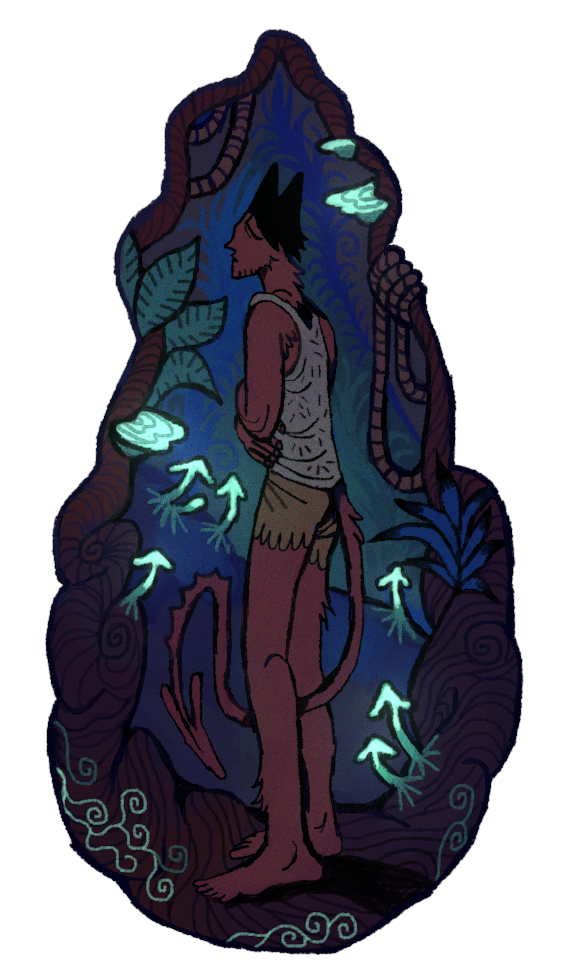 ALL AT ONCE A BRIGHT FLASH BLINDED HIS VISION. A SHOCK TRAVELED TO HIS BONES. HE ALMOST THOUGHT THAT RACHIEL HAD COME BACK TO HAUNT HIM ONCE AGAIN.
BUT AS HIS SIGHT RETURNED, HE SAW THAT THE FIGURE WAS MUCH SHORTER.
THERE BEFORE HIM STOOD EEL. HE DONNED HEAVY GLOVES. AND ON HIS SIDE, HE CARRIED METAL SCISSORS AND KNIVES. TO HIS HEAD HE HAD STRAPPED A TINY OIL LAMP. FROM WHERE THE LIGHT ORIGINATED.
"Hi there stranger!"
HE SPOKE. AND FOR A MOMENT WORMWOOD WAS CONFUSED.
"I- but you know me Eel."
"I'm just teasing you."
EEL LAUGHED AND THEN CONTINUED TALKING.
"But you really keep acting like one. What are you even doing out here?"
"Well, I could ask you the same thing."
WITH A GRIN ON HIS FACE EEL TOOK OFF THE LAMP. AND IN HIS HAND, HE DIMMED ITS LIGHT.
"Just walking over the Branchingways. Checking for weak spots, clipping off parasites and so on. It's easier doing it now when there are less people around!"
"Branchingways?"
"Oh, these ones."
AS EEL SPOKE, HE STOMPED SLIGHTLY ON THE WOVEN PATH THAT THEY WERE STANDING ON. MAKING IT MOVE EVER SO SLIGHTLY. THIS WAS THE NAME THAT THEIR PEOPLE GAVE THESE LIVING STRUCTURES.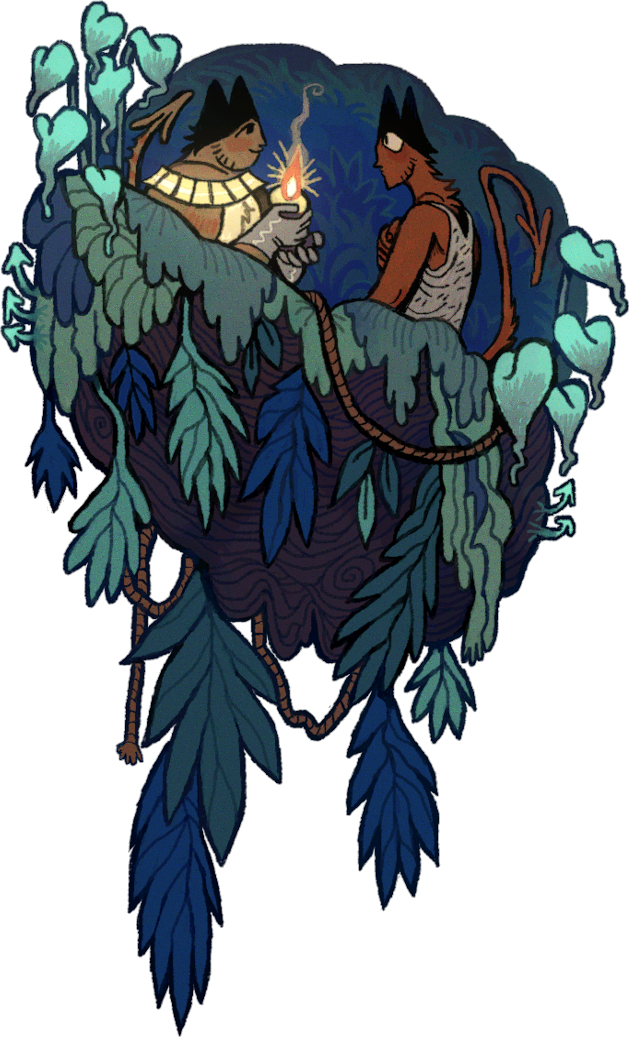 "Shouldn't you be on the balcony?"
"Why do you care?"
WORMWOODS WORDS CAME OUT IN A HARSH TONE. ALTHOUGH HE DID NOT INTEND THEM TO SOUND THAT WAY.
SO TOO DID EEL FEEL ASHAMED. AS HE THOUGHT THAT HE WAS BEING NOISY WITH HIS QUESTIONS.
"Oh, alright then never mind. I just wanted to ask you if you'd like some tea? I was heading back to my home anyways. Thought it would be better than being here in the cold."
AT FIRST WORMWOOD DID NOT RESPOND TO EEL. HE JUST LOOKED AT HIM. AS HE WAS LOST IN HIS OWN MIND.
"You don't have to of course-"
"Who else is there?"
WORMWOOD INTERJECTED.
"Just us two. I live on my own. But if you'd rather stay here or go back to the balcony that's ok too!"
AND WORMWOOD THOUGHT FOR ANOTHER MOMENT. EVALUATING THE OPTIONS IN HIS BRAIN. EVENTUALLY HE WOULD REPLY.
"Yeah, that sounds good. I'd love to come."
"Great!"
SOON THEY WOULD BE BACK AT THEIR HOME TREE. FROM THE TOP BRANCHINGWAYS A SERIES OF LADDERS LEAD TO THE HOUSING ORBS. AS THEY HUNG ACROSS THE MAIN TRUNK.
EELS WAS LOCATED CLOSE TO THE CROWN. SINCE IT HAD BEEN BUILD ONLY RECENTLY.
INSIDE, IT WAS NOT SPACIOUS YET IT WAS COZY. THE FLOORING WAS COVERED IN SOFT FABRIC. AND A SINGLE HAMMOCK WAS SUSPENDED BETWEEN THE SIDES. IT REMINDED WORMWOOD OF HIS OWN OLD HOME.
THEY SAT ON THE GROUND. AND EEL POURED HOT WATER INTO CUPS. SO DID HE PUT LEAVES IN. AND WORMWOOD WARMED HIS HANDS ON THE CERAMIC.
"Not a fan of dinners, are you? I get that. To be honest I don't like them much either. That's why I got this job!"
EEL HOPED THAT HIS WORDS WOULD START UP A CONVERSATION. BUT WORMWOOD KEPT HIS MOUTH SHUT. HE WOULD ONLY TAKE SMALL SIPS FROM HIS DRINK.
YET EEL WOULD TRY AGAIN. HOWEVER, EACH LITTLE THING HE SAID WOULD TRIGGER NO RESPONSE FROM WORMWOOD. AND TO HIM IT BECAME UPSETTING.
"I'm sorry if I annoy you."
"You do not."
WORMWOOD SAID AS HE DRANK.
"I just don't know what to say. I'll probably sound stupid."
NOW EEL WAS SMILING AGAIN.
"No worries."
SO, THEY WOULD SIT LIKE THAT. UNTIL EEL HAD RUN OUT OF TEA TO DRINK.
AND STILL, THEY WOULD BE THERE TOGETHER IN SILENCE. BUT WORMWOOD FELT AT EASE THIS WAY. HOWEVER, TO EEL IT WAS UNCOMFORTABLE. BUT HE DID NOT MIND.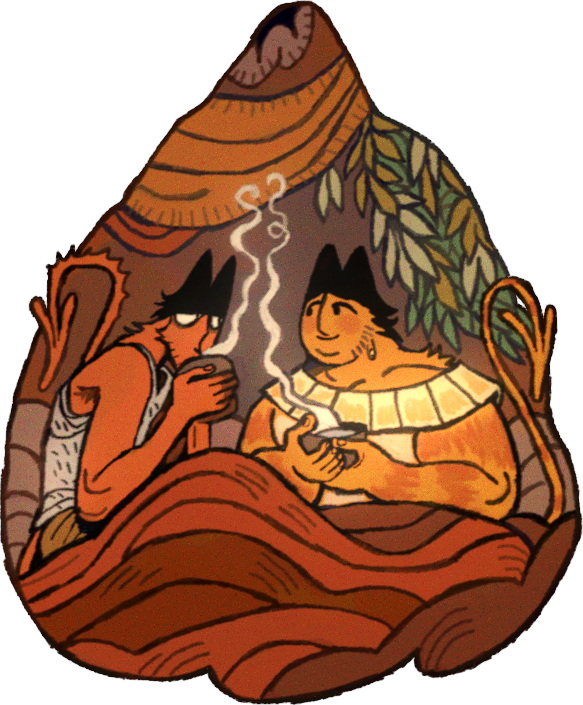 "Can I stay here for the night?"
IT WAS WORMWOOD WHO SPOKE.
"Uh, yeah sure! That's no problem."
"And could you tell Loaiel tomorrow that I'm sorry for leaving without saying anything."
EEL SEEMED SURPRISED. YET HE GRINNED AS HE ANSWERED.
"I think it is better if you apologize to her yourself."
AND HE TOOK A DEEP BREATH AS HE CONTINUED.
"You know wormwood, it's ok if you're not used to some things here yet. I mean; I can only imagine how I would struggle if I hadn't grown up here! You can take your time. No one is going to be mad at you for it. And if they are well, I guess I'll have to have a word with them then!"
HE LAUGHED AS HE SPOKE. SO DID WORMWOOD SMILE AS WELL.
SOON THE TIREDNESS WOULD GET THEM BOTH. AND EEL WOULD FALL ASLEEP IN HIS HAMMOCK. UNDERNEATH HIM WORMWOOD WOULD LAY ON THE BLANKETS.
THE BALCONY WOULD BECOME QUIET ALSO. AS THE PEOPLE STARTED TO LEAVE AND SETTLE INTO THEIR OWN PLACES FOR THE NIGHT.

YOU SAT BEHIND THE ROTTING LOG. THE SAME ONE YOU CHOOSE FOR SHELTER JUST HOURS BEFORE. YOUR BREATHING WAS RAPID.
AND FOR YOU IT WAS DEAFENING IN THE SILENCE OF THE NIGHT. IN YOUR SWEATY PALMS YOU CLUTCHED THE BROKEN BOW. WHICH JUST MOMENTS AGO WAS IN WORKING CONDITION.
MANY MORE LONG MINUTES PASSED UNTIL YOU COULD STAND AGAIN. AND AS YOU DID SO YOUR LEGS SHOOK UNDER YOUR WEIGHT.
WITH SLOW STEPS YOU MADE YOUR WAY DEEPER WITHIN THE BUSH. AS YOU GOT CLOSER, ANOTHER SOUND BECAME NOTICEABLE.
IT WAS THE SOUND OF LABORED GASPS FOR AIR. STRUGGLING BREATHS, FIGHTING TO AID IN LIVING. THOUGH IT WAS ALSO THE NOISE A DEAD MAN WOULD MAKE. SOON YOU WOULD COME IN VIEW OF ITS SOURCE.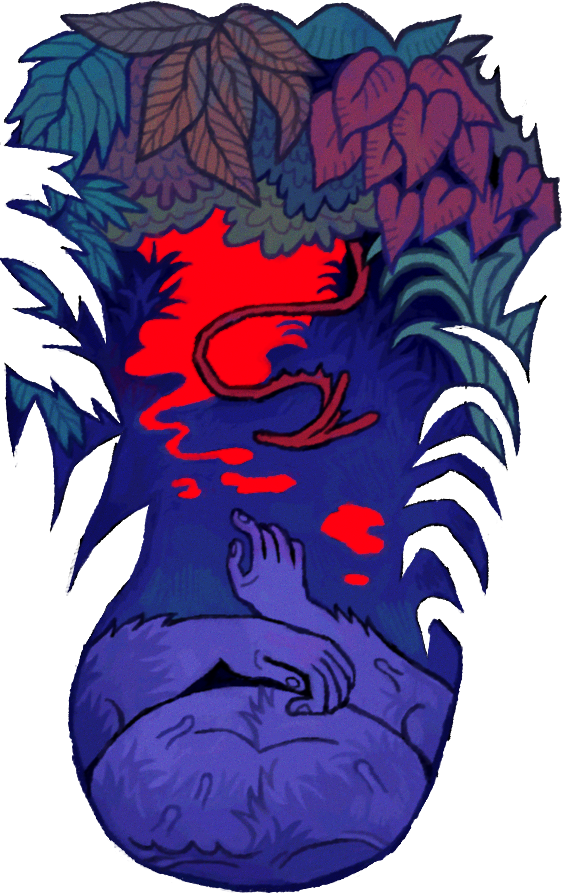 ON THE GROUND LAID A DEMON.
THE ONE THAT YOU HAD SHOT WITH YOUR ARROW MOMENTS BEFORE. HIS FUR APPEARED DULL IN THE DARKNESS. AND A POOL OF FRESH BLOOD GLISTENED IN THE MOONLIGHT.
AS YOU GOT CLOSER, YOU REALIZED THAT THE MAN WAS NOT DYING UNCONSCIOUSLY. INSTEAD, HE WAS AWAKE.
THOUGH HIS GRAVE INJURIES KEPT HIM FROM MOVING. ONLY HIS TAIL WOULD TWITCH AND CURL IN ON ITSELF. SO DID HIS ONE STILL WORKING EYE DART AROUND. AND HIS GAZE WOULD LOCK ON YOU AS HE SAW YOU.
THE MANS FACE WAS CONTORTED IN PAIN.
FEAR.
ANGER.
UNABLE TO UNDERSTAND THE SITUATION.
THE ARROWHEAD HAD NO TROUBLE GOING THROUGH THE SOFT TISSUE OF HIS LEFT EYE. IT WOULD ONLY STOP AS IT BROKE INSIDE HIS SKULL. ALMOST PIERCING HIS ENTIRE HEAD.
IT LOOKED AS IF THE MAN WANTED TO TALK. SCREAM PERHAPS.
BUT IT WAS IMPOSSIBLE. HIS NOSE AND THROAT WAS FILLING WITH SO MUCH BLOOD, HE COULD BARELY BREATHE ANYMORE. ONLY COULD HE GAG ON THE WARM LIQUID.
YOU WERE PARALYZED BY THE SCENE. AND YOU WOULD WATCH THE MANS LAST LIVING MOMENTS INTENTLY. SILENTLY SPECTATING HIS LOSING BATTLE.
SUDDENLY THE MANS ARM WOULD JERK FORWARD. HIS HAND WOULD WRAP AROUND YOUR ANKLE. THOUGH HIS GRIP WAS SO WEAK, IT FELT LIKE THE TOUCH OF A FEATHER.
THE MANS EYE WOULD SWELL WITH TEARS. AND HIS SIGHT WOULD NEVER STRAY FROM YOUR FACE.
WITH ONLY A SLIGHT KICK, YOU WOULD FREE YOUR LEG. STILL, YOU STOOD IN PLACE.
IN REALITY JUST MINUTES PASSED. BUT FOR BOTH OF YOU IT FELT INFINITE.
EVENTUALLY THE MAN WOULD TAKE HIS LAST PAINFUL GASP. AND THE ONLY NOISE IN YOUR EARS BECAME YOUR RACING HEARTBEAT.
YOU WOULD STAND OVER HIS BODY UNTIL DUSK CAME ABOUT. AN AS THE SKY TURNED A ROSY PINK, YOU WOULD MOVE AGAIN. QUICKLY YOU WOULD GATHER YOUR BELONGINGS AND LEAVE THIS PLACE.
YOU WOULD CONTINUE IN THE DIRECTION THAT YOU WERE WALKING PREVIOUSLY. YOU WERE NOT DESTINED TO LIVE MUCH LONGER. AND YOU WOULD DIE OF THIRST IN YOUR SLEEP. DEEP WITHIN THE WILTED UNDERBRUSH. ALONE AND AFRAID.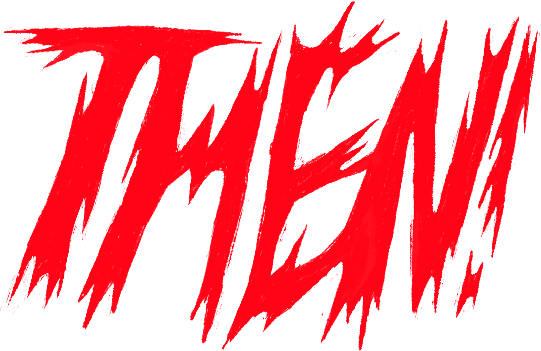 YOU AWOKE FROM YOUR SLUMBER AS YOU FELT SOMETHING SHIFT. A SUDDEN WEIGHT PINNED YOUR CHEST TO THE GROUND. WHEN YOU OPENED YOUR EYES, YOU COULD MAKE OUT A FIGURE ABOVE YOU.
A DEMON WAS STRADDLING YOUR TORSO. YOUR SIGHT WOULD CLEAR UP. AND YOU COULD SEE HIS ENTIRE SHAPE.
HE WAS A SKINNY MAN. A COMPLETE STRANGER.
FAR FROM YOU, THE MAN HELD A HEAVY ROCK ABOVE HIS HEAD. BEFORE YOU COULD MAKE SENSE OF THE SITUATION, IT HAD ALREADY HAPPENED.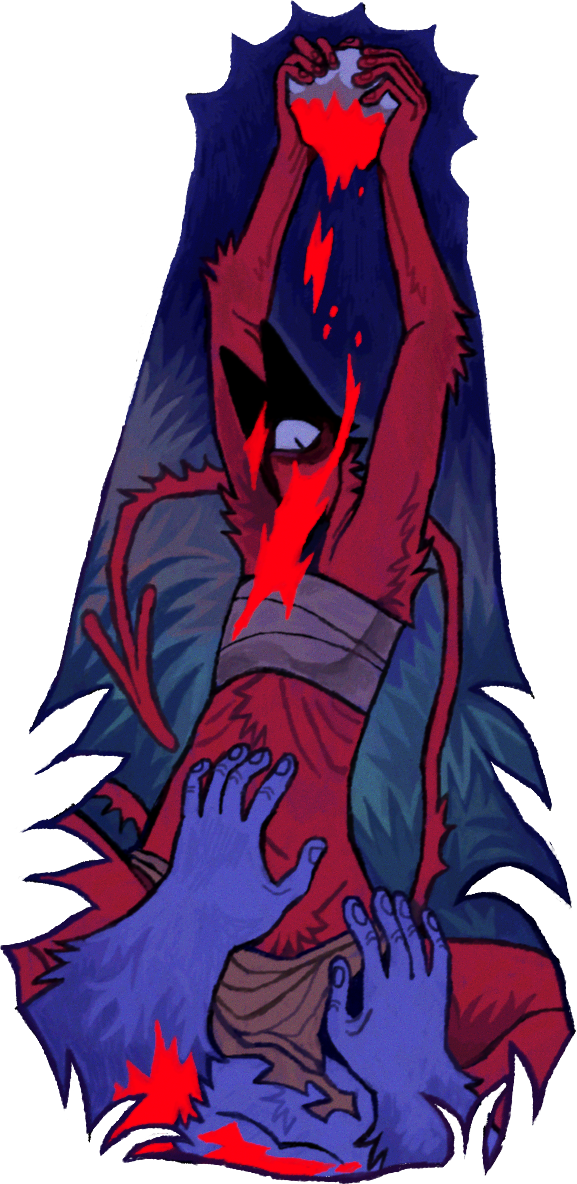 YOU FELT THE MOST HORRIBLE PAIN AS THE STONE MET WITH YOUR SKULL.
THERE WAS NO TIME FOR YOU TO REACT. AND AGAIN, ITS ROUGH SURFACE WOULD HIT YOUR BONES WITH UNIMAGINABLE FORCE.
WITH EACH SWUNG YOU COULD FEEL YOUR JAW BREAK FURTHER. IN A FUTILE ATTEMPT OF SELF DEFENSE, YOU WOULD HOLD YOUR ARMS UP. TRYING TO PROTECT YOUR HEAD FROM THE VIOLENCE.
BUT IT WAS NOT ENOUGH. AND SOON YOU WERE UNABLE TO EVEN LIFT A FINGER.
AFTER ONE PARTICULARLY PLACED SMASH, YOUR VISION WOULD BECOME DARK. SO DID YOU FEEL YOUR OWN FACIAL DISK SPLINTER INTO YOUR FLESH BENEATH. SHARDS OF BONE AND BLOOD WOULD CONSTRICT YOUR AIRWAYS. AND THE ONCE SHARP INTENSE PAIN TURNED DULL.
YOU HAD LONG STOPPED MOVING. THE MAN HOWEVER DID NOT SUBSIDE HIS MURDER. AND IT WAS ONLY WHEN YOUR HEAD BECAME AN UNRECOGNIZABLE GORE, THAT HE WOULD LET GO OF THE ROCK.
CATCHING HIS BREATH, HE WOULD SIT ON YOUR CORPSE FOR A WHILE. STRETCHING HIS BLOODY LIMBS AS HE GOT UP.
THE MAN WOULD TAKE HIS TIME GOING THROUGH YOUR BELONGINGS. TAKING ALL YOUR FOOD AND EVERYTHING ELSE THAT HE COULD NEED.
THEN HE WOULD LEAVE THIS PLACE. GOING BACK TO WHERE HE HAD COME FROM.
THE MAN WOULD LIVE FOR ANOTHER YEAR AFTER THAT DAY. HE WOULD BLEED OUT INTERNALLY OVER LONG PAINFUL NIGHTS. AFTER HE HAD ATE SOMETHING THAT HE SHOULD NOT HAVE.
HIS BODY WOULD ROT WITHIN HIS OLD DEAD TREE WHERE HE LIVED. SO WOULD YOU DECOMPOSE, NEVER TO BE FOUND BY ANYONE.
FLOWERS WOULD SPROUT FROM THIS SOIL. AND YOU WOULD ONLY EVER MEET AGAIN THROUGH THE MANY BUGS. POLLINATING THE LILIES THAT WOULD MARK YOUR GRAVES.
"Stop that."
π WHISPERED FROM HIS SORE THROAT.
"Don't show me anymore."
"But it's just getting good!"
THE BEING IN FRONT OF HIM WOULD TEASE. AND ITS BRIGHT CHANGING BODY WOULD BLIND π.
"Don't you want to hear about that time you fell down a cliff, broke both your legs and it took 2 months for you to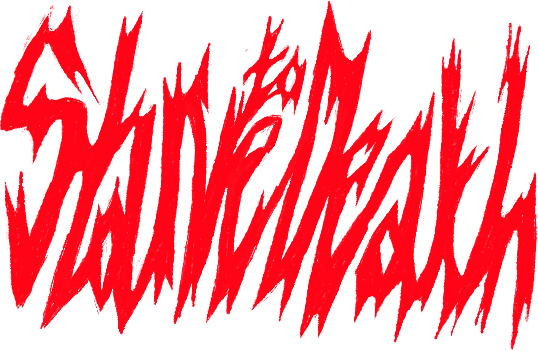 Or when you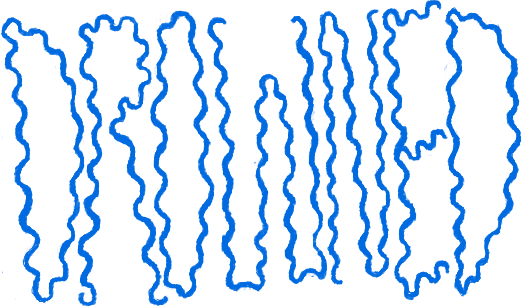 in a river!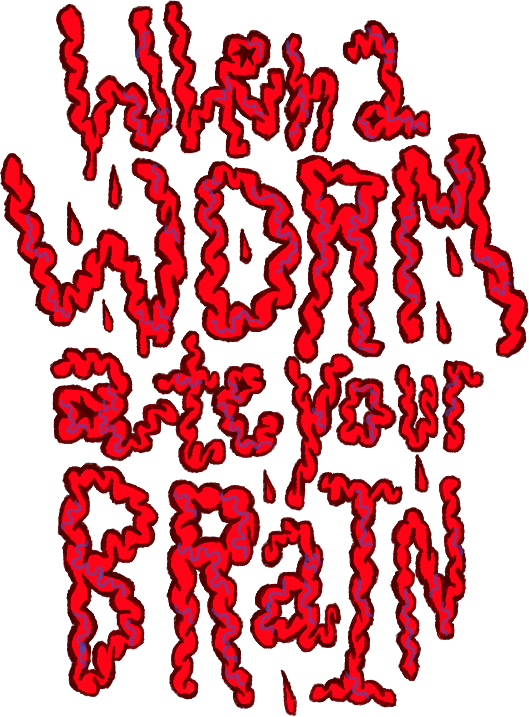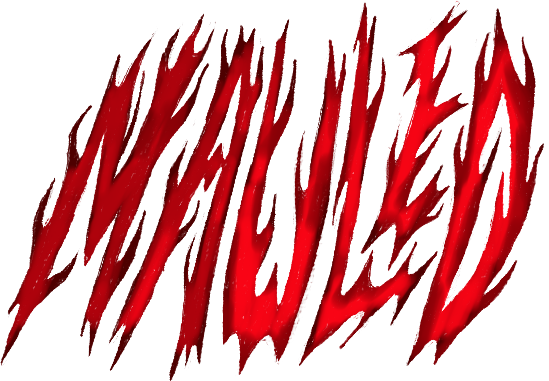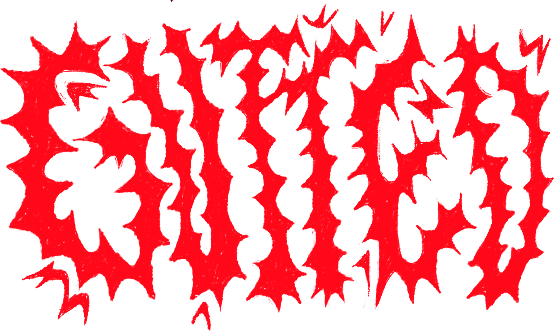 "We are here π!"
IT WAS RACHIELS VOICE. π BLINKED AND WHEREVER HE WAS BEFORE, NOW HE STOOD BEHIND RACHIEL AGAIN. HER HAND HOLDING HIS TIGHTLY.
FOR π THE GUTTURAL AMBIANCE AND SOFT MEAT UNDERNEATH HIS FEET FELT LIKE A RELIEF. AND HIS MUSCLES RELAXED AS HIS SENSES CAME BACK TO HIM.
SO TOO DID RACHIELS GENTLE SMILE CALM HIS NERVES. HE WOULD HAVE FALLEN INTO HER ARMS IF HE COULD. THOUGH HE KEPT HIS STANCE AS HE LISTENED.
"Here is where I have to leave you."
"What why!?"
THE SHOCK FELT LIKE A STAB INTO πS CHEST. HE LOOKED AROUND.
ALL OF A SUDDEN, HE REALIZED THAT THERE WAS A MEMBRANE STRETCHED ACROSS. COVERING THE PATH IN FRONT OF THEM.
IT WAS SO THIN, IT SHOULD HAVE BEEN COMPLETELY TRANSPARENT. THOUGH NO LIGHT DID PENETRATE IT. THE SURFACE WAS REFRACTING THE DIMM SHINE AROUND THEM. CAUSING AN OPALESCENT SHIMMER. JUST AS THE LESE DID WHEN π FIRST CAME TO THIS PLACE.
"I have told you the reason already! if I were to go a single step further, I will be absorbed into it! But threaten not π! This passage marks the blood brain barrier! Past it, its most vulnerable organ sits!"
"How do you know?"
π SOUNDED FRUSTRATED AS HE SPOKE.
"How do you know about anything? Food that will strengthen me? What will and won't kill me? That I'm even able to survive here? How did you know all the things would turn out as they did?"
AT FIRST RACHIEL KEPT QUIET AGAIN. THIS TIME THOUGH, SHE COULD NO LONGER IGNORE THE QUESTIONS. SHE DID NOT SHOW IT IN HER EXPRESSION, BUT SHE FELT BACKED INTO A CORNER.
"It is right π, I might not have been completely honest with you."
RACHIELS WORDS WERE SOMBER IN A WAY THAT π HAD NEVER HEARD. HOWEVER, HE WAS NOT SURPRISED. NOT EVEN AS SHE TOLD HIM THE TRUTH.
AS IT TURNED OUT, RACHIEL HAD NOT RECENTLY DECIDED THAT SHE WOULD KILL THE FLESH. INSTEAD, EARTH WAS NOWHERE NEAR THE FIRST PLANET THAT SHE FELL IN LOVE WITH. SO TOO WAS IT NOT THE FIRST TO RESIST ITS DESTRUCTION. AS THIS FRUITLESS ENDEAVOR HAD GONE ON FOR EONS.
SOMETIMES THE FIGHT WAS DOOMED FROM THE START. WHEN THE PERSON WHO WAS PARTLY OF THE FLESH, DIED BEFORE RACHIEL COULD FIND THEM. IN THAT CASE THERE WAS NOTHING FOR HER TO DO BUT WATCH IN HORROR. AS THE LIFE WOULD BE DRAINED FROM THE PLANET WITHOUT OPOSISSION.
OTHER TIMES THE HYBRID WAS ALIVE. BUT IT BELONGED TO A SPECIES THAT COULD HAVE NOT BEEN REASONED WITH. PLANETS WHO WERE NOT HOME TO SAPIENT LIFE.
OR THE SAPIENT SPECIES WAS NOT RANDOMLY CHOSEN TO BEAR THE HYBRID. THESE WERE THE MOST HORRIBLE SCENARIOS TO RACHIEL. SADLY, THEY WERE THE MOST COMMON.
IN FEW LUCKY CASES, ALL THE ODDS WERE IN RACHIELS FAVOR HOWEVER. SO WOULD THE HYBRID BE ALIVE AND BORN TO SAPIENT PEOPLE. AND RACHIEL WOULD TELL THEM OF THEIR FATE AS SHE DID TO π.
"See your weapon π! It was gifted to me millennia ago. Crafted by a skilled blacksmith who had walked these veins as you do now. It was her wit and foresight that made her create such a tool that would morph to the needs of the user. So did she choose gold as its coating. Strong and durable yet toxic to the flesh! May her soul rest easy among her world."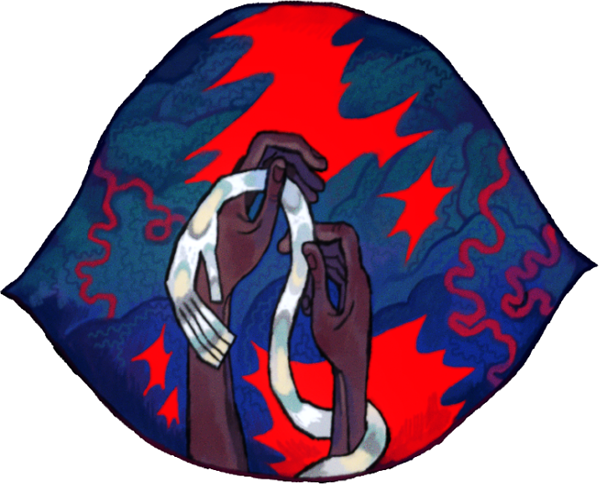 "I have passed it down since! To each who could hold it. And I kept it as my dearest possession."
π HAD SUSPECTED THAT HE WAS NOT THE FIRST HERE. STILL THE SCOPE OF RACHIELS HISTORY TOOK HIM ABACK. AND FEAR SWELLED HIS MIND.
"I thought it was best to not tell you about my failure of a legacy. It would only have needlessly worried you! But there is no reason to threaten any more! You have come far π! Further than many have before! I myself am astonished at your perseverance!"
A HEAVY BREATH FILLED πS LUNGS. AND HE MADE HIS WAY CLOSER TO THE MEMBRANE. THE BOW WAS HELD STEADY IN HIS HANDS.
YET HIS KNEES WERE SOFT. AND HE FELT TEARS ON HIS CHEEKS. AS THE REALITY OF THE SITUATIONS SETTLED INTO HIS BONES.
"I will not return from there, will I."
IT WAS NOT SPOKEN AS A QUESTION. SO TOO DID RACHIEL NOT RESPOND.
"No turning back then. Either I die in there or here."
AT LAST IT WAS RACHIEL WHO GRABBED HIM AND TOOK HIM INTO HER ARMS. SHE WOULD PLACE KISSES ON HIS FACIAL DISK.
AND π COULD HAVE SWORN THAT HE FELT HOT TEARS COMING FROM HER FACE. THOUGH AS HE TURNED AND LOOKED AT HER SHE WAS STILL GRINNING BRIGHTLY.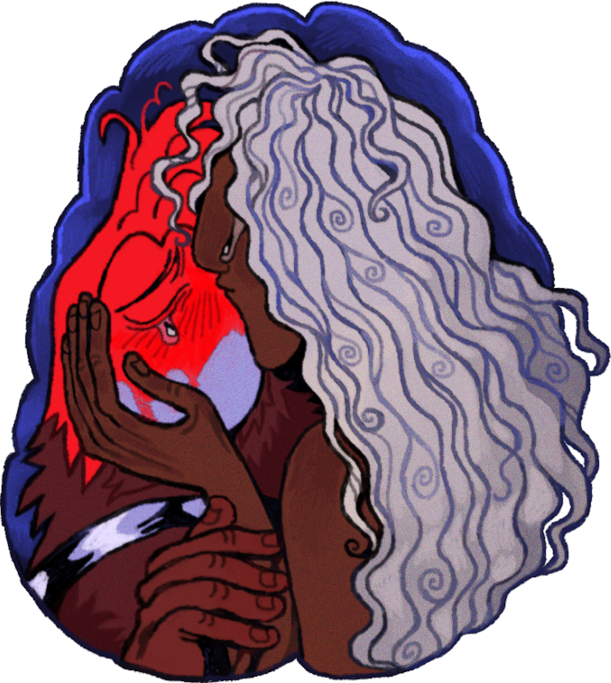 A SINGLE THOUGHT RAN THROUGH πS BRAIN. FOR A MOMENT THE WORDS WERE ALMOST ON HIS TONGUE. HE WANTED TO SAY SOMETHING.
ASK RACHIEL THAT WHEN HE WAS DEAD TO GO BACK TO EARTH. FIND ALEPH, EULER AND MAYBE EVEN WORMWOOD. AND TELL THEM THAT HE WAS SORRY. SORRY FOR EVERYTHING.
BUT HE COULD NOT BRING HIMSELF TO SAY THAT OUT LOUD. INSTEAD, HE BURIED HIS FACE INSIDE RACHIELS CHEST JUST A LITTLE WHILE LONGER. HOWEVER, HE KNEW THAT HE HAD TO LET GO.
π WAS SOBBING NOW. AND WHEN HE WAS ALMOST TOUCHING THE MEMBRANE, IT FELT TO HIM AS IF HE WAS ABOUT TO COMMIT SUICIDE. VOLUNTARY WALKING INTO DEATH ITSELF.
"Goodbye Rachiel."
π SPOKE BETWEEN HIS TEARS.
"See you on the other side!"
RACHIEL REPLIED. AND π COULD NOT LOOK BACK TO HER. HE PASSED THROUGH THE FILM AS IF IT WAS NOT THERE. AND AT LAST, HE DISAPPEARED FROM RACHIELS SIGHT.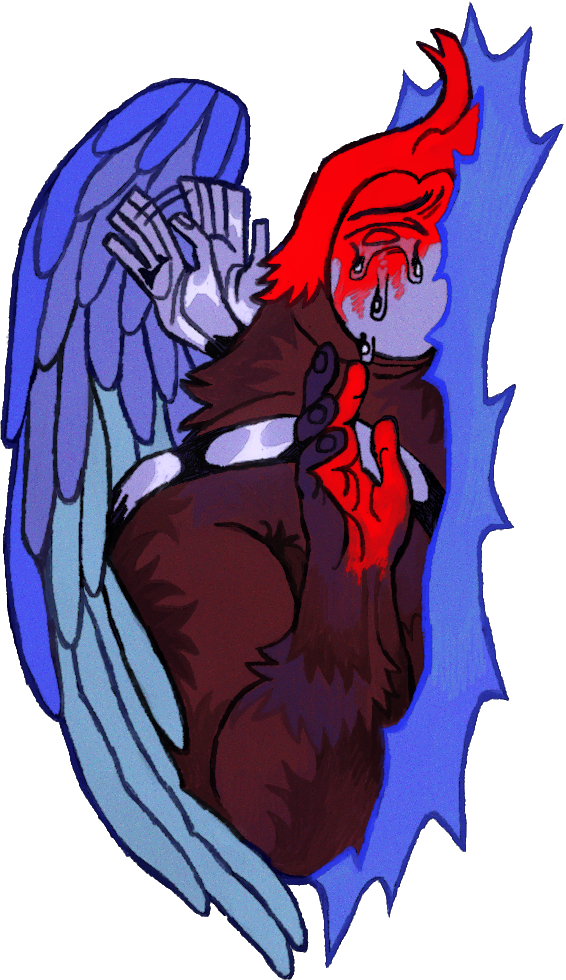 THE WET DISTANT NOISE OF WORKING ORGANS WAS THE ONLY THING THAT FILLED THE SPACE NOW. RACHIEL WOULD STAND THERE FOR MANY HOURS. SINGING PRAYERS TO HERSELF.
IN LANGUAGES LONG DEAD TO ANYONE BUT HER.

THE TIME IN THE VILLAGE WOULD MOVE ON. AT FIRST WORMWOOD WOULD KEEP TO HIMSELF AS HE PREFERED. AND EVERYONE ELSE WOULD RESPECT HIS BOUNDARIES. BUT AS WEEKS PASSED SO WOULD HIS COMFORT GROW.
IT MADE LOAIEL HAPPY SEEING WORMWOOD JOIN DAILY ACTIVITIES ON HIS OWN VOLITION. HE WOULD WALK AROUND THE BRANCHINGWAYS AT DAYTIME.
WATCHING THE PEOPLE GO ABOUT THEIR BUSINESS LIKE HE DID WITH π SO LONG AGO. YET HE WOULD ONLY RARELY STRIKE UP A CONVERSATION.
WORMWOOD WAS AMAZED AT THE VARIETY OF THINGS THE VILLAGERS DID. NOT ONLY DID SOME HUNT AND GATHER. OTHERS WOULD THEN COOK IT. SO WERE THERE PLENTY WHOSE OCCUPATION HAD NOTHING TO DO WITH FOOD.
A COUPLE, LIKE EEL, WOULD SHAPE THE BRANCHINGWAYS AND WEAVE NEW ONES. THERE WERE PEOPLE WHO SEW CLOTHES. PEOPLE WHO BUILD LATTER BRIDGES, POTTERS AND CARPENTERS. BEE AND BUG KEEPERS. AND MANY MORE WHO WORKED THINGS THAT HE DID NOT UNDERSTAND THE POINT OF.
ONE PERSON HE MET WOULD PLAY ON HER STRING INSTRUMENT ALL DAY, DOING NOTHING ELSE. AND HER MELODIES SOUNDED BETTER THAN ANYTHING WORMWOOD EVER HEARD FROM πS LYRE.
HOWEVER, HE HAD THE GREATEST FASCINATION WITH THE ARTISTS. AS THEY WOULD PAINT NEWLY CONSTRUCTED BRANCHINGWAYS, VESSELS AND DIFFERENT OTHER TRINKETS. JUST AS WORMWOOD ONCE DID IN HIS OLD HOME.
THOUGH THE PEOPLE HERE DREW RELIGIOUS INSCRIPTIONS WITH DISTINCT MEANINGS. INSTEAD OF HIS DOODLES WHICH ALWAYS HAD BEEN MEANINGLESS TO HIM.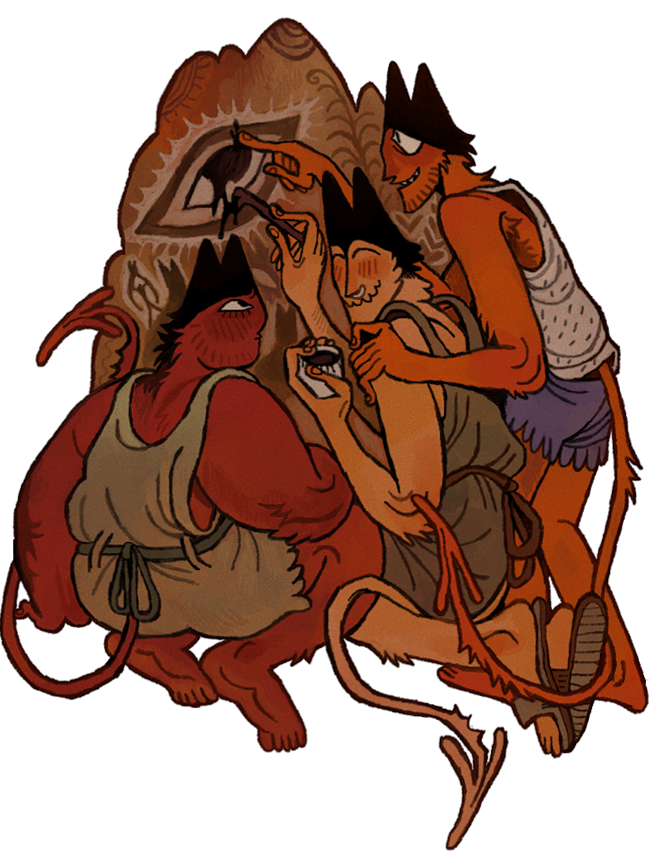 WORMWOOD BECAME MOST COMFORTABLE WITH GOMORY AND EEL. AND IT WAS ONLY WITH THEM THAT HE WOULD TALK LONGER. AS HE FOLLOWED THEM THROUGH THE DAYS. TOGETHER THEY ATE AND WOULD WASH THEIR CLOTHES BY THE RIVER.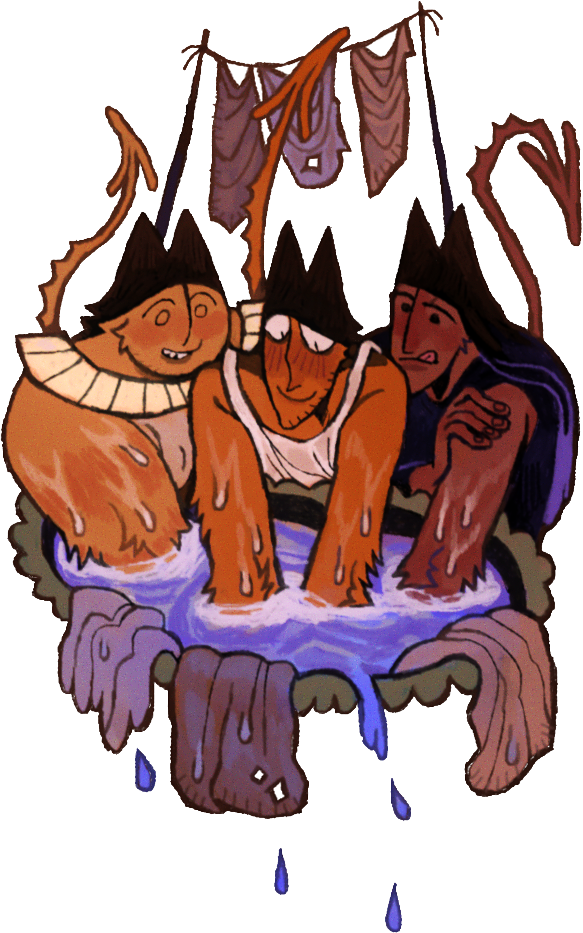 SO TOO DID WORMWOOD MOVE INTO EELS ORB. SINCE IT WOULD TAKE TIME TO CONSTRUCT ONE OF HIS OWN.
AND IT WAS BETTER THAN STAYING IN THE MED ROOM. AS THIS WAS NOT A PLACE FOR PERMANENT RESIDENCE. AND OTHER PEOPLE WOULD NEED THE SPACE WHEN RECEIVING TREATMENT.
FOR THE TIME BEING WORMWOOD GREW ACCUSTOMED TO THIS STRANGE NEW PLACE. THOUGH HE WAS HESITANT TO CALL IT HIS HOME.
NONETHELESS IT WAS BETTER THAN DYING WOULD HAVE BEEN. AT LEAST HE THOUGHT IT TO BE. AND THIS TINY VILLAGE SEEMED LIKE A REFUGE.
THE SERENITY WOULD SOON BE DISTURBED HOWEVER. AS NOT A SINGLE PLACE ON EARTH WAS SPARED. THE BEASTS FANGS PUNCTURED THE SURFACE. LEAVING NOTHING SACRED IN ITS WAKE.
TAKING PLACE ON ONE OF THE NUMEROUS DAYS, IT STARTED OUT QUIET. NOT EVEN EEL CAME TO GREET WORMWOOD THIS MORNING. AS HE WAS ALREADY GONE BY THE TIME HE AWOKE.
WORMWOOD SAW PEOPLE BUT MANY LESS THAN USUAL. HE NOTICED THEY WERE QUICKER ON THEIR FEET. NONE OF THEM TALKED TO HIM OR NOTICE HIM WHEN WALKING PAST.
BUT WORMWOOD DID NOT YET KNOW ENOUGH ABOUT THE CUSTOMS OF THIS VILLAGE TO JUDGE. THUS, FOR HIM THERE WAS NO REASON TO DISTRESS. HE DECIDED TO DO HIS ERRANDS ALONE THAT DAY.
HE MADE HIS WAY DOWN THE RIVERBANK TO GET HIS DRIED CLOTHES FROM THE DAY BEFORE. BUT INSTEAD OF THE USUAL BUSTLE, THE WATER RUN STILL.
THERE WERE NO OTHER PEOPLE THERE.
THE FEELING GREW STRONGER AND WORMWOOD HURRIED TO GET BACK. WHEN HE CAME INTO VIEW OF THE HOMETREE AGAIN A VOICE CALLED OUT TO HIM.
"Wormwood!"
IT BELONGED TO EEL.
"Where have you been?"
BUT HE DID NOT EXPECT WORMWOOD TO ANSWER. EEL APPEARED TO BE IN THE SAME RUSH AS EVERYONE ELSE. AROUND HIM STOOD ALL THE CHILDREN OF THE VILLAGE AND THEIR PARENTS. CARRYING THE ONES TOO SMALL TO WALK.
EEL HELD A TODDLER IN HIS ARMS WHO WAS CLINGING TO HIS CHEST. ALL WERE LOOKING AT WORMWOOD WITH OOD EXPRESSIONS ON THEIR FACES THAT HE COULD NOT READ WELL. HE DID, HOWEVER, NOTICE SOME OF THE CHILDREN WERE CRYING QUIETLY.
OUT OF THE GROUP STEPPED A WOMAN WITH THREE INFANTS IN HER ARMS. WALKING UP TO HIM, WORMWOOD UNDERSTOOD WHAT SHE WANTED.
HE DROPPED HIS CLOTHES ON THE GROUND AND TOOK ONE OF THE SMALL BABIES INTO HIS OWN ARMS. THE WOMAN SMILED AT HIM AND THE GROUP STARTED WALKING UP THE BRANCHINGWAYS TO LOAIELS HUT. ALONG THE WAY WORMWOODS MIND WAS RACING TO MAKE SENSE OF THESE OCCURRENCES.
INSIDE THE HUT WERE ALREADY PEOPLE. IT SEEMED AS IF ALMOST THE ENTIRE VILLAGE WAS HERE. AND WORMWOOD THOUGHT TO HIMSELF THAT THIS HAD TO BE THE FIRST TIME IN HIS LIFE HE SAW THIS MANY PEOPLE IN SUCH A TINY PLACE.
SOME GREETED EACH OTHER WHEN THEY ENTERED BUT MOST STAYED QUIET. AS EVERYONE CRAMPED TOGETHER IN THE SMALL ROOM.
EEL OFFERED WORMWOOD A PLACE NEXT TO HIM BUT WORMWOOD WENT TO SIT AT THE LOOKOUT. SO EEL GOT UP AND SAT WITH HIM THERE. THE MOTHER OF THE BABY HE HELD SAT TO HIS OTHER SIDE.
OUTSIDE THE HUT ON THE GREAT BALCONY, THERE WAS A HUGE UNUSUAL LOOKING CONTRAPTION. WORMWOOD HAD NEVER NOTICED IT PREVIOUSLY. PLENTY OF PEOPLE STOOD AROUND ITS CIRCUMFERENCE.
BEFORE HE COULD ASK ABOUT IT, A GROUP OF HUNTERS RAN PAST THEM. TAKING HIS ATTENTION AWAY. THEY CARRIED THEIR WEAPONS BUT MOST ODDLY, THEY ALSO CARRIED BIG BLANKETS AND SACKS FULL OF SAND. THE HUNTERS DISAPPEARED DOWN ONE OF THE BRANCHINGWAYS LEADING OUT OF THE VILLAGE.
"Where are they going?"
WORMWOOD WHISPERED.
"They go out to extinguish the fire, in case Gomory should miss."
A FAINT GRIN APPEARED ON EELS FACE.
"...But she never misses."
AND THERE HE RECOGNIZED HER. GOMORY WAS ONE OF THE PEOPLE STANDING IN FRONT OF THE WOODEN MACHINERY. A LIT TORCH IN ONE HAND, SHE WAS TALKING TO THE OTHERS AROUND HER. WITH LOAIEL ON HER SIDE.
BUT HER FACE WAS NOT TURNED TO ANY OF THEM. INSEAD IT WAS TO THE SKY.
WORMWOOD FOLLOWED HER GAZE. THAT WAS WHEN HE SAW IT.
THERE IT WAS.
THE REASON FOR ALL THE FEAR!
IT WAS FEAR HE REALIZED IN THAT MOMENT. ALL THE ODD EXPRESSIONS OF THE PEOPLE MEANT FEAR. THEY WERE AFRAID. AND SO WAS HE.
DOWN FROM BETWEEN THE GRAY CARPET OF CLOUDS CREEPED A TENDRIL. IT WAS SKINNY AND FAR AWAY. IF IT WERE TO TOUCH THE GROUND IT WOULD NOT BE NEAR THE VILLAGE. BUT FOR SURE CLOSE ENOUGH TO CAUSE FAMILIAR EVENTS.
IT WAS A FLESHY THING.
PINK, RED AND WET. GLISTENING IN THE DAYLIGHT. HE COULD EVEN MAKE OUT PULSATING VEINS. ITS MOVEMENTS WERE ORGANIC, ALMOST INTELLIGENT.
GOMORY SHOUTED THINGS HE COULD NOT UNDERSTAND. PEOPLE STARTED TO PULL LEVERS AND ROPES AND THE CONTRAPTION BEGAN TO MOVE.
LOAIEL BEGAN TO PRAY AND SO DID SOME IN THE HUT. THE WOOD ACHED AND STRAINED AND MADE TERRIBLE SOUNDS. BUT NOT AS TERRIBLE AS WORMWOOD WOULD FIND OUT SOON.
AT THE CENTER OF THE MACHINE LAY A PILE OF BOUND DRY GRASS AS TALL AS A PERSON. IT WAS SET ABLAZE BY GOMORYS TORCH.
THAT WAS WHEN HE UNDERSTOOD THE PURPOSE OF THE CONTRAPTION. IN ITS METHOD IT WAS A SLINGSHOT. JUST MORE COMPLEX AND BIGGER.
WORMWOOD REMEMBERED MAKING THOSE AS A CHILD WITH BRANCHES AND WEAVED GRASS. HE THOUGHT HE COULD KILL BIRDS MORE EASILY THAT WAY BUT ALAS THEY NEVER WORKED FOR HIM. BUT THIS ONE SEEMED TO BE WORKING JUST FINE.
EEL TAPPED HIS SHOULDER GENTLY. HE TURNED AWAY FROM THE LOOKOUT AND GAZED INTO THE ROOM AGAIN. FEELING LIGHTHEADED NOW.
ALL THE ADULTS HELD THEIR CHILDRENS HORNS. AND EVERYONE WITHOUT A CHILD HELD THEIR OWN. EEL DID SO TOO WITH THE TODDLER HE CARRIED SINCE THEY MET THAT DAY. SO DID THE MOTHER NEXT TO HIM.
HE TOO WOULD LAY THE BABY ON HIS LAP AND WRAP HIS FINGERS AROUND THEIR TINY HORNS. GRIPPING THEM FIRMLY BUT GENTLY AND NOT TOO TIGHT.
HE WONDERED WHAT THEY WANTED TO PROTECT THEIR HEARING FROM. BUT HE WOULD SOON FIND OUT.
GOMORY CRIED OUT ONE LAST TIME AND THE SLINGSHOT FIRED. THE BURNING LOAD CUT THROUGH THE SKY IN A PERFECT ARC.
AND AS EEL SEEMED TO HAVE PREDICTED, IT HIT THE TENDRIL RIGHT INTO ITS MASS.
IT WAS LIT ON FIRE IN AN INSTANT.
"Flares!"
WORMWOOD EXCLAIMED. EVERYTHING SEEMINGLY FELL INTO PLACE IN HIS MIND.
"Your people were causing the flares!?"
BUT HIS VOICE WAS DROWNED OUT COMPLETELY. AS IT BURNED IN THE SKY, GASSES FROM ITS INNARDS WERE RELEASED. IT CAUSED A LOUD SHRILL SCREECHING.
LIKE A PERSON SCREAMING IN HORROR.
LIKE SOMETHING DYING BUT DESPERATELY FIGHTING TO STAY ALIVE.
SO LOUD EVEN, IT MADE WORMWOOD TEAR UP. ALMOST GRABBING HIS OWN HORNS INSTINCTIVELY. THOUGH HE REMEMBERED THAT FOR THE INFANT IT MUST BE A HUNDRED TIMES LOUDER. HE NEVER LESSENED HIS GRIP.
IT SEEMED TO DIE FOR AN ETERNITY. EVENTUALLY THE SCREECHING STOPPED.
THERE WAS NOTHING LEFT OF THE TENDRIL BUT ASHES IN THE WIND. A GREAT RELIEF WAS GOING THROUGH EVERYONE. FOR THE FIRST TIME TODAY WORMWOOD HEARD LAUGHTER.
THE GROUP OF PEOPLE BEGAN TO THIN AS MOST WENT ON WITH THEIR DAILY BUSINESS. AND THE HUNTERS CAME BACK. WITH ALL THE BLANKETS AND SAND UNUSED.
EEL AND WORMWOOD WOULD MEET GOMORY BY THE SLINGSHOT. WITH OTHERS THEY HELPED HER CLEAN UP THE BALCONY. AS THE MACHINE WAS PUT BACK INTO ITS RESTING POSITION. HIDDEN IN THE TREE CROWNS.
WORMWOOD COULD NOT CONTAIN HIMSELF ANY LONGER. HE SPOKE OF THE FLARES AND ASKED ABOUT THE TENDRILS AND TOLD OF THE BODY IN THE SKY.
EEL FOLLOWED ENTHUSIASTICALLY AND ANSWERED EVERY QUESTION HE COULD. THOUGH HE DID NOT UNDERSTAND A LOT OF THE THINGS WORMWOOD SAID. AS THEY WERE THINGS π HAD TOLD HIM.
BUT DESPITE THE SUCCESSFUL BURNING GOMORY DID NOT SHARE MUCH OF THE JOY. SHE WENT TO THE FAR SITE OF THE BALCONY. THAT WAS WHERE LOAIEL STOOD AND STILL MURMURED HER PRAYERS. TRYING TO KEEP HERSELF TOGETHER GOMORY STARTED TALKING.
"This was the third tendril in only two months. Oma, we were lucky there was still enough grass. I don't know what I could have done if-"
SHE BEGAN TO CRY.
"If there was no grass left. Or if anything happened. What if there's one tomorrow, we couldn't do anything! Would we have to burn our writings or our clothes? What if-"
SHE LEANED IN AND TOOK HER SHAKING GRANDDAUGHTER INTO HER ARMS. LOAIEL FOLLOWED.
"It is not your fault it would never be. You are doing everything you can and more. Gomory you are the most skilled doctor, huntress and aim around the whole river and I'm so proud of you. Remember, if anything should happen it does not mean certain death. We can always move again-"
A NOISE SOMEWHERE BETWEEN A CRY AND A WHIMPER CAME FROM GOMORY. AS SHE BURIED HER FACE DEEPER INTO LOAIELS CHEST.
"No more! No more moving! I'm sick of moving, walking and losing half of our families every time we do it. We are home! I want to stay home! Please I'm home! I want to be home. I'm home. Please please…"
SHE WAS UNABLE TO HIDE HER CRYING NOW. AND LOAIEL SAID NOTHING IN RESPONSE. SHE WOULD HOLD HER TIGHTER.
GOMORY WAS RIGHT AND THERE WAS NOT A THING THAT COULD BE SAID. SO, THEY JUST STOOD THERE TOGETHER WATCHING CLOUDS ROLL OVER THE HEAVENS. WHISPERING SILENT PRAYERS TO EACH OTHER AS THE SUN BEGAN TO SET.
NONETHELESS THERE WAS A CELEBRATION THAT NIGHT. A FEAST WITH SONG AND DANCE. TO BE THANKFUL, FOR BEING GRANTED TO KEEP THEIR HOME A LITTLE WHILE LONGER. AT LEAST FOR NOW.
BY THAT TIME WORMWOOD WAS USED TO THE LOUD NIGHTLY DINNERS. DESPITE THAT HIM AND EEL STILL LEFT THE GATHERING EARLY. AND THEY WOULD MAKE THEIR WAY TO A FAR OFF PLACE. DEEP WITHIN THE TWISTING TREE CROWNS.
THOUGH THEY DID NOT COME HERE TO RELAX. AS WORMWOOD WAS STILL SHAKING WITH ADRENALINE.
HE WOULD NOT STOP TALKING ABOUT THE BODY. THE ONE THAT WAS HIDDEN ABOVE THEIR HEAVENS. THE ONE THAT WAS THE VERY CAUSE OF THEIR MISFORTUNE.
THOUGH HE DID NOT KNOW MANY OF THE WORDS THAT π HAD USED AS HE HAD TOLD HIM. AND IT WAS HARD FOR WORMWOOD TO TRANSLATE IT INTO HIS OWN LANGUAGE. SO, HIS SENTENCES WERE INCOMPREHENSIBLE. NEITHER DID THE ALCOHOL HE DRANK BEFORE HELP WITH HIS SLURRED SPEECH. EEL COULD HARDLY FOLLOW AS HE SPOKE.
"Okay, that means Pie- wait I meant π, made the rivers sour or?-"
"No!"
WORMWOOD YELLED IN RESPONSE. HE LET OUT FRUSTRATED GROANS AS HE KEPT ON TALKING.
"You don't get it! He's trying to stop it! But now he's dead and-... I don't even know myself."
"Uh I see. Well, that doesn't sound good?"
FOR A MOMENT ALL THE THOUGHTS IN WORMWOODS MIND DIED. AND HE COULD ONLY STARE AT EEL IN RESPONSE.
ON HIS LIPS WAS A STRAINED SMILE. AND WORMWOOD REMEMBERED THAT HE ONLY DID THAT WHEN HE FELT UNCOMFORTABLE. EVENTUALLY EEL SPOKE.
"You are scaring me, Wormwood."
"I don't mean to! I'm only telling the truth."
"I know. I believe you."
A GASP ALMOST ESCAPED WORMWOODS THROAT. HEARING THOSE WORDS FROM EEL MADE SOMETHING SHIFT IN HIS MIND. HIS TONE OF VOICE WAS SUBDUED AS HE CONTINUED.
"No, you don't. But that's ok. I wouldn't believe myself either."
IN THAT MOMENT SUDDEN GUILT WASHED OVER WORMWOOD. AND TO HIM IT FELT LIKE HOW π MUST HAVE FELT IN THAT FAITHFULL NIGHT.
YET HIS BRAIN WAS SPLIT. HE COULD NOT BE ENTIRELY CONVINCED BY HIS OWN WORDS. THERE WAS STILL DOUBT IN HIM.
BUT WHAT ELSE COULD IT BE? IT DID NOT MATTER TO WORMWOOD HOW MUCH HE DESPISED RACHIEL. THE THINGS SHE SAID SEEMED TO EXPLAIN EVERYTHING.
THEY GAVE SENSE TO THE MOST ODD OCCURRENCES THAT TOOK PLACE IN RECENT TIMES. THIS HORRIBLE KNOWLEDGE PLAUGED HIS MIND. AND IT ATE AWAY ON HIM FROM THE INSIDE.
EEL LAID A HAND ON WORMWOODS TREMBLING FRAME. AT ONCE HE WAS RISEN FROM THE DEPTHS OF HIS THOUGHTS. AND HIS MUSCLES SEEMED TO EASE UNDER HIS GENTLE TOUCH.
"To be honest I like your explanation the most so far. Way more interesting than any I've heard before!"
HE STARTED TO LAUGH.
"Terry thinks it's a punishment for the wicked ways of our generation! and Gabriel researches it as a weather phenomenon!? Can you imagine..."
THEIR FINGERS INTERTWINED. AS THEY HELD EACH OTHERS HANDS, THEY WOULD SQUEEZE THEM TIGHTLY.
"Whatever it may be. Right now, we have it under control at least! And if it gets worse, well..."
EEL COULD NOT FINISH HIS SENTENCE. THERE WAS NOT A SINGLE COMFORTING THING THAT HE COULD THINK OF.
WORMWOOD UNDERSTOOD THE SUDDEN SILENCE. SO TOO, HAD HE NOTHING ELSE TO SAY. AND AS THE AIR BECAME COLD, THEY WOULD GO BACK TO THEIR ORB. ALL THE WAY THEY WOULD HOLD EACH OTHERS HAND.
PRAYING AND THANKING EACH DAY WAS THEIR ONLY REASSURANCE. IT WAS FOR EVERYONE IN THEIR VILLAGE.
EVEN THOUGH THE PEOPLE HAD THEIR OWN EXPLANATIONS, THEY WERE AWARE OF THE SAD REALITY. THAT THERE WAS NOTHING THEY COULD DO. AND THEIR EXISTENCE HUNG ON BY A THREAD.
DESPITE THAT THEY WOULD LIVE THEIR LIVES. FIGHT BACK HOWEVER THEY COULD.
SO WOULD THEY CHERISH THE TIME THAT HAD BEEN GRANTED TO THEM. AND ENJOY THEIR LIFE AS IF IT WAS CAREFREE. IN STEADY DEFIANCE TO THE UNKNOWABLE HORROR THAT WOULD THREATENED THEIR SURVIVAL TO COME.

πS EYES OPENED SLOWLY. HE DID NOT KNOW WHERE HE WAS. AND HE COULD NOT FEEL HIS BODY AROUND HIM.
IT WAS AS IF HIS HANDS WERE A THOUSAND MILES AWAY FROM HIS FEET. SO WAS HIS HEAD STRETCHED OVER A LONG DISTANCE.
THEN LIGHT APPEARED AROUND HIM. π FOUND THAT HIS LIMBS WERE NOT CONTORTED. AND HIS SHAPE WAS NORMAL TO HIM.
YET EACH ONE OF HIS MOVEMENTS FELT HEAVY. AND HE HAD TROUBLE LIFTING HIS HEAD FROM THE GROUND.
NO LONGER WAS THE FLOOR MADE OUT OF WARM FLESH HOWEVER. AS HE LOOKED AROUND, HE SAW THAT HE WAS IN A PLACE MADE FROM CRYSTALLINE GLASS. AND THE LIGHT WOULD BREAK ON ITS SURFACE CREATING A SPECTRUM OF COLORS.
ITS FORMS WOULD BE THE ONES OF FRACTALS. REPEATING THEMSELVES ENDLESSLY. THE LONGER π KEPT HIS SIGHT ON ANY OF THEM, THE MORE WOULD HIS MIND ACHE.
π COULD NOT BREATH. THOUGH HE DID NOT NEED TO. NOR COULD HE FEEL HIS HEARTBEAT. YET HE HAD THE ENERGY TO MOVE.
THE TIP OF HIS ARROW WOULD DRAG BEHIND HIM AS HE WALKED. AND IT WOULD LEAVE A DEEP GASH IN ITS WAKE. DESPITE THAT, THE FLOOR WAS STILL SOLID BENEATH πS STEPS.
HE WOULD WANDER THE EMPTY SCAPE FOR MANY YEARS. IT WOULD TAKE HIM ONLY SECONDS TO FIND HIS DESTINATION. π SAW IT FAR IN FRONT OF HIM.
THERE ON THE MIRROR SURFACE WAS A MOUNT.
ITS MATERIAL WAS THE SAME AS EVERYTHING ELSE. AND IF HE DID NOT STRAIN HIS EYES AGAINST THE HORIZON, HE WOULD HAVE SURELY MISSED IT. IT WAS THE SAME PULL THAT LEAD HIM TO FIND IT. THE ONE THAT WOULD CHOOSE EVERY PATH FOR HIM.
SOON HE STOOD ABOVE IT. IT WAS THE SIZE OF A MOUNTAIN. AND AS π REACHED TO TOUCH IT, HE COULD HAVE HELD IT IN HIS PALMS. IT WAS NOT ENTIRELY GLASS HOWEVER. AS UNDER ITS TRANSPARENT DOME WAS AN ORGAN.
THERE LAID A WORKING BRAIN. π COULD SEE THIN RED CAPILLARIES COVERING ITS EPITHEL. AND IT SEEMED TO PULSE EVER SO SLIGHTLY.
WITHOUT THINKING, π KICKED IT WITH HIS FOOT. THOUGH IT WAS ONLY SLIGHT, THE FORCE HURT HIS BONES. THE MOUNT HOWEVER, TOOK NO DAMAGE.
SO π STRETCHED HIS ARM. AND AS HIS FINGERTIPS MET WITH THE SLICK SURFACE, SOMETHING SHIFTED.
THE ATMOSPHERE SUDDENLY CHANGED. NO LONGER WAS THE LIGHT A HAZY GLOW. NOW IT WAS BRIGHT AND FORMED HARSH SHADOWS AROUND HIM.
πS CHEST TIGHTENED. IF HE COULD BREATH, HE WOULD HAVE LET OUT A GASP. AND FOR THE FIRST TIME IN CENTURIES, HE HEARD SOUNDS.
VOICES THEY WERE. CALLING OUT TO HIM. THE SAME THAT HE HAD HEARD BEFORE.
AND EVEN THOUGH HE WAS AWARE THAT THEY WERE DREAMS, HE FELT HIMSELF BEING PULLED ANYWAYS. HE TURNED HIS HEAD. BUT THERE WAS NOTHING AROUND HIM. WHEN HE LOOKED BACK, THERE IT STOOD.
IN FRONT OF HIM TOWERED THE BEING. THE SAME ONE THAT HAD HUNTED HIM THE WHOLE TIME IN HERE. THAT HE HAD KILLED PREVIOUSLY.
AND IT TOOK THE APPEARANCE OF ALEPH. SO DID IT LOOK LIKE EULER AND WORMWOOD AND CANTO AND HIS MOTHER AND PEOPLE THAT HE HAD NEVER SEEN BEFORE.
A WAVE OF LOVE OVERCAME π. AND IF HIS HEART WAS NOT ALREADY IMMOBILE, THIS CERTAINLY WOULD HAVE CAUSED IT TO STOP.
IN ONE MOVE HE ROSE THE BOW INTO POSITION. AT THE VERY SAME TIME HE COULD SEE THE BEING LEAP FORWARD TO HIM. π SHUT HIS EYES. AND HE PREPARED FOR GREAT PAIN.
HE WAS CERTAIN ITS LOVE WOULD TEAR HIM APART. HE WOULD BE SKINNED ALIVE IN THAT VERY MOMENT. BURNED AND GUTTED. SLASHED AND LEFT TO BLEED OUT. HIS ONLY HOPE WAS FOR IT TO BE OVER QUICKLY.
AND IT WAS AS IF A MILLION HANDS WERE TOUCHING HIM. BUT INSTEAD OF RIPPING HIM TO SHREDS, THEY MET HIS SKIN SOFTLY. EACH WOULD CARESS HIM.
ITS MANY TOUCHES WERE THE MOST PLEASANT THAT π HAD EVER FELT. SO TOO WAS THE SENSATION LIKE ACID. AND π COULD ONLY CONTINUE HOLDING HIS BOW WITH EFFORT. AS HE HAD TROUBLE NOT TO MELT UNDERNEATH IT.
HE COULD HEAR IT WHISPER INTO HIS EAR. SWEET NOTHINGS IN MANY TONGUES.
"Aren't you exhausted?"
IT TOOK π STRENGTH TO KEEP HIS EYES OPEN. AND EVERY TIME THEY WOULD CLOSE, HE SAW IMAGES BEFORE HIM.
"Why don't you stay with us?"
THEY WERE OF IMAGINED SCENES IN HIS BRAIN. WHERE HE WOULD SIT IN HIS CAVE. HIS BODY WRAPPED IN BLANKETS. HE WOULD BE NEXT TO HIS MOTHER WHO HELD EULER IN HER ARMS AS SHE SLEPT. THEY WOULD DRINK TEA AND LISTEN TO ALEPH, WHO WOULD TELL THEM OF ALL THE DAYS HAPPENINGS. π SPOKE TO ALEPH.
BUT NEITHER OF THEIR VOICES WERE DRENCHED IN ANGER. THEIR CONVERSATION WAS HELD LOVINGLY. AS EACH WOULD LISTEN TO WHAT THE OTHER HAD TO SAY. AND THEY WOULD LAUGH UNTIL FAR INTO THE NIGHT.
"We can give you everything you desire!"
THEN THE SCENE WOULD CHANGE. SUDDENLY HE LAID IN THE GRASS. ABOVE HIM THE LEAVES WOULD DAPLE THE SUNLIGHT AS IT WARMED HIS FACE. NEXT TO HIM WORMWOOD CLUNG ONTO HIS ARM. HE WOULD PLACE KISSES ALONG πS NECK.
BY HIS OTHER SIDE WAS CANTO. SHE HAD HER HEAD PLACED ON πS CHEST. AND EVEN THOUGH IT SEEMED AS IF SHE WAS ASLEEP, THEIR FINGERS WERE TIGHTLY INTERTWINED. SO WAS RACHIEL SITTING OVER HIM. HER HANDS WOULD RUN THROUGH πS HAIR.
AS ALL OF THEM WOULD SPEAK TO HIM. TELLING HIM HOW MUCH THEY LOVED HIM.
"Come home π."
"Please stop."
HE SAID IN HIS MIND. πS KNEES BECAME WEAK. THESE SCENES CAUSED HORRIBLE FEELINGS TO RISE WITHIN HIM. ONES THAT WERE DEEPLY UNSETTLING.
IF HIS STOMACH HAD STILL CONTAINED ANYTHING, IT WOULD HAVE MADE HIM THROW IT ALL UP. NO LONGER COULD HE STAND ITS TOUCH. AND ANY PLEASURE HE FELT BEFORE FADED.
"You could never do it."
IT TOOK THE VOICE OF ALEPH AS IT SPOKE.
"Just like you could never do anything right."
THEN THE TONE CHANGED. NOW IT SOUNDED LIKE WORMWOOD.
"Why don't you just leave!? Isn't that what you can do best!? Just leave everyone behind!"
"Shut up."
THESE WERE THE ONLY WORDS π COULD MUSTER. AND HE TIGHTENED THE THREAD OF HIS BOW. HIS CHEST CONTAINED A MIXTURE OF VILE EMOTIONS. ATTEMPTING TO IGNORE THEM WAS FUTILE. AND HIS MIND WAS FILLED WITH SHAME AND REGRET.
"Why did you leave me π?"
πS EYES WIDENED AS HE HEARD THIS PARTICULAR VOICE. IT BELONGED TO EULER. SHE SAT IN FRONT OF HIM. ONLY INCHES UNDERNEATH THE POINT OF THE ARROW.
"You know that I can't sleep alone. But you left anyway. That was really mean of you!"
"I'm on my way home euler!"
π RESPONDED EAGERLY. STILL HIS TONE WAS QUIVERING FROM HIS CRYING.
"Why won't you then. Come home. I am tired of your empty promises. π."
"It's not real. It's not real."
THESE WORDS WOULD π MURMUR TO HIMSELF. AND EVEN THOUGH HIS TINY SIBLING WAS IN THE WAY HE WOULD SLOWLY LINE UP THE ARROWHEAD WITH THE MOUNT. GATHERING ALL THE STRENGTH THAT HE HAD. TO HIM THE THREAD SEEMED CLOSE TO SNAPPING.
"𝝅!"
IT CALLED OUT. NO LONGER WAS IT IN THE VOICE OF ANYONE HE KNEW.
THE MANY HANDS BEGAN TO CLAW AT HIM. PULLING ON HIS SKIN. RIPPING IT IN MANY PLACES. BUT BEFORE IT COULD TEAR OFF HIS LIMBS, π HAD ALREADY MOVED.
THE BASE OF THE ARROW WOULD SLIP FROM HIS FINGERS. THE TENSION IN THE TREAD WOULD RELEASE. IT WOULD TRAVEL TOWARDS THE MOUNT BENEATH.
AS IT MET THE CRYSTALLINE DOME SHATTERED INTO INFINITE PIECES. AND THE SHARP END BURROWED ITSELF DEEP INSIDE THE PINK PULP.
π LIFTED THE WEAPON. IN AN INSTANT, THE BLOOD SPRAYED FROM THE FRESH WOUND. COATING HIS FUR IN THE WARM LIQUID. NOW HE WOULD HOLD ONLY THE ARROW IN HIS HANDS AND RAM IT BACK INTO THE CUT. OVER AND OVER.
SUDDEN ECSTASY OVERFLOWED π. AS THE BLOOD BLINDED HIS SIGHT HE WOULD BEGIN TO CHUCKLE. SOON IT WOULD TURN INTO LAUGHTER. NOT ONLY HIS OWN. HE COULD NOT STOP HIMSELF FROM SMILING AS HE SPOKE.
"What kind of God would die by the hands of a mortal!? Isn't this hilarious! You should have killed me first! The moment you had a chance to, but you didn't! Why? To have something to toy with? Well look who got the last laugh!"
WITH EACH TRUST THE FRAGILE ARROW BEGAN TO BREAK. AS THE SOUR JUICES SEEMED TO EAT THROUGH THE MATERIAL. THE GOLDEN SPLINTERS WOULD GLISTEN IN THE LIGHT. DESPITE HIS BROKEN WEAPON, π WOULD NOT STOP SLASHING. AND EVEN THOUGH HE WAS UNABLE TO BREATH, HE WOULD TALK AGAIN.
"Die!
π WOULD SPEAK IN MANY TONGUES. THE WORDS FROM HIS THROAT WERE NOT SAID BY HIM. HE FELT HIS VOCAL CORDS MOVE AGAINST HIS WILL. THOUGH HE DID NOT MIND.
Die a million deaths! And you shall suffer with each death. Suffer magnitudes greater than the countless souls that fell victim to your insatiable hunger!"
EVENTUALLY THE ARROW WAS ONLY MERE FRAGMENTS. BUT π COULD NOT LESSEN THE SLAUGHTER.
AS HE WOULD PUSH HIS HANDS INTO THE BLOODY GOO. AND HE WOULD PULL OUT FIST FULLS OF THE PULSING CURLS. π WOULD LET IT DRIP DOWN FROM BETWEEN HIS FINGERS.
"Your blood shall run our rivers red. And it shall fertilize our torched soil. We may feast on your corpse! And it shall sate generations to come! As even our grandchildrens children will eat the marrow from your bones!"
π CONTINUED TO GORE THE BRAINCASE. AND AS HE DID SO HE COULD FEEL ANOTHER TOUCH ON HIS BACK. THIS ONE HOWEVER WAS NOTHING LIKE THE HANDS ON HIM BEFORE. AS THIS SINGLE TOUCH DID NOT FEEL LIKE ANYTHING THAT HE EXPERIENCED IN THE FLESH.
TO HIM IT WAS FAMILIAR. ALMOST COMFORTING. FOR A MOMENT IT MADE HIM THINK OF HOME. HIS EARTHLY ONE.
YET HE KEPT GOING. AND WHEN THERE WAS NO MORE GRAY MATTER LEFT, HE WOULD REACH IN FURTHER. π WOULD RIP OUT LONG NERVES AND TENDONS. IN HIS HANDS HE WOULD HOLD VERTEBRAE AND CONNECTIVE TISSUE.
"Die!"
HE WOULD YELL.
"Die! Perish and never return!"
SUDDENLY HE STOPPED. AS SOMETHING HAD CATCHED HIS ATTENTION.
DEEP WITHIN THE BLOODY MESS SOMETHING SHIMMERED. π WOULD REACH IN. AND AS HE TOOK IT OUT, HE WOULD EYE IT. LETTING IT ROLL AROUND IN HIS PALM.
IT WAS A TINY PIECE OF BONE. HOLLOW ON THE INSIDE. ITS SHAPE HE COULD RECOGNIZE. A SPIRAL, LIKE THE ONE OF A SNAIL SHELL.
HE WOULD HOLD IT SECURELY IN HIS HAND. NEVER LETTING GO OF IT.
IT WAS THEN WHEN THE GROUND UNDER HIM BEGAN TO SHAKE. THE FORMERLY LEVEL FLOOR WOULD BULGE. AND ALL AT ONCE THE GLASS SHATTERED.
BEFORE HE WAS ABLE TO REACT, π WAS SURROUNDED BY SHARDS. MANY SMALL ONES WOULD FLY THROUGH THE AIR. SO DID COME MASSIVE ONES FROM BENEATH.
THE PLACE WAS NO LONGER EMPTY. NOW ITS SCAPE WAS FILLED WITH RAZORS OF ALL FORMS AND SIZES. CASTING ODD SHADOWS IN THE STILL ANGRY LIGHT. WITHOUT ANOTHER THOUGHT π STARTED TO RUN.
HIS ATTEMPTS TO GET AWAY SEEMED FUTILE. AS HE DID NOT EVEN KNOW WHERE TO GO.
SO π WOULD JUST WALK IN WHATEVER DIRECTION HAD LEVEL SURFACE. YET AS HE RAN, HE WOULD BUMP INTO NEWLY FORMED SPIKES. AS THE ENVIRONMENT CONTINUED TO FALL APART AROUND HIM.
HE WOULD CUT HIS LEGS OPEN ON THE SHARP EDGES. IT STUNG BADLY BUT HE DID NOT STOP.
THEN THE GROUND OPENED UP. A GAPING CLIFF APPEARED BEFORE HIM. π WAS UNABLE TO HALT IN TIME. AND HIS MOMENTUM WOULD SEND HIM INTO THE PITCH DARKNESS.
HE FELL FOR LONG YEARS. AND AS HE CLOSED HIS EYES, HE WOULD OPEN THEM IMMEDIATELY.
THEN IT WAS BRIGHT AROUND HIM AGAIN. BUT NOT HARSHLY AS PREVIOUSLY. THIS TIME IT WAS SOFT.
π TOOK HIS FIRST BREATH IN MILLENIA. AS HE DID SO HE COUGHED. AND ON HIS TONGUE HE TASTED SOMETHING METALLIC.
"π! Oh, thank the heavens you are alive!"
IT WAS RACHIELS VOICE. π COULD SEE HER FACE ABOVE HIM. SHE HELD HIM IN HER ARMS.
AND AS HE TURNED HIS HEAD, HE REALIZED THAT THEY WERE AT THE OUTER LENSE. THE VERY SAME PLACE THAT HE ARRIVED AT. NOW HOWEVER THE FLESH DID NOT PULSE. AND IT FELT COLDER THAN BEFORE.
π LOOKED BACK TO RACHIEL. TO HIM HER FACE APPEARED STRANGE.
IT WAS THEN THAT HE NOTICED THAT SHE WAS NO LONGER SMILING. AS HER FACE WAS FROWNING AND WORRIED. SO DID TEARS FLOW FROM HER CHEEKS. AND IT WAS AN UNEXPECTED SIGHT TO π. HE COULD ONLY CHUCKLE WEAKLY.
RACHEIL BROUGHT HIM CLOSER TO HER. AND SHE WOULD HUG HIM TIGHTER THAN SHE EVER DID. BURYING HER FACE INTO HIS CHEST.
"Oh π, thank you! Thank you!"
IN RESPONSE π LET OUT A PAINFUL MOAN. AS RACHIELS EAGER EMBRACE CAUSED HIS INJURIES TO ACHE. AND OF THOSE HE HAD PLENTY!
πS LEGS WERE CUT IN COUNTLESS PLACES. FROM WHICH THE BLOOD POURED FREELY. SO WERE HIS WINGS MANGLED. AND AS π BREATHED, HIS RIBS FELT HEAVY.
RACHIEL LOOKED AT HIS BROKEN FRAME IN HORROR. AND FOR MAYBE THE FIRST TIME IN HER LONG LIFE SHE HAD NO WORDS TO SAY. SHE COULD ONLY WEEP.
"I think I've lost your bow. I'm so sorry."
π MANAGED TO SPEAK. THOUGH HIS VOICE WAS MEAGER. RACHIEL BEGAN TO SMILE AGAIN. BUT IN ADDITION, MORE TEARS SWELLED UP IN HER EYES.
"Oh π. Oh π!"
AND SHE WONDERED TO HERSELF HOW ONE COULD FEEL HAPPY AND SAD AT THE SAME TIME. AS SHE DID IN THAT VERY MOMENT.
THEY WOULD SIT LIKE THIS FOR MANY HOURS. OUTSIDE THE LENSE THE EARTH WOULD SPIN ENDLESSLY. AT LAST, REACHIELS WORDS WOULD END THE SILENCE.
"I shall bring you home again! Away from this horrible place! Should I bring you back to your friend? What was his name-"
"No!"
π GASPED. HIS RESPONSE WAS SPOKEN QUICKLY. AND HE HAD TO RECOVER HIS BREATHING BEFORE HE COULD CONTINUE.
"Not there. I know where you can bring me…"