Chapter 2: CANOPY
Part 1
IT WAS THE FIRST DAY INTO THE JOURNEY. π HAD WALKED FOR MOST OF IT AND ONLY TOOK SHORT RESTS. AS HE WAS STILL FILLED WITH ANXIOUS JOY. AND HE DID NOT WANT TO MISS A SINGLE SIGHT. FOR SURE THERE WERE MANY SIGHTS TO BEHOLD!
HE SAW TREES TALLER THAN THE TALLEST PINES AT THE MEADOW. AND THEY WERE NOT SKINNY AS THOSE.
INSTEAD, THESE TREES WHERE THICK AND ANCIENT LOOKING. AND THEIR BRANCHES WERE TWISTING INTO EACH OTHER. CREATING A TIGHTLY WEAVED CANOPY. AND HE FOUND OUT BECAUSE OF THAT, EVEN AT MID DAY THERE WAS NOT MUCH LIGHT REACHING DOWN TO THE GROUND.
THE TRAIL WAS THIN AND SURROUNDED BY PLANTS AT ALL SITES. WITH LEAVES OF EVERY SIZES, SHAPES AND COLORS. AND SOMETIMES IT WAS HARD FOR π TO PASS AROUND THE ROOTS.
IT REMINDED HIM OF SQUEEZING THROUGH HIS CAVERN PASSES BACK HOME. BUT HE DID NOT WANT TO THINK OF HOME. SO, HE WALKED ON FOR A GREAT DISTANCE FURTHER.
AND ON HIS WAY π SAW MANY PONDS AND PUDDLES AND SMALL RIVERS OF RUNNING WATER. THEY SMELLED OLD AND MUSTY. YET π THOUGHT OF THEM AS BEAUTIFUL.
BUT HE COULD NOT SHAKE THE KNOWLEDGE THAT THE COLD STREAMS ORIGINATED FROM THE MELTING SNOW OF THE MOUNTAINS. SO, HE KEPT ON WALKING. HOPING TO LET HIS MIND CLEAR AT LAST.
AND HE SAW MANY ANIMALS AND CREEPING THINGS THAT HE HAD NEVER SEEN BEFORE. SO WOULD HE ALSO HEAR SOUNDS UNFAMILIAR TO HIM AT DAY AND NIGHT. AND IT SCARED HIM.
BUT THE FEAR DID JUST BRING HIM MORE EXCITEMENT. AND HE COULD NOT STOP SMILING TO HIMSELF. AS HE COWERED UNDER A TREE ROOT FOR THE FIRST FULL NIGHT UNABLE TO CLOSE HIS EYES. WHILE THE WOODS WOULD PLAY ITS PANTHEON.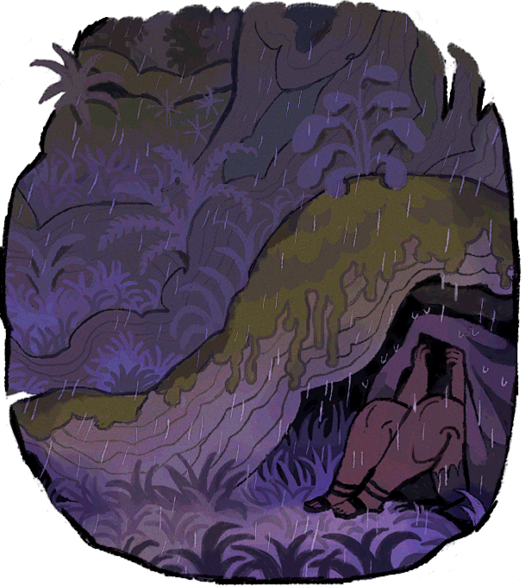 AND FOR A MOMENT HIS BRAIN WAS FILLED WITH NOTHING BUT THE FOREST. THIS OLD GROWTH FOREST THAT HE HAD SEEN MANY TIMES FROM ABOVE. BUT NOW HE WAS FINALLY ABLE TO EXPERIENCE IT FROM WITHIN.
AND HE COULD FEEL IT AROUND HIM BREATHING. π SYNCED UP HIS OWN BREATH WITH IT. AND EVEN THOUGH IT WAS FRIGHTENING. THIS FOREIGN PLACE FELT MORE AT HOME TO HIM THAN THE MOUNTAIN HE WAS BORN AND RAISED IN.
THIS WAS WHERE HE BELONGED. OR SO HE THOUGHT. HE WAS SURE.
BUT NOW π HAD RUN INTO HIS FIRST TROUBLES. AS HE FAILED TO RATION HIS FOOD EVENLY.
IT WAS LATE EVENING ON ONLY THE SECOND DAY. AND HE HAD STILL A LONG WAY IN FRONT OF HIM. YET π WAS ALREADY FEELING WEAK FROM THE HUNGER. AND HE WAS CERTAIN HE WOULD NOT MAKE IT TO THE RIVER DELTA WITHOUT EATING SOMETHING.
SO, HE THOUGHT OVER HIS OPTIONS. AND HE DECIDED IT WAS BEST TO HUNT. SINCE HE WAS NOT CONFIDENT ABOUT IDENTIFYING THE FRUITS OF THE TREES. AS HE DID NOT WANT TO POISON HIMSELF ACCIDENTALLY.
AND HE CHOOSE TO HUNT THE FISH IN THE PLENTIFUL PONDS. HE WOULD USE HIS BOW AND ARROW.
BUT π NOTICED QUICKLY THAT THE THIN THREAD BETWEEN THE ARC WOULD NOT STAY IN PLACE. AND EVERY SMALL MOVEMENT WOULD CAUSE IT TO COME LOOSE. AS THIS BOW WAS OLD AND HAD NOT BEEN USED FOR MANY YEARS IT DID NOT WORK WELL ANYMORE. SO, HE ONLY TOOK A SINGLE ARROW AND WENT INTO ONE OF THE PONDS.
AND THERE WERE FISH IN IT. ALTHOUGH THEY WERE TINY THERE WERE MANY OF THEM. π SPEND THE EVENING USING THE ARROW AS A SPEAR TO CATCH THE FISH WITH.
AND THOUGH MANY TRIES WERE UNSUCCESSFUL HE WAS LUCKY IN SOME CASES. AS IT WAS ENOUGH TO GET HIMSELF THROUGH THE DAY AND MAYBE EVEN TOMORROW. AND π WAS MORE EXHAUSTED AFTERWARDS. BUT HE FELT HAPPY THAT HIS HARD WORK PAID OFF.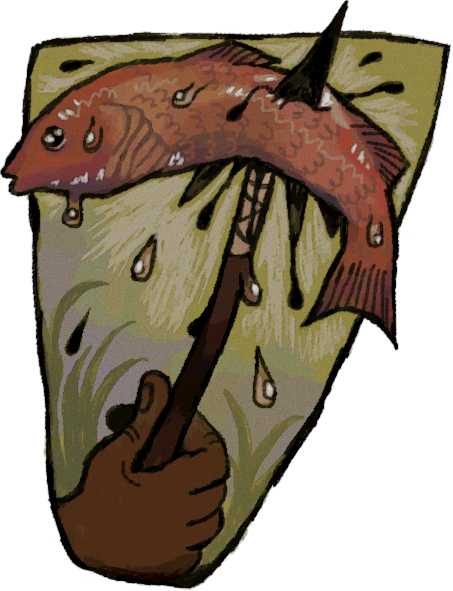 π MADE A FIRE WITH OIL AND STONES THAT HE BROUGHT WITH HIM. AND HE USED SOME OF THE FISH TO COOK A SOUP. AFTER HE ATE, HE GATHERED THE LEFTOVERS IN A BAG AND BOUND IT HIGH UP ON A BRANCH. AS HE HEARD ONCE FROM A TRAVELER, THAT IT WOULD PREVENT PREDATORS FROM FINDING IT EASILY.
BEING SATED, THE TIREDNESS FINALLY DID GET TO HIM. AND HE FELT HIS BONES BECOME WEARY FROM THE PREVIOUS DAYS OF WALKING. IT SEEMED AS IF HE HAD OVERESTIMATED HIS STAMINA.
SO, HE TOOK SHELTER BEHIND A COUPLE OF OLD LOGS. AND NOT EVEN THE EERIE NOISES COULD KEEP HIM FROM REST THIS TIME. AS THE FOREST AIR GREW COLDER AND THE SECOND FULL NIGHT CAME ABOUT.
π AWOKE WHEN IT WAS STILL DARK AROUND HIM. HIS BODY DID NOT FEEL RESTED. YET SOMETHING CAUSED HIM TO RISE FROM HIS SLUMBER. AND AT FIRST HE DID NOT KNOW WHAT IT WAS. BUT THEN HE HEARD IT AGAIN.
THERE WERE NOISES NEARBY.
AND THEY WERE LOUDER THAN ANY THAT HE HAD HEARD THE PERVIOUS NIGHTS. IT DID NOT SOUND LIKE THE PLANTS OR THE BUGS. NOT EVEN LIKE THE SMALL ANIMALS IN THE TREES. IT SEEMED AS IF IT CAME FROM SOMETHING BIGGER.
NOW π WAS AFRAID. AND HE REALIZED THAT THE NIGHTS BEFORE HE DID NOT ACTUALLY FEEL SCARED. FOR IT WAS ONLY HIS BLOOD THAT WAS RICH WITH ADRENALINE. CAUSING HIM TO BE ANXIOUS.
IN THAT MOMENT ALTHOUGH, HE FELT PARALYZING FEAR. A KIND OF FEAR PREVIOUSLY UNFAMILIAR TO HIM.
AND π COULD DO NOTHING BUT LAY WIDE AWAKE. WHILE LISTENING TO THE TERRIBLE NOISES NEARBY. AND FOR HIM IT FELT LIKE AN ETERNITY.
BUT EVENTUALLY HE COULD IDENTIFY THE SOUNDS. IT WAS A WET NOISE WITH HORRIBLE SLURPING AND CRUNCHING. HE REALIZED THEN, THAT IT WAS THE SOUND OF SOMETHING CHEWING.
WITH THAT THOUGHT πS EYES MOVED TO THE BRANCH ABOVE HIM. THERE WHERE HE PUT UP HIS BAG OF FISH THAT EVENING. BUT NOW ONLY LOSE ROPE WAS HANGING FROM IT.
HIS BRAIN BEGAN TO CREATE IMAGES. OF DANGEROUS MOUNTAIN LIONS AND DIREWOLVES. AND IMAGINARY HORRID BEASTS WITH YELLOW TEETH AND CLAWS.
CREATURES JUST FEET AWAY FROM WHERE HE LAID. FEASTING ON HIS FOOD. DIGGING THEIR SNOUTS IN. DEVOURING IT.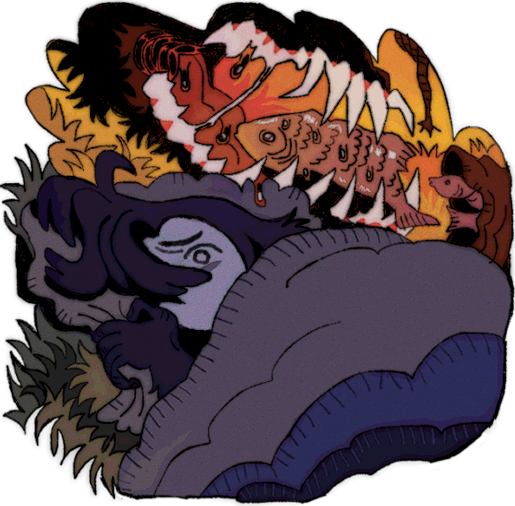 AND πS MIND WAS RACING TO FIND A WAY OUT OF THE SITUATION. AS HE KNEW THAT HE COULD NO LONGER JUST LAY THERE. WHEN IT WAS FINISHED WITH THE FISH, THE CREATURE WOULD SURELY COME FOR HIM NEXT! SO, HE QUIETLY TOOK A DEEP BREATH. AND HE GATHERED HIS THOUGHTS.
π SAT UP SLOWLY AND REACHED OVER TO HIS BAG. HE TOOK HIS BOW AND ARROW.
AND AS HE TIGHTENED THE THREAD OF THE ARC, HE SPOKE A PRAYER TO HIMSELF. FOR IT TO HOLD FEST AND WORK JUST THIS ONCE.
AND SO, HE SAT BEHIND THE PILE OF LOGS. FOR ANOTHER AMOUNT OF TIME, SEEMING INFINITE TO HIM. AS IT TOOK HIM THAT LONG TO MUSTER THE STRENGTH. AND EVEN THEN, WHEN HE STOOD UP AND TURNED HIS KNEES WERE WEAK. IT ALMOST CAUSED HIM TO FALL BACK DOWN AGAIN.
YET π PERSISTED. AND HE POINTED HIS ARROW TOWARDS THE SOURCE OF THE NOISE.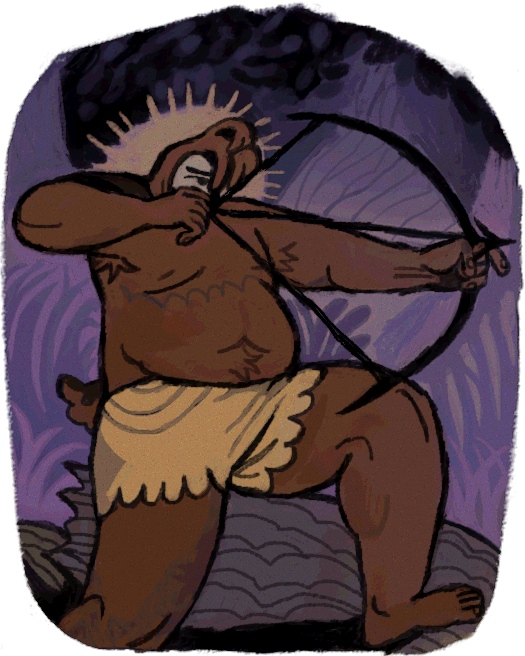 AT FIRST, HE COULD ONLY MAKE OUT A CROUCHED SHADOW. ITS FRAME WAS SMALLER THAN HE EXPECTED. HE WATCHED IT CONTINUE EATING. AS IF IT HAD NOT NOTICED π AT ALL. SO, HE GREW BOLDER AND SPOKE.
"Hey!"
BUT HIS VOICE WAS CRACKED. GIVING AWAY ALL THE FEAR HE WAS EXPERIENCING NOW.
AT LAST, THE FIGURE TURNED TO FACE π. AND HE COULD NOW MAKE OUT ITS ACTUAL SHAPE.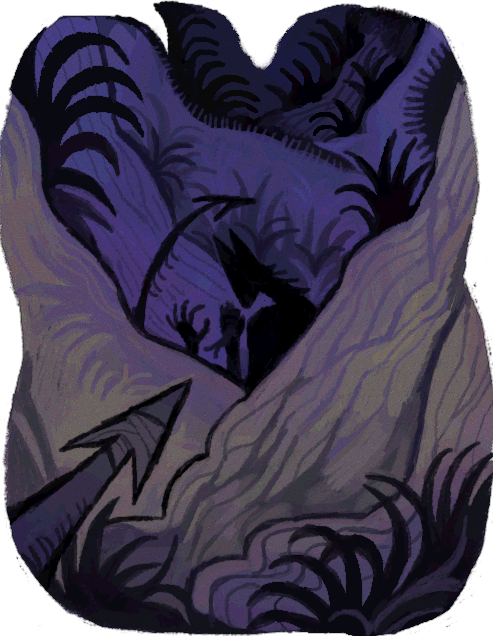 IT HAD HORNS AND A LONG TWITCHING TAIL. ITS FUR APPEARING DARK IN THE SHADE. AND ITS WET FINGERS GLISTENING IN THE DIMM BLUE MOONLIGHT.
AS IT WAS REVEALED THAT IT WAS NOT A TERRIBLE BEAST NOR A DANGEROUS ANIMAL. INSTEAD, IT WAS A MAN.
A DEMON!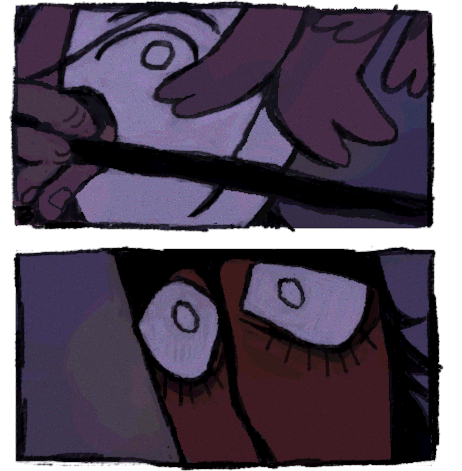 THEY BOTH LOOKED AT EACH OTHER FOR A LONG TIME. ALL THE FEAR DISAPPEARED FROM πS BODY AT ONCE. IT WAS REPLACED WITH CONFUSION. AND JUDGING BY THE WAY THE PERSON WAS LOOKING BACK AT HIM, THE FEELING WAS SHARED BETWEEN BOTH OF THEM.
THE MOMENT WAS ONLY BROKEN BY THE SOUND OF A SNAP. AS HE KEPT THE BOW RISEN AND AIMED TIGHT FOR THE WHOLE TIME. EVENTUALLY, THE THREAD GAVE IN. AND THE ARROW SLIPPED FROM πS FINGERS. IT TRAVELED STRAY INTO THE NIGHT.
AND NEXT ONLY SCREAMING FILLED THE ONCE QUIET AIR.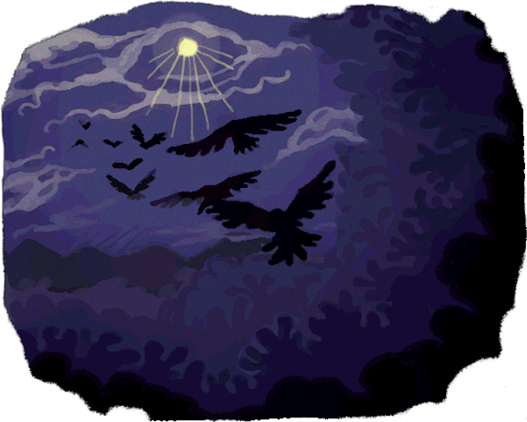 π HAD STARTED HIS FIRE AGAIN. AND BETWEEN THE FLAMES WAS THE SAME POT THAT HE USED TO COOK HIS FOOD IN THE EVENING BEFORE. NOW IT WAS FILLED WITH ANOTHER BOILING SOUP.
BUT HIS THOUGHTS WERE NOT WITH THE BROTH OR THE FIRE. INSTEAD, π COULD NOT AVERT HIS SIGHT FROM THE DEMON. THE ONE WHO WAS NOW LYING UNCONSCIOUS BESIDES HIM ON HIS BLANKETS.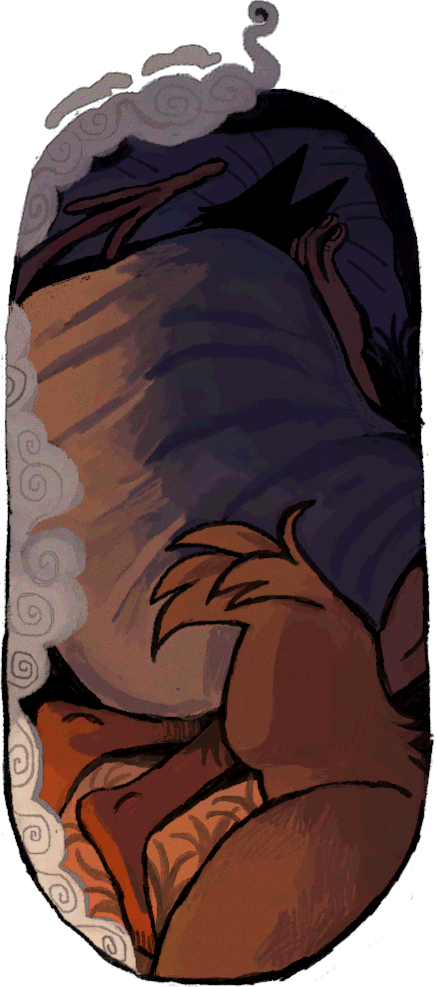 π JUMPED WHEN THE FIGURE BEGAN MOVING UNDER THE FABRIC LAYERS. AS HE SHIFTED, HE WAS MUMBLING WORDS TO HIMSELF. HE WAS SPEAKING IN A LANGUAGE THAT π COULD NOT UNDERSTAND. AND BEFORE THE DEMON HAD TIME TO FULLY AWAKEN, π ALREADY BEGAN TALKING.
"Oh, thank the gods you are alive. I'm so sorry, I really didn't intend to hit you. I promise it was an accident! I thought you were some kind of animal! if I knew, I wouldn't have threatened you with it at all. You see my bow is not the best anymore and even if it was, I'm not confident in handling it and well-"
HE SAT UP AS π SPOKE. THEY WERE STARING AT EACH OTHER NOW.
AND HE SAW THAT THE MANS EYES WERE WIDE WITH FEAR. NOT A SINGLE MUSCLE MOVED IN THE DEMONS BODY. AND FOR A MOMENT NEITHER OF THEM TOOK A BREATH.
THEN AS SUDDENLY AS HE SAT UP, THE DEMON ATTEMPTED TO GET ON HIS FEET. WHEN HE TRIED TO HOWEVER, AN INTENSE PAIN SURGED THROUGH ALL OF HIS BONES. AND HE COULD ONLY FALL BACK ONTO THE BLANKETS.
π REACHED OUT TO AID HIM. BUT THE MAN REFUSED ANY TOUCH. SO π DID NOT TRY AGAIN.
HE LOOKED DOWN ON HIS TORSO. AND HE SAW THAT THE LOWER HALF OF HIS STOMACH WAS WRAPPED IN FRESH BANDAGES. AS π HAD APPLIED THEM HOURS BEFORE.
"It's best that you stay down. It is not a puncture! Luckily it just grazed your side. But you lost a lot of blood..."
AND π WANTED TO SAY MORE. BUT THE DEMON DID NOT KEEP HIS EYES OFF HIM. AND π BECAME NERVOUS BEING STARED AT LIKE THAT. YET HE CONTINUED.
"I'm really sorry about what happened. Do you want some soup? I made it from the fish you tried to steal from me. I just thought you would need something warm to strengthen up again."
BUT STILL, HE DID NOT BREAK EYE CONTACT WITH HIM. NOR DID HE MOVE. EXCEPT FOR HIS TAIL, WHICH WAS TWISTING LOW TO THE GROUND. SO, π SIGHED TO HIMSELF.
"I'm sorry. You probably don't even understand me..."
"I do."
THE DEMON ANSWERED. AND πS HEART SKIPPED A BEAT. SINCE HE HAD NOT EXPECTED TO HEAR A RESPONSE AT ALL. ESPECIALLY NOT SPOKEN IN HIS OWN LANGUAGE.
HIS VOICE WAS ROUGH. AS IF THIS WAS THE FIRST TIME HIS VOCAL CORDS WERE BEING USED. YET π WAS GLAD THAT HE TALKED.
"So, do you want a bowl?"
π ASKED AS HE STIRRED THE SOUP.
"I'll eat too. Then you can be certain that it's not poison ha ha! Even though you should not be worried in the first place. What reason would I even have to poison you? I just saved your life after all!
Unless I accidentally used some herbs that I shouldn't. But I only used the ones I brought from home and I know they're all good. Unless the farmers made a mistake. But what are the odds that such a thing could happen! It would not be my fault anyways in that case…
I'm sorry. Just forget what I said."
HE FELT HIS FACE FLUSH RED WITH EMBARRASSMENT. YET THE DEMON KEPT STARING THE SAME WAY AS HE HAD BEEN DOING. AND JUST BEFORE π TRIED TO SPEAK AGAIN, HE REACHED OUT AND GRABBED THE BOWL OF SOUP FROM πS HANDS.
AND HE BEGAN TO EAT. SLOWLY AT FIRST BUT SOON HE HAD FINISHED HIS FIRST PORTION. THEN HE WOULD TAKE MORE. AND AT LAST, HE ATE MOST OF THE ENTIRE POT OF BROTH.
AND WHILE THEY BOTH ATE, π STARTED TO WATCH HIM IN RETURN. NOW IN THE BRIGHT LIGHT OF THE FIRE HE COULD GET A BETTER LOOK AT THE MAN.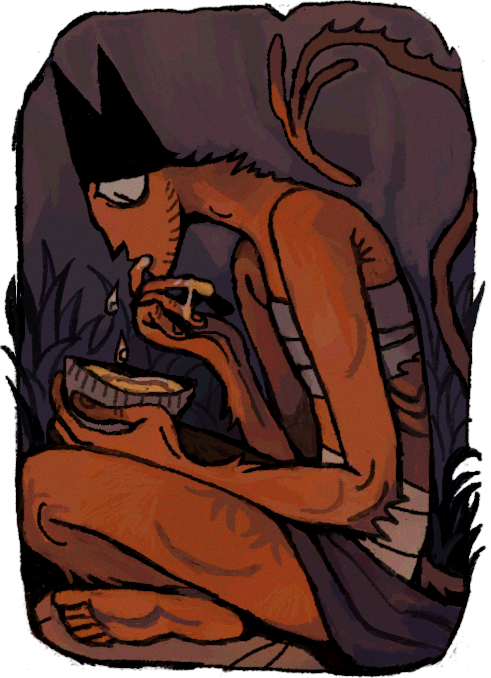 HIS FUR WAS A DULL RED COLOR. AND HIS FRAME WAS THIN. π COULD EASILY MAKE OUT EACH BONE WORKING BENEATH HIS SKIN AS HE MOVED. HE HAD ALREADY NOTICED HIS LONG SPADE TAIL. SO TOO THE BLACK HORNS CROWNING HIS SKULL. NO DOUBT HE BELONGED TO THE PEOPLE OF THE TREES.
AND π REMEMBERED THAT DEMONS LIKE HIM HAD SOMETIMES VISITED THE MOUNTAIN MANY YEARS AGO. TRADING AT THE MARKETPLACE AND THEN LEAVING AGAIN AS FAST AS THEY HAD COME. THOUGH NO ONE HAS EVER MET ONE IN RECENT TIMES ANYMORE. EXCEPT FOR π NOW APPARENTLY. HE STARTED TO SPEAK.
"I'm really sorry-"
"Can you say something else too?"
THE DEMON CUT HIM OFF. AND π WAS TAKEN ABACK. FOR A MOMENT HE COULD NOT FORM A SINGLE WORD IN HIS THROAT.
"Yeah of course I'm sorry-"
π HELD HIS MOUTH FEELING LIKE A FOOL. YET THE DEMON RESPONDED WITH A QUIET LAUGHTER. AND IT MADE π EASE HIS NEVERS A BIT. THEN AGAIN, IT WAS SILENT BETWEEN BOTH OF THEM.
"What is your name? If you don't mind me asking"
π SPOKE. AND THE DEMON RAN HIS MIND. AND FOR π IT SEEMED ODD THAT SOMEONE WOULD TAKE SO LONG TO ANSWER SUCH A SIMPLE QUESTION. EVENTUALLY HE STARTED TALKING.
"Wormwood."
"I like that name. Mine is π."
"Pie?"
"No, it's π."
"That's weird. You are very weird."
AND π DID NOT KNOW HOW TO RESPOND TO THAT. SO YET AGAIN IT WAS SILENT BETWEEN THE TWO.
"I did not steal your food by the way. It was your own fault for just leaving it around so carelessly."
WORMWOODS SAID IN A TONE THAT SOUNDED ACCUSATORY TO HIM. AND π COULD ONLY STUMBLE OVER HIS WORDS, SEARCHING FOR THE RIGHT THINGS TO SAY.
"Well, you did! And it was not careless. I hid it from predators-"
"You hid it in the trees. That only works for ground dwellers though."
AND WORMWOOD EYED π FROM HEAD TO TOE. AND THEN HE SPOKE FURTHER.
"You are one of those people from the mountains aren't you? I've seen your kind a lot here lately. But never in this particular part of the forest and never alone. Are you lost?"
π LET OUT A GASP. AS HE FELT OFFENDED THAT SOMEONE WOULD EVEN IMPLY SUCH A THING.
"I'm on my way to meet them actually. My people. At the river delta to the west."
π POINTED DOWN THE PATH. AND WORMWOOD FOLLOWED WITH HIS GAZE.
"If it weren't for the trouble you caused, I would be on my way already."
"The direction you are pointing in. That is not westwards."
WORMWOOD ANSWERED WHILE DISREGARDING πS COMPLAINT.
"Sure, it is!?"
"No, you are walking to the east. There are no rivers. Not anymore. Can't you see the sun rising?"
THEY BOTH LOOKED THROUGH THE THICK LEAVES ABOVE. AND SURELY, THE VERY FIRST RAYS OF SUNSHINE COULD BE SEEN COMING FROM THE DIRECTION THAT π HAD BEEN WALKING TOWARDS.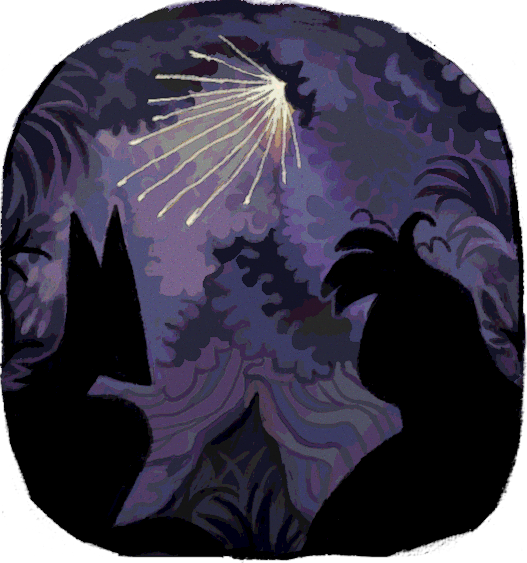 "The sun always rises in the east."
"I know that of course!"
πS VOICE WAS RAISED. HE REACHED TO HIS BAG AND PULLED OUT HIS MAP. THE SAME ONE HE TRACED ALL THOSE DAYS AGO.
"But I've been following the paths!?"
AND HE SHOWED WORMWOOD THE PAPER. HE LOOKED AT IT BUT NOT A SINGLE LINE SEEMED TO MAKE SENSE TO HIM.
"There are many more paths than the one drawn here. How do you know you are on the right one?"
"Well, I ugh, I did…"
BUT π COULD NOT ANSWER. AND HE HAD TO ADMIT TO HIMSELF THAT HE DID NOT KNOW WHERE HE WAS. EMBARRASSMENT OVERCAME HIM.
HE FELT LIKE A GREATER FOOL THAN BEFORE. AND HE REGRETTED NOT TAKING MORE TIME TO ACQUIRE A BETTER MAP. AS HE PUT DOWN HIS HEAD IN SHAME AND HID HIS FACE BEHIND HIS HANDS.
WORMWOOD BEGAN CHUCKLING. THIS TIME NOT JUST TO HIMSELF BUT LOUDER. AND HE WAS SMILING FOR THE FIRST TIME SINCE THEY MET.
"Oh, this is hilarious. I'll leave you to it then. Have fun and good luck on your travels. It looks like you will need it ha ha!"
HE STOOD UP FROM THE BLANKETS. BUT HE COULD NOT WALK MORE THAN A COUPLE OF STEPS UNTIL THE PAIN CAUGHT UP WITH HIM. AND WORMWOOD FELL TO HIS KNEES AGAIN. WEEPING AS HE HELD HIS STOMACH. π WENT OVER TO WHERE HE SAT. HE DID NOT TOUCH HIM, HOWEVER HE STILL OFFERED HIS AID.
"I told you to stay down. You won't be able to walk like that."
"But I need to go home!"
THERE WAS A TONE OF DESPERATION IN WORMWOODS VOICE NOW. AND HE WAS CRYING BUT NOT ONLY FROM THE PAIN. πs MIND WAS RACING. THINKING OF WHAT TO DO NEXT. THEN FINALLY AN IDEA CAME TO HIM.
"You are familiar with the paths, right? You can bring me to the delta! I'm supposed to meet a group of my people there soon. There should be doctors and they have better medicine than I have. They can help you and send you back to your village!"
"I live on my own."
π WAS SURPRISED, YET HE CONTINUED.
"They'll send you back to wherever you live then. But I promise you they can help! I just need you to get me there!"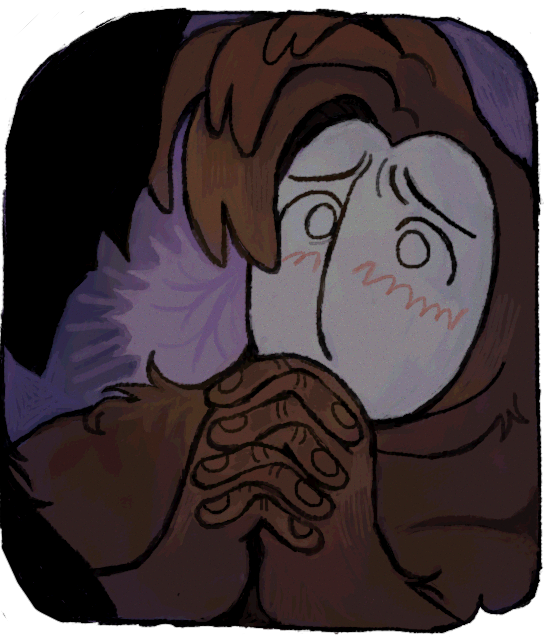 WORMWOOD LOOKED AROUND. THEN HE LOOKED AT HIS BANDAGES. A DARK SHADOW WAS ALREADY SEEPING THROUGH THE WHITE FABRIC. AS HE LET OUT A STRAINED GROAN.
"I don't have any other choice, do I?"
π COULD NOT CONTAIN HIS GRINNING AS HE ANSWERED.
"Thank you so much! I will carry you of course since you can't walk. But we have to hurry now. They will be at the river only until the end of this day."
SO π CHOKED THE FIRE AND GATHERED ALL OF HIS BELONGINGS. WORMWOOD GOT ON πS BACK RELUCTANTLY WHILE ALSO HOLDING HIS BAGS. AND THEY DID NOT WASTE ANOTHER MINUTE AS THEY LEFT THIS PLACE.
THEY WERE ON THEIR WAY BEFORE MORNING FULLY BROKE.
JUST AS π SAID, THEY WOULD HURRY FOR THE WHOLE DAY. AS THEY DID NOT TAKE MANY BREAKS. AND THE BREAKS THEY DID TAKE WERE KEPT AS SHORT AS POSSIBLE.
π DID NOT STOP WALKING. ONLY LISTENING TO WORMWOOD AS HE TOLD HIM WHICH TRAIL TO GO ON NEXT.
AND EVEN THOUGH π WAS THE ONE DOING ALL THE PHYSICAL ACTIVITY. IT WAS WORMWOOD WHO HAD THE MOST TROUBLE ON THEIR WAY. AS THE CONSTANT MOVEMENT DID CAUSE HIS WOUND TO HURT GREATLY. SO EVENTUALLY HE PLEADED WITH π.
"Please slow down. Why can't we take a little longer? They will surely wait for your arrival."
BUT π DID NOT SLOW DOWN.
"No, they won't."
HE TOOK DEEP BREATHS BETWEEN HIS WORDS.
"To be honest they don't really know that I'm coming. But don't worry it'll be ok."
AND WORMWOOD THOUGHT THAT THIS WAS VERY STRANGE. BUT HE COULD NOT JUDGE TOO WELL. AS HIS MIND WAS CLOUDED WITH ALL THE PAIN. SO, HE JUST HELD ON TIGHT AND PRAYED FOR IT TO BE OVER QUICKLY.
IT WAS IN THE LATE EVENING. EVENTUALLY AFTER LONG HOURS OF WALKING, π SAW LIGHT SPILLING THROUGH THE DARKNESS OF THE BUSH. THERE WAS A CLEARING IN FRONT OF THEM.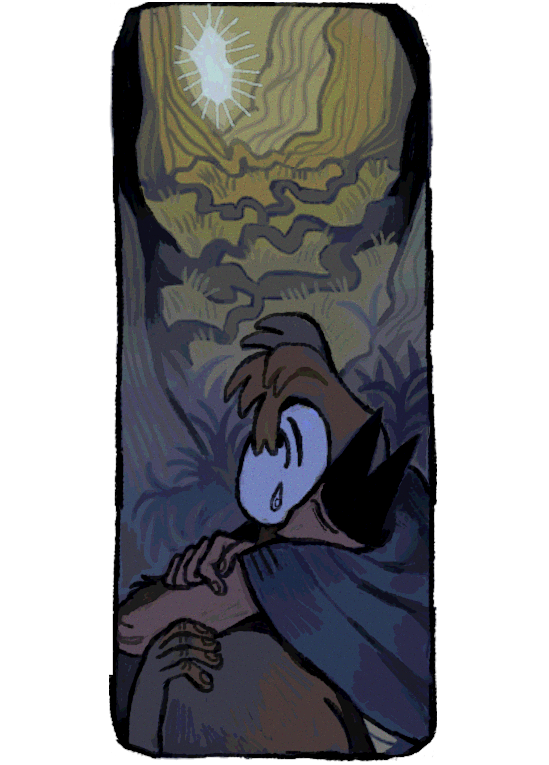 AND π BEGAN WALKING FASTER WHICH THEN TURNED INTO A SPRINT. IT SEEMED AS IF THEY FINALLY ARRIVED!
π COULD ALREADY IMAGINE ALL THE PEOPLE SITTING AROUND THEIR CAMPFIRES. EATING, RESTING AND TELLING STORIES TO EACH OTHER.
AND HE IMAGINED HOW THEY WOULD REACT TO SEEING BOTH OF THEM COMING OUT OF THE UNDERBRUSH. DIRTY AND BRUISED FROM THIS LONG DAY.
SOME WOULD SCOLD HIM OF COURSE. TELLING HIM WHAT A FOOL HE WAS FOR DOING THIS IN THE FIRST PLACE. BUT OTHERS WOULD COMPLIMENT HIM FOR HIS BRAVERY.
AFTER ALL WHO HAS NOT DONE MISGUIDED THINGS IN THEIR YOUTH? IN HIS MIND IT WAS ONLY NATURAL.
AND WORMWOOD WOULD GET THE HELP HE NEEDED. THEN THEY WOULD BE ON THEIR WAY. AND π WOULD HAVE ONE GREAT STORY TO TELL EULER AND CANTO WHEN HE WOULD RETURN.
BUT AS THEY BROKE THROUGH THE TREE LINE, π CAME TO A SUDDEN HALT.
THERE WAS NO ONE.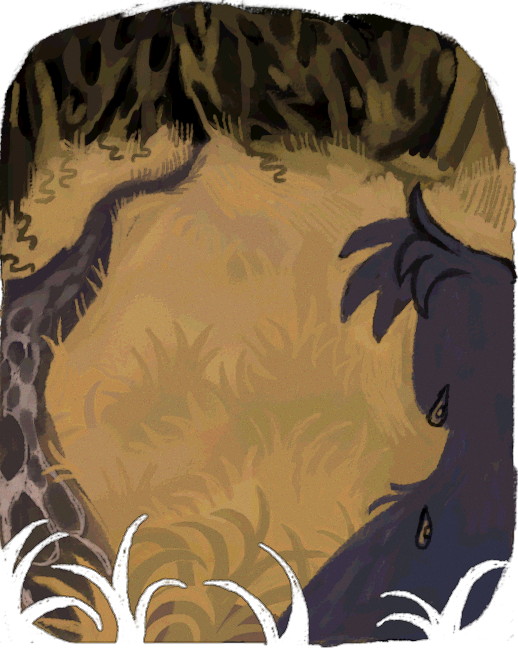 THEY REACHED THE RIVER DELTA. BUT IT WAS AS QUIET AS THE REST OF THE FOREST. ONLY THE DISTANT CROCKING OF TOADS COULD BE HEARD.
"I don't understand? Did we miss them? But we got here in time! They should still be here!"
HOWEVER, WHEN π LOOKED CLOSER HE COULD TELL THAT NOT A SINGLE PERSON SEEMED TO HAVE BEEN HERE AT ALL. THERE WERE NO FOOTPRINTS AT THE RIVERBANK. NO USED FIRE PITS WITH WET COAL. IT LOOKED AS UNTOUCHED AS MOST OF THE PLACES HE HAD PASSED THE DAYS BEFORE.
"Wormwood!? You said you knew the way to the river delta?"
"I mean it is a delta? There are many of them here. How should I have known which one you meant?"
"Wait there's more than one?!"
π FELL TO HIS KNEES. AND AGAIN, HE HID HIS FACE BEHIND HIS HANDS.
THERE WAS NOTHING FOR HIM TO DO NOW. EVEN IF HE RAN, HE COULD NOT MAKE IT TO THE ACTUAL DELTA. HE DID NOT EVEN NOW WHERE HE WAS AT ALL. AND IT SEEMED AS IF HIS PERFECT PLAN TURNED OUT TO BE ANOTHER FAILURE.
IN HIS MIND, THE ONLY OPTION LEFT FOR HIM WAS TO TREK ALL THE WAY BACK HOME. YET THE MERE THOUGHT OF THAT MADE HIS BONES GROW COLD. THE LAST PLACE HE WANTED TO BE WAS IN THE MOUNTAIN AGAIN. HE WOULD NOT BE ABLE TO BEAR ANOTHER DAY THERE.
AND ALEPHS REACTION…! π DID NOT EVEN DARE TO IMAGINE IT.
"So… Since there are no doctors for me here, will you bring me home now?"
WORMWOODS WORDS BROKE THE SILENCE.
"I will-"
π SPOKE. AND WITHOUT THINKING, HE ADDED.
"If I can stay with you."
"What? Why?!"
WORMWOODS VOICE WAS FULL OF ANGER AND FRUSTRATION NOW. EVERY HARDSHIP THAT HE HAD TO GO THROUGH THAT DAY. ALL FOR THIS STRANGER WHO CAUSED HIS INJURY TO BEGIN WITH.
"First you try to kill me, then you drag me through half the forest and now you won't leave me alone?"
"I have nowhere else to go. And you won't be able to feed yourself like this. I can get you food and tend to your wound. At least until you get better."
"You are crazy!"
THEY BOTH LOOKED AT EACH OTHER FOR A LONG TIME. NEITHER SAYING ANYTHING. INSTEAD, THEY LISTENED TO THE FLOWING RIVER.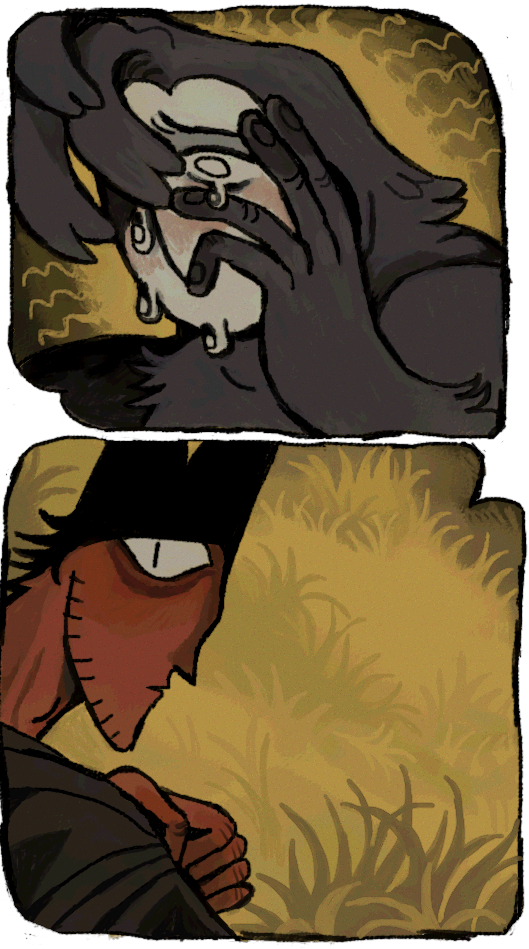 WORMWOOD WAS THINKING HARD. HIS OPEN SIDE THROBBING WITH EVERY HEARTBEAT. AND THEN HE WAS THE FIRST TO SPEAK AGAIN.
"Fine."
AT LAST.
"You can come. But you have to leave when I'm better. Let's go now."
SO π GOT UP AGAIN. AND AS SOON AS THEY ARRIVED, THEY WERE GONE FROM THE DELTA.
IT TOOK MANY MORE HOURS BEFORE THEY REACHED THE PLACE WHERE WORMWOOD LIVED. FAR UPSTREAM FROM A RIVER BRANCH THAT HE SAID TO FOLLOW. IT WAS IN THE MIDDLE OF A GRASSY CLEARING.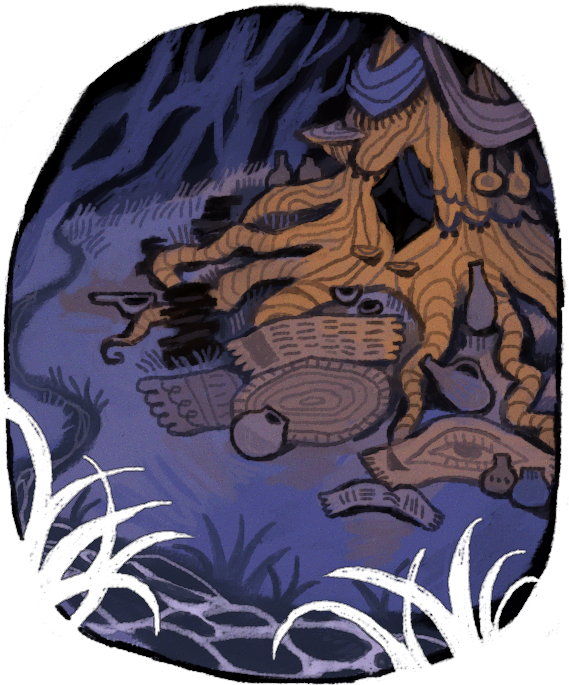 THERE STOOD A SMALL TREE. WITH NO LEAVES AND DEAD FOR MANY DECADES. BUT ON THE INSIDE IT WAS HOLLOW AND NOW IT SERVED WORMWOOD AS HIS OWN HOME. HE LIVED IN THERE SINCE HE WAS A CHILD.
THOUGH π HAD NO TIME TO ADMIRE IT YET. AT THE VERY MOMENT WHEN HE ENTERED THE TREE, π COLLAPSED FROM EXHAUSTION. NOT ONLY WAS HE TIRED FROM TODAYS AMOUNT OF WALKING. HE ALSO WAS NOT ABLE TO GET SLEEP THE PREVIOUS DAYS. AND NOW HIS BODY COULD NO LONGER AWAIT IT.
SO TOO WAS WORMWOOD TIRED FROM THE BLOOD LOSS AND PAIN. THEY BOTH FELL ASLEEP ON THE CUSHIONED FLOOR OF THE TREE. AND THEY WOULD NOT WAKE UP FOR AN ENTIRE DAY.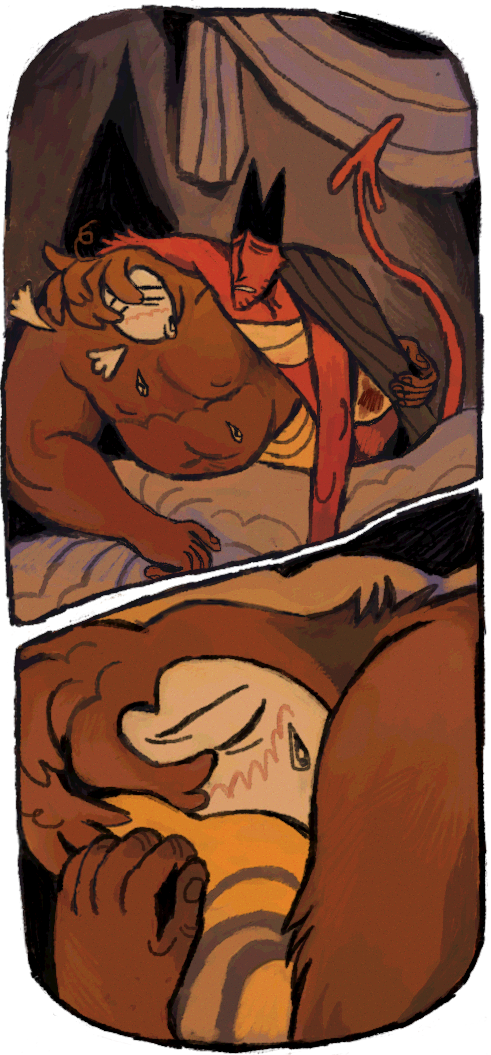 Part 2
THERE BACK AT THE MOUNTAIN. WHILE THOSE THINGS IN THE FOREST TOOK PLACE. IT DID NOT TAKE LONG FOR ALEPH TO NOTICE πS ABSENCE.
AND AT FIRST HE WAS NOT WORRIED. AS π WOULD OFTEN STAY WITH CANTO WHEN HE DID NOT WANT TO BE AROUND ALEPH. AND ALEPH WOULD RESPECT THAT.
THOUGH NOW IT HAD BEEN MANY DAYS. MORE THAN π WOULD USUALLY BE GONE.
SO, ALEPH WENT TO VISIT CANTO. NOT TO TALK WITH π YET. INSTEAD, JUST TO MAKE SURE HE WAS OK. BUT CANTO HAD NOT SEEN π ALSO. NEITHER DID HER FAMILY. AND ALEPHS WORRY GREW.
HE WOULD SPENT THE ENTIRE REST OF THE DAY SEARCHING THE MOUNTAIN. ASKING EVERYONE HE MET. BUT NO ONE KNEW.
AND ALEPH WOULD VISIT THE GATES. BUT π WAS NOT THERE EITHER. NOR WAS HE AT ANY OF HIS HIDING PLACES THAT HE WOULD USE WHEN HE NEEDED TIME ALONE.
AND THAT NIGHT WHEN ALEPH GOT BACK TO HIS CAVE, HE WAS NO LONGER CALM. AS HIS ENTIRE BODY SHOCK FROM THE WORRY. IT WAS THEN WHEN EULER CAME TO HIM AND CONFESSED WHAT SHE KNEW. TELLING HIM WHERE π HAD GONE.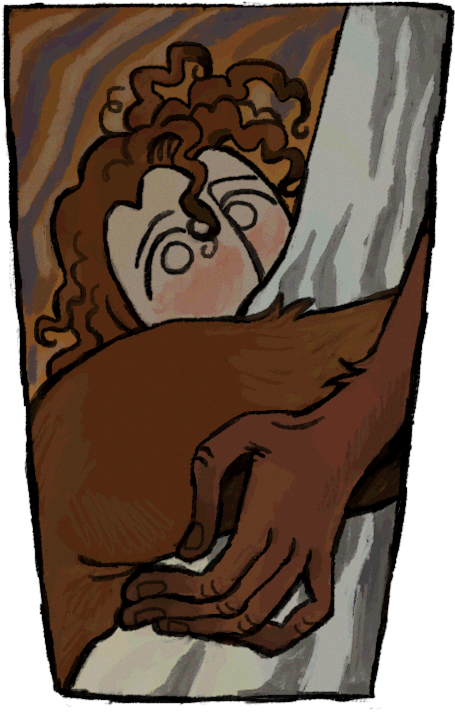 "But don't threaten! He will come back soon!"
EULER SPOKE. BUT ALEPH COULD DO NOTHING BUT THREAT. TERRIBLE FEAR HAD GRABBED HIM ALREADY AND IT WOULD NOT LET GO. AS HIS WORST NIGHTMARE SEEMED TO HAVE COME TO LIFE.
THE VERY NEXT DAY ALEPH WOULD SEND MESSENGER PIGEONS OUT TO THE NEAREST GROUPS ON THE WATER PATH. BUT NONE CAME BACK WITH NEWS OF πS PRESENCE.
SO, HE WOULD ORDER SEARCH TROOPS TO BE FORMED. AND THEY WOULD WALK THROUGH THE SURROUNDING FOREST. BUT NOT A SINGLE TRACE OF π COULD BE FOUND.
ALAS ALEPH WOULD NOT GIVE UP. HIS DESIRE TO FIND π AGAIN WAS HIS ONLY WAKING THOUGHT. AS HE WOULD JOIN THE TROOPS. AND FOR MANY WEEKS THEY WOULD SEARCH FROM EACH MORNING TO EVENING.
UNTIL AN ACCIDENT HAPPENED.
AND ONE OF THE PEOPLE SEARCHING WAS GREATLY INJURED. THOUGH THEY RECOVERED, ALEPH WAS ADVISED TO STOP THE MANHUNT. AS IT HAD BEEN FRUITLESS SINCE THE FIRST DAY AND IT WAS STRAINING ON THE PEOPLE.
BUT HE PROTESTED. FOR HIM IT WAS NOT AN OPTION TO STOP UNTIL π WAS FOUND AGAIN.
AND HIS ADVISORIES COULD NOT CONVINCE HIM OTHERWISE. HOWEVER, THEY DID FORBID HIM FROM ORGANIZING ANY MORE TROOPS OF PEOPLE.
IF HE STILL WANTED TO SEARCH FOR HIS LOST BROTHER, HE WOULD HAVE TO DO SO ON HIS OWN.
AND IT BROKE ALEPH.
HE UNDERSTOOD THE REASONING. SOMEWHERE IN HIS MIND, HE KNEW THAT IT WAS BEST. YET ALEPH COULD NOT BEAR THE REALITY THAT EVERYONE ELSE WAS AWARE OF. THAT π WAS NOT ALIVE ANYMORE AND HE WOULD NEVER RETURN.
AND ALEPH COULD NOT DO HIS WORK ANYMORE. AS HE ONLY SPENT HIS DAYS WEEPING ALONE IN HIS ROOM.
FOR MANY WEEKS ONWARDS HE WAS CONSUMED BY THE GRIEF OF LOSING π. AND HE WOULD THINK OF EVERY ARGUMENT, EVERY PETTY INSULT. ALEPH WOULD HATE HIMSELF FOR EACH UNJUST WORD.
AS HE KNEW THAT IT WAS ONLY HIS OWN VICIOUS ACTIONS THAT DROVE π TO HIS DOOM.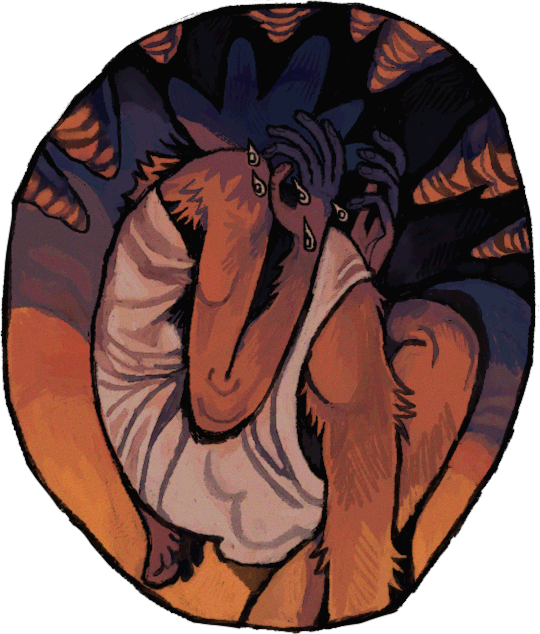 AND SOON HIS ENTOURAGE WOULD GROW IMPATIENT. THEY HAD TROUBLE KEEPING UP WITH THE ADDED WORKLOAD. AND THEY WOULD THREATEN TO ELECT A NEW GATHERER IF ALEPH COULD NOT COME TO HIS SENSES AND CONTINUE HIS TASKS.
EVEN THOUGH ALEPH WAS PROUD OF HIS OCCUPATION AND HE WOULD NEVER HAVE GIVEN UP HIS POSITION UNDER ANY CIRCUMSTANCES. HE COULD NOT BRING HIMSELF TO CARE ABOUT THEIR WORDS. STILL, HE COULD DO NOTHING BUT GRIEF AND REGRET.
BUT SO COULD EULER NO LONGER STAND ALEPHS BEHAVIOR. ONE DAY SHE SPOKE TO HIM AGAIN.
"I don't even get why you are crying."
HER BLUNTNESS SURPRISED ALEPH. AS HE NEVER HEARD HIS SIBLING TALK LIKE THAT.
"Why wouldn't I? π is dead and it is only my fault! I wanted to keep this family together but instead, I have ripped us apart even more. It is true, I'm just as horrible as Mama."
"I don't think he is though."
ALEPH STOPPED CRYING FOR A MOMENT. HE DID NOT UNDERSTAND WHAT EULER MEANT SO SHE CONTINUED.
"You may not know it but I have this special gift. I can sense dead things. But I don't sense that π is dead so I'm pretty sure he's still alive! I don't know where he could be though. He will probably come back sometime. He promised me he would bring me more snail shells after all!"
AND ALEPH LAUGHED. AS HE HAD NOT FELT JOY IN A LONG TIME. HER WORDS MADE HIM FEEL BETTER.
"Don't laugh! I am telling the truth!"
"Of course, I believe you. Do you like shells?"
"Duh! I have a whole collection!"
ALEPHS STOMACH DROPPED. AS HE REALIZED HOW LITTLE HE KNEW ABOUT HIS SIBLING. AND NOT ONLY HAD HE DRIVEN HIS BROTHER TO DEATH. NOW HE WAS NEGLECTING HIS ONLY FAMILY MEMBER WHO WAS LEFT.
"Oh, Euler."
HE SPOKE. AS THE REALITY OF THE SITUATION CAME OVER HIM.
"What have I done! Please forgive me. I will change, I will."
WITH THAT HE TOOK HER IN HIS ARMS. HUGGING HER SO VERY TIGHTLY.
AND EULER DID NOT UNDERSTAND WHAT HE WAS TALKING ABOUT. BUT SHE APPRECIATED THE GESTURE.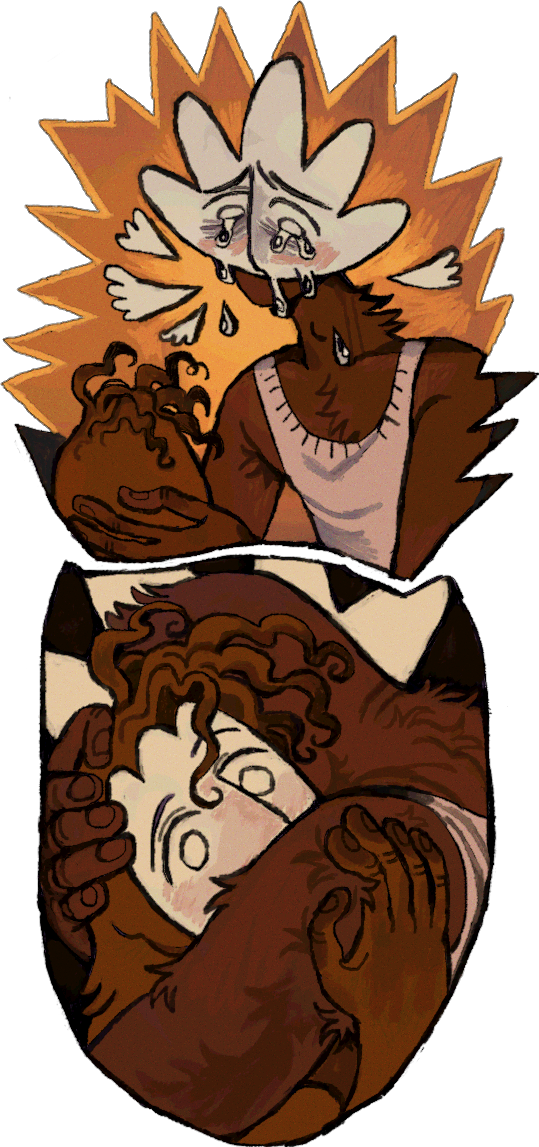 FROM THAT DAY ON, ALEPH WOULD CHANGE JUST AS HE PROMISED. AS HE WOULD NO LONGER SPEND HIS DAYS CRYING ALONE.
HE WOULD START HIS USUAL GATHERER WORK AGAIN. BUT HE WOULD NOT SACRIFICE HIS SPARE TIME DOING ADDITIONAL STUDIES ANYMORE. INSTEAD, ALEPH WOULD SPEND EVERY MOMENT HE HAD WITH EULER.
THEY WOULD COOK THEIR MEALS AND CLEAN THEIR CAVE TOGETHER. HE WOULD TEACH HER GAMES THAT THEIR MOTHER HAD PLAYED WITH HIM. SOMETIMES THEY EVEN WALKED THE MEADOW TOGETHER, LOOKING FOR SNAIL SHELLS WITH CANTO. AND WHEN EULER WANTED TO DO THINGS ALONE, HE WOULD LET HER.
AND BOTH OF THEIR LIVES IMPROVED GREATLY OVER TIME.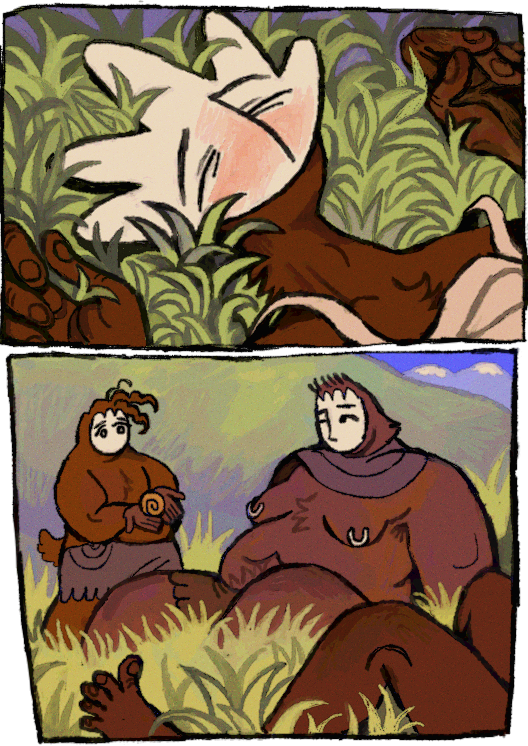 DESPITE THAT, ALEPH NEVER OVERCAME HIS GRIEF COMPLETELY. AND IN TRUTH, HE DID NOT BELIEVE EULER WHEN SHE SAID THAT π WAS STILL ALIVE.
YET HE NEVER WOULD NOT CHECK EACH RETURNING GROUP FROM THE WATER PATH. HOPING THAT π WOULD BE THERE.
AND HE NEVER STOPPED WAKING UP AT NIGHT AND WALKING TO THE EDGE OF THE FOREST. WAITING FOR π TO STEP OUT OF THE DARKNESS. BACK INTO HIS ARMS.
EVEN THOUGH ALEPH KNEW HE WOULD NEVER COME.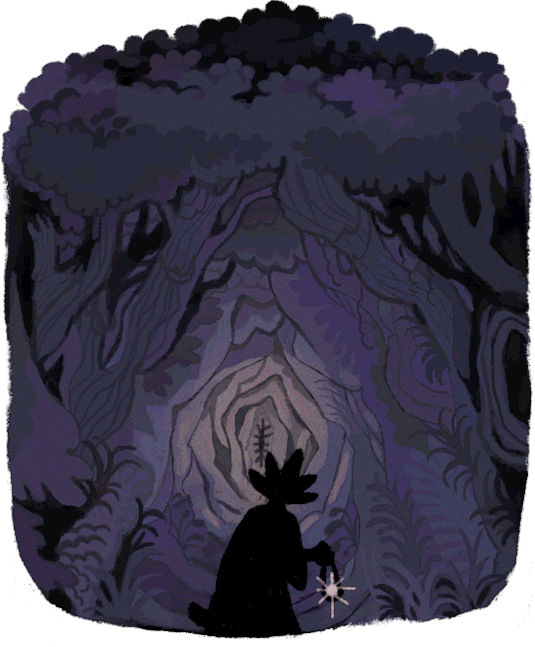 Part 3
MEANWHILE IN THE FOREST, π WOULD BEGIN LIVING WITH WORMWOOD. AND FOR THE FIRST DAYS WORMWOOD WAS UNABLE TO LEAVE HIS HAMMOCK. AS THE PAIN WAS TOO GREAT FOR HIM TO EVEN SIT UP.
SO, EACH DAY π WOULD HUNT FISH IN THE RIVER. AND EACH NIGHT HE WOULD CLEAN WORMWOODS BANDAGES. AT FIRST, THEY DID NOT TALK MUCH TO ONE ANOTHER.
WORMWOOD WAS RESTING FOR MOST HOURS. BUT SOON HE WOULD BE WELL ENOUGH TO GET UP AGAIN. THOUGH HE STILL COULD NOT WALK FOR LONG DISTANCES.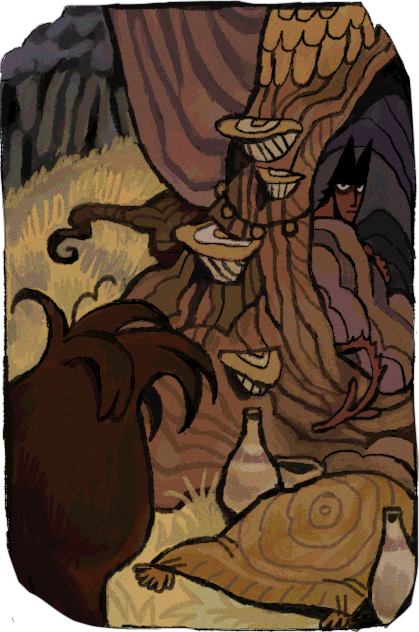 WORMWOOD WOULD SIT BY THE LOOKOUT OF HIS TREE. AND HE WOULD WATCH EVERY ONE OF πS STEPS. WHILE π WOULD GO ABOUT HIS DAYS.
AND HE DID NOT ONLY CATCH FISH. AS π SPEND MOST OF HIS TIME DOING NOTHING BUT WALK AROUND. LOOKING AT ANY OF THE VARIOUS THINGS AND TRINKETS THAT WORMWOOD KEPT IN THE CLEARING.
π WAS MOST FASCINATED WITH THE EXTERIOR AND INTERIOR BARK OF WORMWOODS TREE. AS IT WAS COVERED IN INTRICATE PAINTINGS AND PATTERNS.
AND WHILE HE WOULD WALK THROUGH THE NEARBY FOREST. π WOULD FIND MORE TREES THAT WERE PAINTED THE SAME WAY. EVEN IN THE RIVER THERE WERE STONES COVERED IN DRAWINGS.
SO ONE DAY, WHEN WORMWOOD SAT AT THE LOOKOUT π ASKED HIM.
"Did you paint all these things?"
"Yes."
"That is impressive. Who taught you to paint this well?"
"No one."
IT DID NOT SEEM AS IF WORMWOOD WANTED TO TALK. SO π WALKED OFF AGAIN AND CONTINUED ON WITH HIS BUSINESS.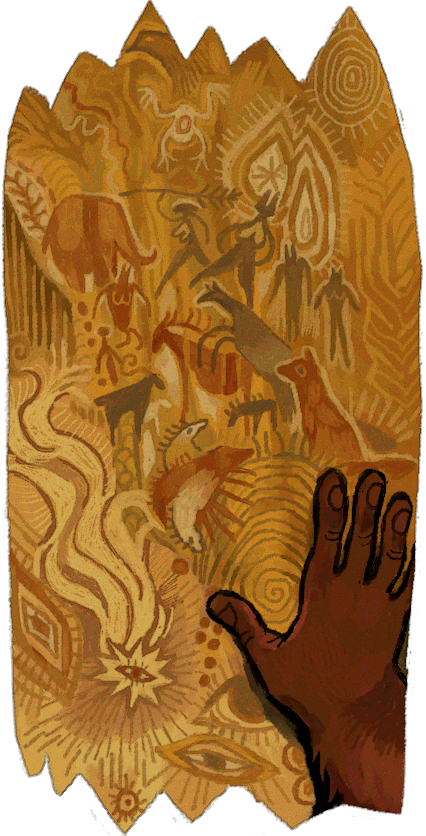 TIME MOVED ON. AND WITH EVERY PASSING DAY WORMWOODS CONDITION IMPROVED. THOUGH HIS RECOVERY WAS STILL SLOW. π WAS GRATEFUL FOR EACH DAY HE COULD STAY LONGER.
AND JUST AS THE MANY TIMES BEFORE, π WAS STANDING IN THE RIVER. HUNTING THE MEAT FOR THEIR BROTH THAT THEY WOULD EAT THIS EVENING. AND AS ALWAYS, WORMWOOD WATCHED HIM FROM HIS TREE. BUT THIS TIME HE CALLED OUT.
"I'm sick of fish!"
"Well!"
π SPOKE BACK TO HIM.
"What else do you want then?"
AND WORMWOOD TOLD HIM TO GET FRUITS. AS HE HAD NOT EATEN ANY SINCE THEY MET ON THAT FATEFUL DAY. BUT π COULD NOT FULFILL HIM THAT REQUEST.
"I don't know any of the fruits here. For sure I will just end up picking something poisonous."
WORMWOOD GROANED IN RESPONSE. HE WAS ANNOYED. YET HE ALSO SOUNDED EXCITED.
"What kind of traveler are you? You fool, how did you expect to survive on your own? Come over and help me out of here! I will show you which ones to get."
SO π AIDED WORMWOOD IN WALKING. AND TOGETHER THEY WOULD SLOWLY MAKE THEIR WAY OUT OF THE CLEARING AND DEEPER INTO THE FOREST.
NOT FAR BEYOND THE RIVER THERE WHERE MANY SMALL TREES. AND EVEN FROM A DISTANCE π COULD MAKE OUT THE ORANGE ORBS ON THEIR BRANCHES.
WORMWOOD TOLD THAT THESE WERE HIS FAVORITES. HE WOULD GET THEM THROUGHOUT THEIR SEASON. AND HE WOULD GATHER AND PRESERVE THE LEFTOVERS FOR WHEN THEY WOULD NOT GROW.
THEY SPEND THE REMAINING HOURS OF THE DAY THERE, EATING THE FRUITS TOGETHER.
AND WORMWOOD WOULD TELL HIM OF OTHER THINGS THAT GREW AROUND THIS PLACE. WHEN EACH WAS IN SEASON AND HOW TO IDENTIFY THEM. AND π LISTENED.
SINCE THEN, HE WOULD NOT ONLY COOK WITH THE MEAT BUT ALSO THE FRUITS AND EDIBLE PLANTS THAT HE WAS NOW FAMILIAR WITH.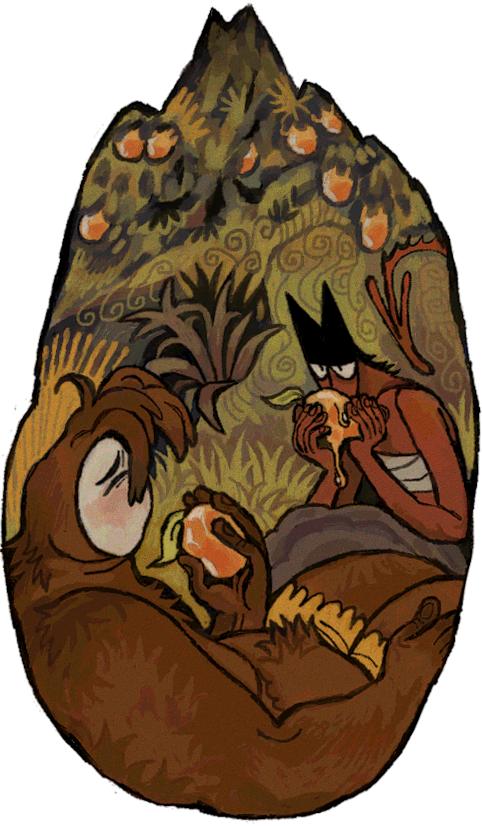 OVER TIME WORMWOOD WAS ABLE TO MOVE MORE AGAIN. SO, HE WOULD NO LONGER ONLY SIT IN HIS TREE. INSTEAD, HE BEGAN TO GET OUT AND WATCH π CLOSER.
HE WOULD FOLLOW HIM AND SIT NEXT TO WHEREVER HE WENT. THOUGH π DID NOT MIND THAT AT ALL. AS THEY GREW MORE COMFORTABLE WITH EACH OTHERS PRESENCE. THEY WERE ALSO MORE COMFORTABLE TALKING.
"How did you get all those things?"
π WAS REFERRING TO THE POTS AND BOWLS. BLANKETS AND PILLOWS AND VARIOUS LITTLE THINGS THAT FILLED WORMWOODS TREE.
"Did you make them all by yourself too?"
"No."
WORMWOOD CONTINUED.
"I found them in the woods."
"Huh."
"Yeah. To the east. There are a lot of abandoned things if you know where to look."
"Is that where you are from?"
π DID NOT MEAN TO ASK THAT. YET THE WORDS JUST SLIPPED OUT OF HIS THROAT. AS HE HAD BEEN CURIOUS ABOUT THAT FOR A WHILE NOW. BUT WORMWOOD DID NOT ANSWER.
"Sorry if you don't want to talk about that. I just heard that this was where most Demons used to live. Well until-"
"Until the rivers became sour and our trees died and we all had to leave."
WORMWOOD CUT HIM OFF. HIS VOICE WAS QUIET.
"Find someplace new. But nobody else made it. When you shot me that night, you almost killed the last one of my kind."
"Oh…"
π FELT ASHAMED. YET WORMWOOD STARTED LAUGHING.
THEY WOULD TALK MORE ABOUT THEIR LIVES. AND π WOULD TELL WORMWOOD ABOUT HIS MOTHER AND HOW HE NEVER MET HIS FATHER. SO WOULD WORMWOOD SPEAK ABOUT HIS OWN PARENTS.
"My mama died too! I don't really remember her anyways. My papa… Well to be honest, I'm glad he's not around anymore."
AND π WOULD ALSO TALK ABOUT HIS SIBLINGS. HIS BROTHER ALEPH, WHY HE DECIDED TO GO AND WHY HE WAS HERE NOW. WORMWOOD SEEMED TAKEN ABACK BY THIS INFORMATION.
"So, you just… left? You left your own village to be in the forest?"
"Pretty much."
"You are weird π. You really are."
WORMWOOD SPOKE. BUT STILL THERE WAS A GRIN ON HIS FACE. AS THEY BOTH LAID IN THE GRASS. WHILE THE SKY ABOVE THEM CHANGED TO A DEEP SHADE OF RED.
"I should tell you to go back to your people. but honestly I don't mind you being here too much."
AND THEY SMILED AT EACH OTHER. WHILE THE SUN WAS SETTING AND THE MOON ROSE ABOVE THEM.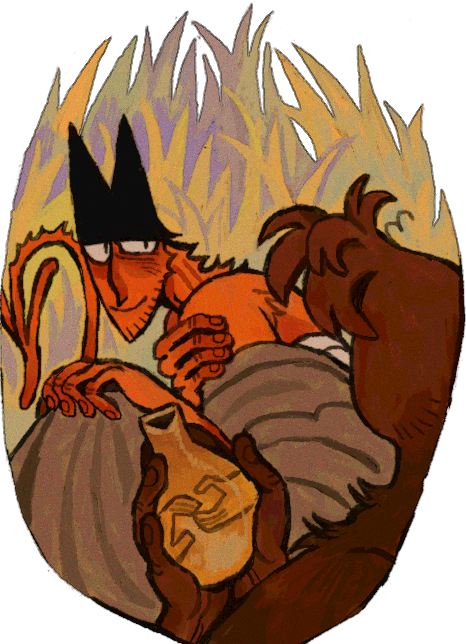 AND SO, THEY CONTINUED ON WITH THEIR DAYS. WORMWOOD WOULD BECOME MORE MOBILE AGAIN. AS HIS WOUND HEALED GREATLY OVER TIME. THEY WOULD SPEND MOST HOURS TOGETHER.
WORMWOOD WOULD BEGIN TO TEACH π ABOUT THE WAYS HE HAD LIVED IN THE FOREST FOR SO LONG. AND π WAS EAGER TO LEARN. SO, WORMWOOD WOULD SHOW HIM HOW TO CLIMB THE BRANCHES. AS THIS METHOD WAS QUICKER THAN TRAVERSING THE THICK FOLIAGE ON THE GROUND.
AND IT TOOK MANY TRIES. BUT EVENTUALLY π COULD KEEP UP WITH WORMWOOD. ALTHOUGH HE WAS STILL FAR SUPERIOR AT MOVING THROUGH THE CANOPY. AS π HAD TROUBLE WITH THE HIGHTS AND KEEPING HIS BALANCE.
WORMWOOD WOULD TELL HIM WHERE TO FIND TASTY MAGGOTS. AND EASY WAYS TO TRICK WORMS FROM THE EARTH. AS THOSE WERE MORE RELIABLE WAYS TO GET PROTEIN THAN HUNTING.
AND WORMWOOD WOULD SHOW π HIS FAVORITE PLACES. WATERFALLS AND SPRINGS WHERE THEY WOULD BATH TOGETHER. BRANCHES UP HIGH ON WHICH THEY WOULD SIT AND WATCH OVER THE FOREST EXPANSE.
ONE NIGHT WHEN THEY SAT ON THIS VERY PLACE, A BRIGHT LIGHT LIT UP IN THE DISTANCE.
"A Flare!"
π SPOKE AS IT FLICKERED IN THE DARK SKY.
"Is that what your people call those?"
"Yeah. Do they go by any other name?"
AND WORMWOOD WOULD THINK BEFORE HE WOULD ANSWER.
"I don't know. I just call them burning Tendrils."
π CHUCKLED IN RESPONSE.
"What makes you think those are Tendrils? I always assumed it's just some type of play of light."
"I mean it's hard to see now. But at daytime you can clearly make out that it's a Tendril. No idea what makes the ones over there burn and others not though."
"At least it looks pretty."
"It does."
AND WORMWOODS BECAME LOST IN HIS MIND. AS HE WONDERED WHY THE TENDRILS WOULD NOT BURN ALL THOSE YEARS AGO. WHEN THEY CAME DOWN TOWARDS HIS OLD VILLAGE.
HOWEVER, HE DID NOT SPEAK THAT. THEY WOULD SAY NOTHING AT ALL AS THEY WATCHED THE SPECTACLE.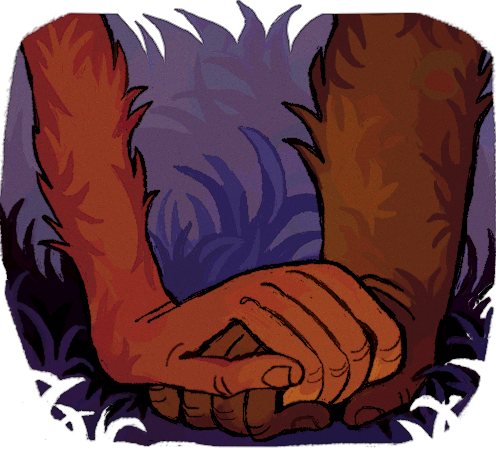 THE WEEKS WOULD PASS AND TURN INTO MONTHS. AND WITH EACH DAY THAT THEY SPENT TOGETHER, WORMWOOD WOULD OPEN UP MORE. AS HE CAME TO NOT ONLY TOLERATE πS COMPANY. BUT ALSO, TO ENJOY IT FULLY.
AND EVEN THOUGH WORMWOOD SAW π EVERY DAY, HE COULD NOT STOP THINKING ABOUT HIM. EVEN AT NIGHT AND IN THE FEW TIMES THAT THEY WERE ALONE.
WORMWOOD BEGAN TO ALLOW π TO TOUCH HIM. NOT ONLY TO CLEAN HIS HEALING WOUND ANYMORE.
BUT IN ADDITION, FOR ANY OTHER REASON HE COULD COME UP WITH. AS THEY COULD NOT KEEP THEIR HANDS OFF OF EACH OTHER.
π WOULD ALSO NO LONGER SLEEP ON THE GROUND OF THE TREE BENEATH WORMWOOD. NOW THEY SHARED THE HAMMOCK WHENEVER THEY RESTED. AND IN ONE OF THOSE NIGHTS, THEY WOULD LAY WITH EACH OTHER.
FOR WORMWOOD IT WAS THE FIRST TIME HE LAID LIKE THIS WITH ANYONE. AFTER ALL THERE HAD NO ONE BEEN WITH HIM BEFORE HE MET π. SO, HE LET HIMSELF BECOME VULNERABLE IN A WAY THAT HE NEVER WAS PREVIOUSLY. AND IT FELT GOOD TO HIM.
FOR π IT WAS THE VERY FIRST TIME HE LAID WITH ANOTHER MAN. CANTO WAS THE ONLY ONE WHO HAD EVER TOUCHED HIM IN THIS WAY. AND IT FELT GOOD TOO.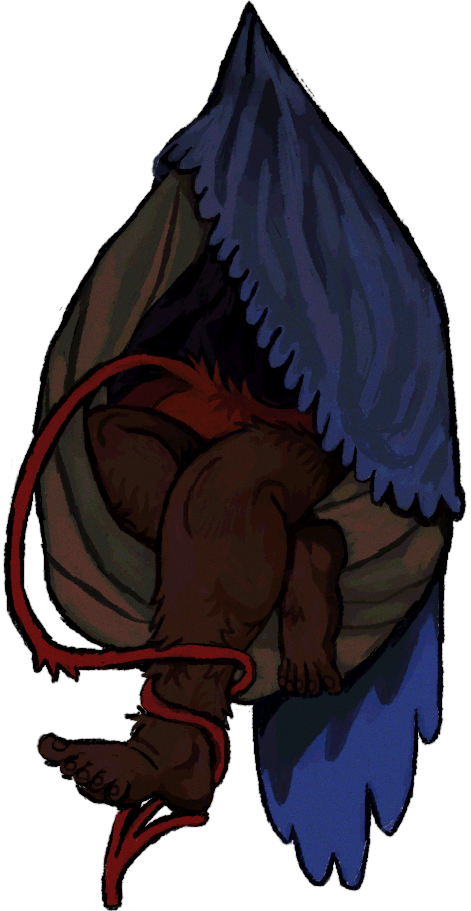 THEY AWOKE LATE THE FOLLOWING DAY. AS THEY DID NOT SLEEP MUCH THAT NIGHT. NEITHER WAS THIS THE LAST TIME THAT THEY WOULD SPEND TOGETHER LIKE THIS.
AND ON THE DAYS WHEN THERE WAS NOTHING ELSE TO DO. WORMWOOD WOULD PAINT FOR π.
MEANWHILE π WOULD PLAY A LYRE THAT WORMWOOD ONCE FOUND BUT NEVER UNDERSTOOD THE PURPOSE OF. AND EVEN THOUGH HE WAS NOT GOOD AT IT, WORMWOOD FELL IN LOVE WITH EVERY MELODY HE PLAYED. BUT IN REALITY, IT WAS NOT THE MUSIC THAT HE FELL FOR.
SO, THEIR LIVES WENT ON LIKE THIS. SIMPLE AND WITHOUT A CARE.
AND IT SEEMED THAT π FOUND HIS MOST PERFECT PLACE TO BE. SO TOO WAS WORMWOOD NO LONGER LONELY AND ALONE.
YET IT WAS NOT DESTINED TO LAST. AND THEIR SHORT TIME WITH EACH OTHER WOULD SOON NEAR ITS TRAGIC END.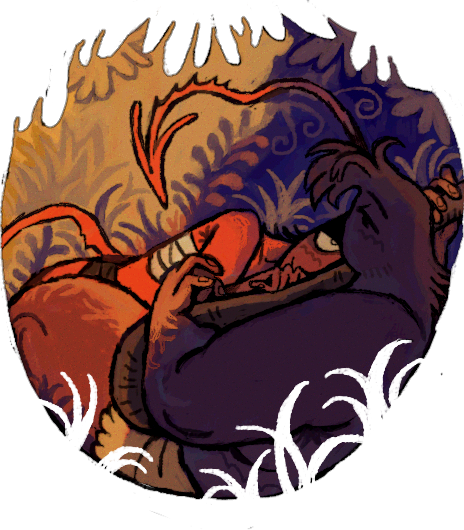 Part 4
IT WAS ANOTHER CALM EVENING. SINCE THE DAYS BECAME LONGER SO DID THE AIR STAY WARMER IN THE FOREST. BECAUSE OF THAT π AND WORMWOOD WERE COOLING OFF IN THE STREAM. AND AS THEY SAT IN THE WATER, WORMWOOD WATCHED THE CLOUDS PASS OVERHEAD.
BUT π WAS LOST IN HIS OWN THOUGHTS. FOR A WHILE HE HAD BEEN ACTING STRANGE. WORMWOOD NOTICED THAT π DID NOT TALK AS MUCH AS HE USED TO. AND HE WOULD ALSO NOT LEAVE THE CLEARING ANYMORE ON HIS OWN.
THESE CHANGES WORRIED WORMWOOD. AS HE WAS NOT USED TO π BEHAVING IN THOSE WAYS.
"Everything alright?"
HE ASKED QUIETLY.
"Yeah."
π SPOKE HIS ANSWER WITHOUT EVEN LOOKING OVER TO WORMWOOD.
"I don't think so. Say what is bothering you?"
BUT π DID NOT REPLY.
"Is it the heat? I can imagine that you are not used to that! There are a bunch of caves down by the waterfall. They stay cool all year round! If you'd rather hang out there."
"Thank you but it's not that."
AND WORMWOOD WOULD THINK LONG.
"Did something happen then?"
π SIGHED. HE WAS NOT SURE WHAT TO SAY NEXT. YET HE CONTINUED.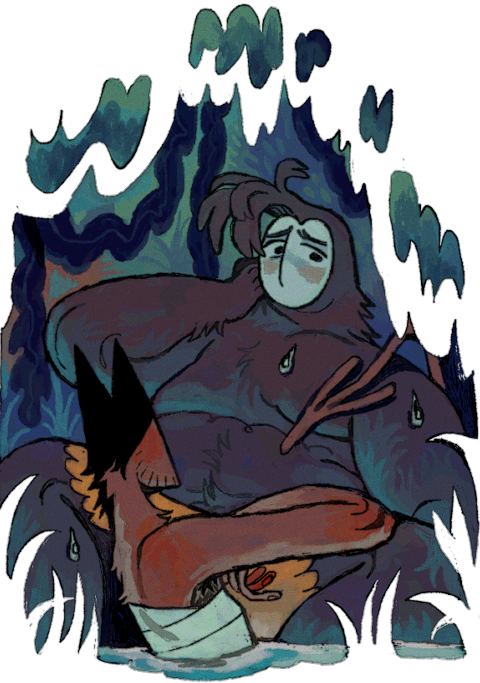 "I- I don't think you would believe me if I told you."
WORMWOOD GRINNED IN RESPONSE.
"Try me! I've seen many things in my years here. A lot of unbelievable stuff. But they're all true. I think I can believe one more."
π WAS STILL RELUCTANT TO ANSWER. BUT EVENTUALLY HE WOULD GO ON TO TELL WORMWOOD ABOUT HIS RECENT EXPERIENCES.
AS IT HAD BEEN HAPPENING FOR THE PAST NIGHTS. EACH TIME, π WOULD BE AWOKEN BY A BRIGHT LIGHT BETWEEN THE TREES.
"It's not the moon or a reflection or a flare. I am very certain of that."
HE SAID.
"It is as if someone is walking around out there with a torch. But the light is cold and blue. Nothing like the glow of a fire."
WORMWOOD COULD OFFER NO ANSWER. NOT BECAUSE HE THOUGHT π WAS LYING. INSTEAD, WORMWOOD HAD NEVER WITNESSED A PHENOMENON LIKE THAT BEFORE. SO, HE HAD NO EXPLANATION FOR IT.
"I think it's coming closer."
π SPOKE AT LAST. BUT HE DID NOT TELL WORMWOOD EVERYTHING. AS NOT ONLY WOULD THE LIGHT FRIGHTEN HIM. IT WAS AS IF HE WAS DRAWN TO IT, EVERY TIME HE LAID EYES UPON ITS SHINE.
THAT NIGHT THEY BOTH WOULD NOT SLEEP. INSTEAD, THEY WOULD STAY OUTSIDE. ARMED WITH πS ARROWS. AS THEY WOULD WAIT FOR THE LIGHT TO RETURN.
WORMWOOD DECIDED THAT IT WOULD BE BEST TO BANISH IT OFF. FACE IT AND TELL IT TO NEVER RETURN. IF IT WAS A LONESOME SPIRIT, IT WOULD SURELY NOT ENJOY THE COMPANY OF LIVING PEOPLE.
SO TOO WAS WORMWOOD EXCITED TO SEE IT FOR HIMSELF. BUT π WAS ANXIOUS. AND HE DID NOT SHARE WORMWOODS INTRIGUE.
WITH EACH PASSING HOUR THEIR SURROUNDINGS BECAME DARKER. AND SOON THE FOREST TURNED PITCH BLACK. BUT FOR A LONG TIME, NOTHING UNUSUAL OCCURRED.
THEIR QUIET CHATTER WOULD SLOWLY STOP. AS WORMWOOD COULD NO LONGER KEEP HIS EYES OPEN. HE WOULD FALL ASLEEP ON πS SIDE.
YET π COULD NOT CLOSE HIS EYES AT ALL. HIS NERVES WERE KEEPING HIM ALERT. AND HE WAS UNABLE TO BREAK HIS GAZE FROM THE DARKNESS OF THE FOREST. AND EVEN WHEN HIS BODY BECAME TIRED, HIS MIND WOULD NOT REST.
AND THEN IT HAPPENED. THE LIGHT SEEMED BLINDINGLY BRIGHT IN CONTRAST TO THE BLACKNESS AROUND. AGAIN, IT APPEARED BETWEEN THE TREES. BUT NOW IT LOOKED AS IF IT WAS NOT FAR PAST THE TREE LINE. AND IT WAS MOVING NEARER.
YET π WAS ALREADY ON HIS FEET. AGAINST HIS BETTER JUDGMENT, HE RAN TOWARDS THE LIGHT. AS HE COULD NO LONGER CONTAIN THE DESIRE. AND IT FELT TO HIM AS IF HE WAS BEING PULLED BY A ROPE.
AND THE CLOSER HE GOT, THE MORE UNBEARABLE BECAME THE LIGHT. LIKE A GLEAMING WHITE HOT SILVER SHIMMER.
AND AT THE VERY MOMENT HE THOUGHT HIS EYES WOULD BURN, IT DIMMED. AS THE LIGHT WAS STILL THERE IT WAS NOW ONLY A FAINT GLOW.
IT TOOK A WHILE FOR πS SIGHT TO RECOVER. BUT BEFORE HE COULD SEE AGAIN, HE HEARD AN UNFAMILIAR VOICE.
"At last, our paths cross!"
HE COULD MAKE OUT A FIGURE STANDING IN FRONT OF HIM. IT WAS A WOMAN! THOUGH NOT A GHOSTLY ONE. AS SHE SEEMED TO BE ALIVE. BUT HER SHAPE WAS VERY ODD TO π.
SHE WAS TALL AND SLENDER. AND HER WHOLE BODY WAS NAKED. AS SHE DID NOT POSSESS ANY FUR. EXCEPT FOR HER HEAD WHICH SPROUTED LONG GOLDEN HAIR.
AND HER FORM REMINDED π OF OLD SKELETONS. ANCIENT ONES THAT HIS PEOPLE WOULD SOMETIMES FIND DEEP WITHIN THE EARTH. AND THEY WOULD HAVE NO HORNS OR TAILS. NEITHER WOULD THEY HAVE BONY FACE PLATES.
SCHOLARS WOULD SAY THAT THESE OLD PEOPLE HAD NOT WALKED THE GROUND FOR MANY MILLIONS OF YEARS. YET THIS WOMAN BEFORE HIM LOOKED AS IF THOSE BONES WERE GIVEN FLESH AGAIN.
THE ONLY DIFFERENCE WERE THE GIANT FEATHERED WINGS THAT GREW FROM HER BACK.
"Fear not! I have searched for you far and wide, earthling! And it seems I have finally been successful!"
HER VOICE SOUNDED BEAUTIFUL TO π. YET IT ALSO MADE HIS HEAD SPIN. HE COULD NOT TALK WELL. THOUGH IT WAS AS IF THE WORDS WERE BEING TAKEN OUT OF HIS THROAT.
"Who are you?"
"I am known to many as Rachiel! The Angel in charge of the outer limbic system! I have come to you to be your guide! as I will need your aid in our coming endeavors! Who are you known as?"
"π?-"
"π! A great number! Globular mathematics! Truly a worthy name for a person like you! π!"
AND AS SHE SPOKE, HER VOICE DISAPPEARED BETWEEN THE BRANCHES.
NOW IT WAS QUIET. π COULD HEAR NOT A SINGLE THING. EXCEPT FOR THE FAST BEATING OF HIS OWN HEART.
THOUGH HIS BODY REACTED THAT WAY. π DID NOT FEEL AFRAID AT ALL. TO HIM THERE WAS NO THREAT IN RACHIELS PRESENCE. IT FELT AS IF SHE WAS AN OLD FRIEND. AND NOW THEY HAD MET EACH OTHER AGAIN FOR THE FIRST TIME IN MANY YEARS.
THEN A HAND WAS WRAPPING AROUND πS ARM. AND SUDDENLY HE WAS PULLED BACK BEHIND A THICK TREE.
THERE ABOVE HIM STOOD WORMWOOD. HIS EYES WERE WIDE. AND IN HIS HANDS, HE CARRIED ONE OF THE ARROWS.
AT ONCE WORMWOOD POUNCED FORWARD, UP TO RACHIEL. AND WHEN HE WAS AS CLOSE AS HE COULD GET, HE RAISED HIS ARROW. WITH ALL THE FORCE HE COULD MUSTER HE RAMMED THE SHARP END INTO RACHIELS STOMACH.
BUT SHE DID NOT MOVE AN INCH. AND THE ARROWHEAD WOULD NOT PUNCTURE HER SKIN. INSTEAD, IT CRUMBLED TO THE GROUND BEFORE HIM.
RACHIEL HELD WORMWOODS HANDS NOW. GENTLY BUT VERY FIRMLY. AND SHE LOOKED STRAIGHT INTO HIS EYES. ALMOST SEEING THROUGH WORMWOODS ENTIER MIND.
"Would you stop that?"
SHE SPOKE WITH THE KINDEST SMILE ON HER FACE. UNLIKE π, WORMWOOD FELT GREAT TERROR AT THE APPERCEPTION IN FRONT OF HIM. IN PANIC HE SHOOK HIS ARMS FROM HER GRIP, FALLING TO THE GROUND. NOW HE WAS PARALYZED BY ALL THE FEAR.
π CALLED OUT. AND WHEN HE GOT TO WHERE HE LAYED, WORMWOOD WOULD HOLD π SO TIGHTLY. BURYING HIS FACE INTO HIS CHEST. YET THEY BOTH COULD NOT KEEP THEIR SIGHT OF OFF RACHIEL.
"Be not afraid! I mean no harm! and I would appreciate it if no harm would be done to me in return!"
"What brings you here?"
π MANAGED TO SPEAK.
"You π! You do!"
"Yeah, uh, I mean what do you want from me?"
AND RACHIEL SEEMED TO SMILE EVEN WIDER AS SHE EXPLAINED.
"π, I am here to tell you of your angelic heritage! For not only are you of earthly descent! Like me you are of the Flesh! Belonging partly to the Body Hidden Above Your Heavens!"
"I-"
π COULD NOT FOLLOW HER WORDS. HOWEVER, THERE WAS INTRIGUE IN HIS VOICE. AS HE STILL FELT ODDLY DRAWN TO RACHIEL. IN A WAY THAT HE COULD NOT EXPLAIN.
"Shut your mouth!"
WORMWOOD INTERJECTED. HE WAS YELLING AT RACHIEL NOW.
"Leave! Go away from here!"
AND AS HE SPOKE, WORMWOOD WOULD PICK UP ROCKS AND STICKS. HE WOULD THROW THEM AT HER.
YET RACHIEL DID NOT EVEN FLINCH. SHE CONTINUED TO STAND STILL WHILE SMILING BRIGHTLY.
"You do not have to be convinced by my words alone! I will show you physical proof!"
RACHIEL WALKED OVER TO WHERE π AND WORMWOOD WERE STANDING. SHE WOULD THEN TAKE π BY THE SHOULDERS AND TURN HIM AROUND. WITH A FLICK OF HER WRIST RACHIELS FINGER TRAVELED DOWN πS SPINE.
AS SOON AS SHE DID THIS, HIS BACK OPENED UP. YET NO BLOOD FLOWED FROM THE WOUND.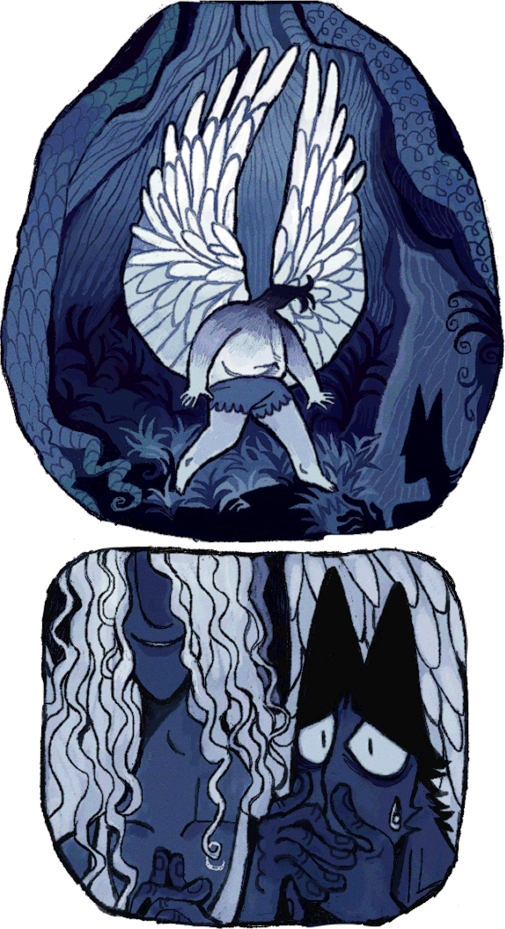 INSTEAD, THERE EMERGED A PAIR OF LONG FEATHERED WINGS. APPEARING LIKE THE ONES ON RACHIELS BACK. HIS OWN WERE ALSO WHITE, SHIMMERING IN THE BLUE AMBIANCE.
"Do you believe in your divine lineage now?"
BUT π COULD NOT SPEAK A WORD IN RESPONSE. HE COULD NOT EVEN TAKE A BREATH. AS HE TURNED AROUND, HE MOVED HIS WINGS SLOWLY. STRETCHING THEM OUT COMPLETELY.
AND THEN HE WOULD FALL TO THE GROUND AS HE SUDDENLY LOST CONSCIOUSNESS.
"π!"
WORMWOOD CRIED OUT IN WORRY. AND HE HELD HIM IN HIS ARMS.
"What have you done to him?!"
"Be not alarmed! The sprouting can be a taxing process on the body! Let him rest! The shock will settle soon!"
BUT WORMWOOD COULD NOT COMPREHEND A SINGLE WORD. AND HIS FEAR BEGAN TO MIX WITH ANGER.
"Go away! Leave forever now! And never come back! If I see you here again, I will kill you!"
HOWEVER, RACHIEL DID NOT SEEM TO REGARD WORMWOODS YELLING AS SHE SPOKE.
"Sleep well π! And recover! I will wait for your return!"
HER VOICE BEGAN TO FADE INTO THE DISTANCE. AND AT ONCE THE FOREST WAS DARK AGAIN.
WITH GREAT EFFORT WORMWOOD CARRIED π BACK TO HIS TREE. THERE HE WOULD TUCK HIM INTO THE BLANKETS.
MEANWHILE, WORMWOOD WOULD BE CAREFUL TO AVOID πS NEW BODY PARTS. AS HE COULD NOT BEAR TO TOUCH THEM OR EVEN LOOK AT THEM. THE HORROR THAT HE JUST WITNESSED MADE HIS STOMACH TURN.
AND AS HE SAT NEXT TO π HE STARED AT HIS SLEEPING FORM. HE DID NOT KNOW HOW TO DEAL WITH THE THINGS HE JUST EXPERIENCED.
SURELY WORMWOOD SAW MANY UNUSUAL OCCURRENCES IN ALL THE YEARS OF LIVING IN THE FOREST. BUT NOTHING CLOSE TO THIS HAD EVER HAPPENED TO HIM BEFORE. SO, HE COULD DO NOTHING BUT WEEP FOR THE REMAINING HOURS OF THE NIGHT.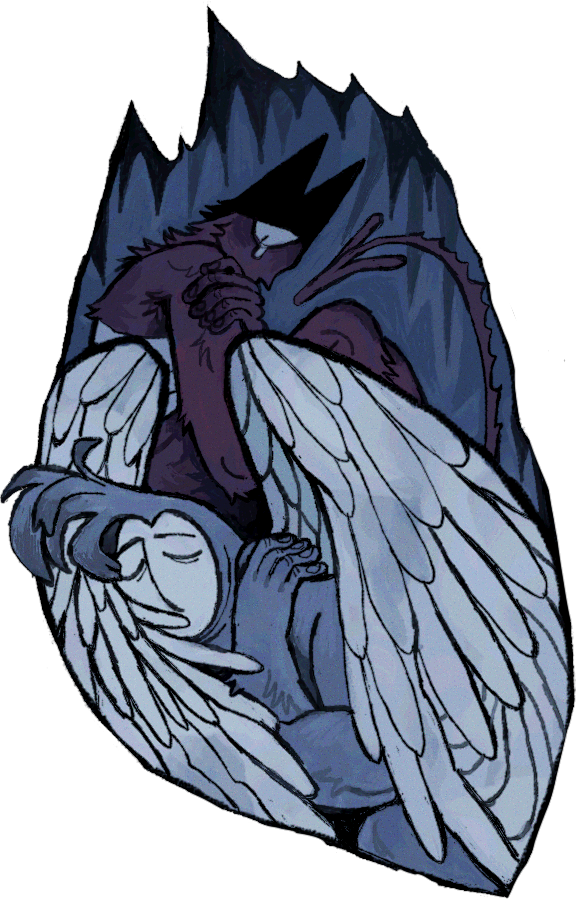 THE NEXT DAY π WOULD AWAKEN EARLY. AND FROM THE FIRST MOMENT, HIS THOUGHTS WERE CONSUMED BY NOTHING BUT HIS NEW WINGS.
HE WOULD ADMIRE THEM IN HIS REFLECTION. TOUCH THE INNER SOFT PARTS OF THEM. SO WOULD HE ALSO FLAP AND MOVE THEM AT ANY TIMES.
YET WORMWOOD STILL DID NOT LIKE HIS WINGS. AND HE SEEMED TO BE MAD THAT π ENJOYED THEM SO MUCH. HE COULD NOT COMPREHEND HOW π FORGOT ABOUT LAST NIGHT SO QUICKLY. OR DID HE JUST NOT CARE?
WORMWOOD WOULD STAY IN HIS TREE FOR MOST OF THE DAY. QUIETLY JUDGING π FROM WITHIN. AND WHEN THEY FINALLY MET AGAIN, WORMWOOD SNAPPED.
"I don't understand. How can you act like this!"
"What do you mean?"
"What do I mean!? π! Have you lost your mind! How can you be so happy after last night! After what she did to you!"
AND π COULD ONLY CONTINUE TO SMILE AS HE ANSWERED.
"I mean nothing bad happened. It didn't even hurt to be honest."
"You cannot be serious."
WORMWOODS VOICE WAS STRAINED. AND HE WAS BECOMING FRUSTRATED WITH πS BEHAVIOR.
"I don't like this at all. That lady is scary. She gives me a bad feeling."
"Why? you don't even know her."
"You don't either!!"
WORMWOOD LET OUT A HEAVY GROAN. HE REALIZED THAT IT HAD NO USE TO ARGUE WITH HIM. AS TO HIM IT DID NOT SEEM LIKE π WOULD CHANGE HIS MIND ANY TIME SOON.
SO, WORMWOOD COULD ONLY CONTINUE TO SHOW HIS DISAPPROVEMENT. AND HE WOULD FORBID π FROM SLEEPING IN THE HAMMOCK. AS HE COULD NOT STAND BEING SO CLOSE TO THOSE AWFUL NEW WINGS OF HIS. ADDITIONALLY, IT WOULD BE HARD TO FIT BOTH OF THEM NOW WITH πS WIDER SIZE.
BUT π DID NOT CARE. AS MOST OF HIS MIND WAS OCCUPIED WITH RACHIEL. THROUGHOUT THE WHOLE DAY HE COULD NOT STOP THINKING ABOUT HER. AND HE WOULD EAGERLY AWAIT THEIR NEXT MEETING. LUCKILY FOR HIM, IT WOULD COME RATHER SOONER THAN LATER.
THAT EVENING π COULD NOT SLEEP. HE TOSSED AND TURNED BUT NO POSITION GAVE HIM REST. AS HE FOUND OUT IT WAS HARD TO LAY COMFORTABLY WITH HIS NEWLY GROWN WINGS.
SO, HE WAITED FOR WORMWOOD TO FALL ASLEEP. AND THEN HE WENT OUTSIDE INTO THE SURROUNDING BUSH.
THERE, NOT FAR AWAY, RACHIEL WAS STANDING. KNOWING VERY WELL THAT HE WOULD COME.
TOGETHER THEY WALKED THROUGH THE UNDERBRUSH. THE SKY WAS DARK AND COVERED IN FLICKERING STARS. AND π HEARD ANIMALS AND INSECTS AMONG HIM.
BUT HE DID NOT WORRY. AS πS BLOOD WAS STILL RICH WITH ADRENALINE FROM THE PRIOR NIGHT. AND HE FELT LIKE NOTHING COULD HARM HIM.
HE MOVED HIS WINGS, CREATING A STRONG WIND. RUSTLING THE LEAVES. AND HE RAN ON FALLEN LOGS. JUMPING OFF THEM AND GLIDING THE SHORT DISTANCE TO THE GROUND. THOUGH HE WAS UNABLE TO ARCHIVE ACTUAL FLIGHT.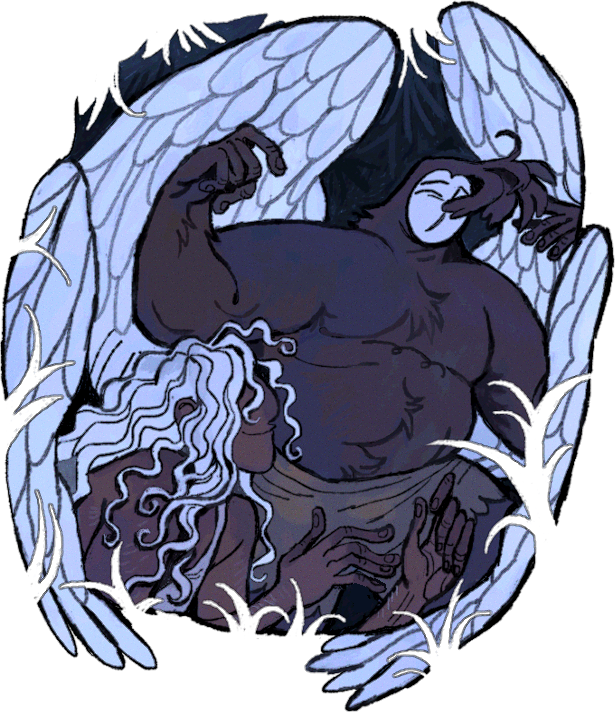 "What even is their purpose, If I can't fly like the birds?"
HE LAUGHED.
"Well, I had to convince you somehow."
RACHIEL ANSWERED.
"…But they will be a good aid in the weaker gravity of low earth orbit."
π SMILED IN RESPONSE. BUT IT SEEMED AS IF RACHIEL WAS COMPLETELY SERIOUS. IT STAYED QUIET FOR A WHILE BETWEEN THEM. UNTIL RACHIEL SPOKE AGAIN.
"π, have you noticed any big tragedies happening lately? Any new phenomena?"
π BEGAN THINKING. ALL HIS JOY FADING QUICKLY.
"Uh, like in general-"
"Worldwide tragedies. Worldwide phenomena."
RACHIEL REPLIED IMMEDIATELY. THEY LOCKED EYES FOR A MOMENT. AND π DID NOT FEEL LIKE SHE WAS ASKING A QUESTION. AS IT FELT LIKE SHE ALREADY KNEW THE ANSWER QUIET WELL.
"Yes."
HE SAID. HIS MIND FILLING WITH IMAGES OF THE GREAT DISTANT PILLARS, TENDRILS AND FLARES IN THE EVENING FAR OVER THE FOREST. AND HE THOUGHT OF THE DROUGHT IN THE SUN KINGDOM, THE WATER PATH, THE SOUR RIVERS. AND OF WORMWOOD, WHO WAS THE VERY LAST ONE OF HIS ONCE PLENTIFUL PEOPLE.
"…A lot of natural disasters-"
"π, there is nothing natural about those happenings!"
RACHIELS VOICE SEEMED TO REVERBERATE THROUGH THE TREES AS SHE SPOKE. SHE ALMOST SOUNDED CONCERNED. THOUGH SHE NEVER LESSENED HER BEAUTIFUL SMILE.
"I tell you π there is a common source for all of your peoples misfortune. And it is not of earthly descent. π, your planet has been caught in the fangs of a beast. And it is devouring your world as we speak. All the tragedies are caused by the one Body Hidden Above The Heavens."
π JUST KEPT LOOKING AT HER. IT WAS IMPOSSIBLE TO READ HER EXPRESSION. HE DID NOT KNOW WHAT TO SAY BUT HE RESPONDED ANYWAYS.
"…How do you know that?"
AND THEN SHE STARTED SPEAKING. TELLING HIM WHAT SHE DID NOT GET TO SAY THE NIGHT BEFORE. SHE TOLD OF HER PEOPLE.
ANCIENT PEOPLE. EVEN ANCIENT TO THE VERY FIRST HUMANS WHO WALKED UPRIGHT. THEY LIVED AN UNIMAGINABLE DISTANCE AWAY. ON THEIR OWN LITTLE PLANET THAT WAS VERY SIMILAR TO EARTH.
AND AT FIRST, THEY WERE PEOPLE JUST LIKE THE TERRESTROIDS ARE OR THE DEMONS ONCE WERE. BUT THEY WERE INTELLIGENT PEOPLE. AND FASCINATED WITH ONE THING IN PARTICULAR.
THE FLESH.
THEY KNEW EVERYTHING ABOUT THEIR FLESH AND THE FLESH OF EVERY OTHER ORGANISM ON THEIR PLANET. LEARNED HOW IT OPERATED. HOW IT GREW AND HEALED. HOW IT DIED AND DECAYED.
AND WHEN THERE WAS NOTHING MORE TO LEARN. THEY STARTED TO SHAPE THE FLESH INTO NEW FORMS. AT FIRST ONLY THE FLESH OF OTHER THINGS. BUT THEN WITH THEIR OWN TOO.
AND RACHIEL EXPLAINED FURTHER. BUT SHE USED WORDS π WAS UNFAMILIAR WITH. AND IT SEEMED SHE SLIPPED INTO A LANGUAGE HE COULD NOT UNDERSTAND AT ALL.
HOWEVER, HE LISTENED. AND EVEN THOUGH HE COULD NOT KNOW WHAT RACHIEL SAID, HER WORDS MADE HIM FEEL SICK AND LIGHTHEADED. HE DID NOT COMPREHEND ALL THE DETAILS. YET SOMEHOW HIS MIND COULD PIECE TOGETHER PARTS OF IT.
SOMETHING HAPPENED TO HER PEOPLE AND THEIR FLESH. A MISTAKE BORN OUT OF THEIR OWN HUBRIS. CHALLENGING SOMETHING THEY SHOULD NOT HAVE. THEY COULD NOT FIX IT IN TIME. NOW THEY ARE OF ONE FLESH.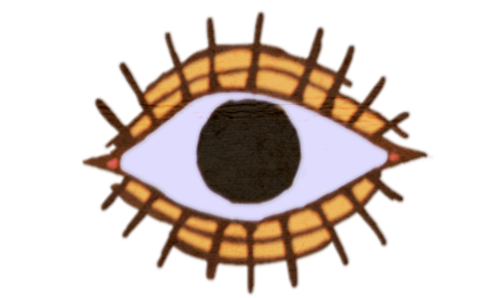 A SINGLE ORGANISM. THE SIZE OF A CIVILISATION. ONE CONSCIOUS MIND. BOUND TO TRAVERSE SPACE. WHERE ITS OWN WEIGHT WOULD NOT CRUSH ITS BONES.
AND IT LIVED LIKE THAT FOR A LONG TIME. DURING WHICH IT GREW BORED, SAD, ANGRY AND BITTER. LONGING FOR WHAT IT ONCE WAS. DESPISING WHAT IT TURNED INTO.
BUT MOSTLY IT GREW HUNGRY. SO, IT STARTED TO HUNT.
SOON IT WOULD BE SUCCESSFUL. IT CAME ACROSS A PLANET THAT BORE LIFE. JUST LIKE THE ONE IT ONCE LIVED ON.
IT FEASTED ON ITS BIOMASS. SUCKING UP EVERY LAST ORGANIC MOLECULE FROM THE SURFACE. LEAVING BEHIND A COLD DEAD ROCK. LIKE ANY OF THE BILLIONS IN SPACE. AND IT WAS SATED.
BUT ONE WOULD NOT BE ENOUGH. SO, IT CONTINUED. OVER, YET AGAIN, AN UNIMAGINABLE AMOUNT OF TIME. AN UNIMAGINABLE AMOUNT OF WORLDS WERE DESTROYED.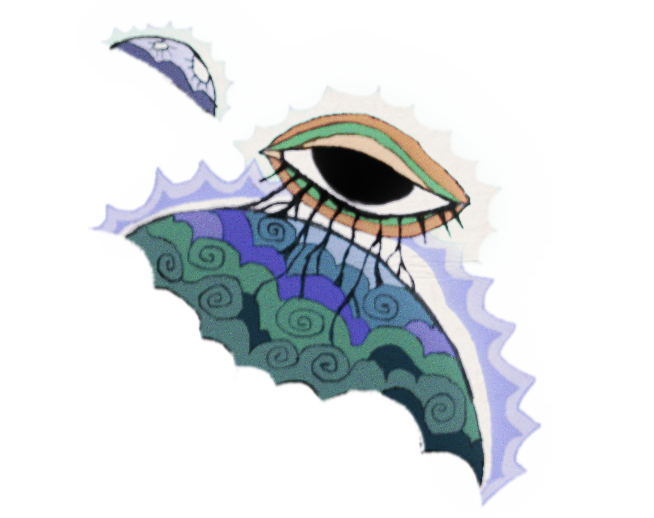 RACHIEL WAS ONE OF THE LAST INDIVIDUALS LEFT. NOT YET PART OF ITS GREAT BODY. SHE WAS A LIMBIC DRONE. ONE OF SEVERAL ORBITING ITS MASS.
HER OCCUPATION WAS SCANNING NEAR SOLAR SYSTEMS FOR PLANETS WITH MATCHING BIOSIGNATURES. BUT NO LONGER COULD SHE BEAR THE DEATH AND SLAUGHTER. SHE FELL IN LOVE WITH OUR EARTH AND COULD NOT SEE IT SUCCUMB TO THIS BEAST.
SO, SHE USED THE PRIVILEGE OF HAVING A SINGLE MIND TO NOT TAKE PART IN THE FEAST ANY MORE. SHE SWORE TO KILL IT.
AS IT WAS HER PEOPLE. THEIR PRIDE AND EGO. WHOSE NEVER-ENDING NEED FOR NEW KNOWLEDGE, CAUSED THIS HELLISH CYCLE. THEY THOUGHT THEY WERE INTELLIGENT. BUT IN REALITY, THEY WERE FOOLISH. FOOLISH PEOPLE WHO THOUGHT THEY WERE OF GODS.
SHE WOULD END THIS STREAK OF MURDER ONCE AND FOR ALL.
"I am of their Flesh, still. If I enter the body too deep, I too will become part of its mass."
RACHIEL SAID.
"But you π! You are of Earth and Flesh! The reason you were born was to test the bodies biocompatibility with earths life. The fact that you are alive doomed your world. But it will also be its last hope.
You see π, you will be able to enter the body without immediately dying like an earthling would, yet you will not be consumed into it like I would. It might be old and of realms unknown to simple minds but alas it is mortal. We can kill it π.
We can save your people and all things on this planet and all other planets who are out there. I just need your help π. That is the reason why I searched for you and came to you. There's still time but it's running fast. Will you help me?"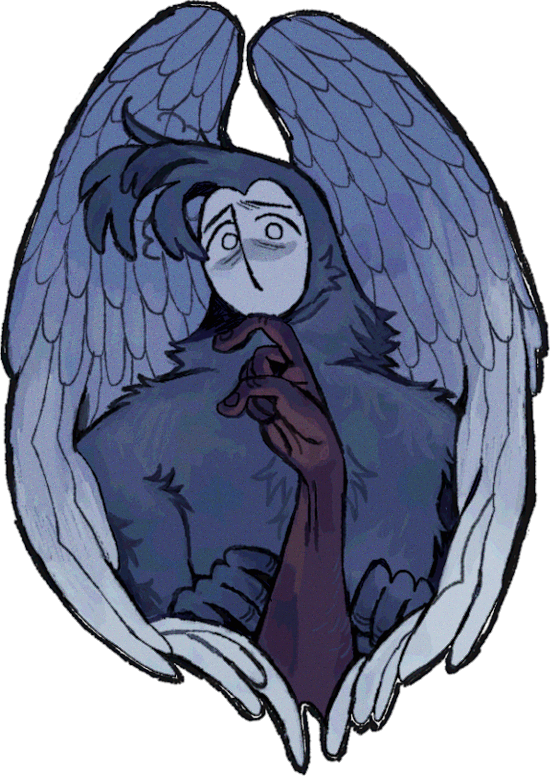 BUT π SAID NOTHING. UNABLE TO MAKE SENSE OF ALL THE THINGS HE NOW KNEW. YET HE BELIEVED HER. HOW COULD HE NOT?
WAS IT NOT HER WHO JUST THE DAY BEFORE, CUT OPEN HIS SPINE AND LET A PAIR OF FEATHERED WINGS EMERGE? WITHOUT DRAWING A DROP OF BLOOD? FOR HIM THERE WAS NO DOUBT IN HIS MIND LEFT. IT ALL WAS TRUE. BUT STILL HIS BRAIN WAS THROBBING.
HE WALKED OFF. BACK TO WORMWOODS TREE. HE DID NOT SAY ANYTHING AND SO DID RACHIEL AS SHE STAYED BEHIND.
HE QUIETLY WENT BACK TO BED. BUT SLEEP WOULD NOT COME FOR HIM. ALL OF RACHIELS WORDS STILL PLAGUED HIS THOUGHTS.
HE FELT FEAR. BUT SO DID A SLIGHT SENSE OF EXCITEMENT RUSH THROUGH HIS VEINS. HE COULD NOT ADMIT TO HIMSELF WHY HE FELT THAT WAY. BUT DEEP DOWN HE KNEW THE REASON.
π FOCUSED ON WORMWOODS RHYTHMIC BREATHING. AS HE WAS STILL FAST ASLEEP IN THE HAMMOCK ABOVE HIM. IT EASED HIS NERVES. THOUGH SLEEP WOULD STILL NOT TAKE HIM UNTIL MORNING BROKE.
AND THE DAYS WOULD PASS. π WOULD CONTINUE TO MEET RACHIEL IN SECRECY. WANDERING AROUND THE FOREST EACH NIGHT.
AND EACH TIME RACHIEL WOULD URGE HIM TO COME WITH HER. LEAVE EARTH AND GO TO THE FLESH AS SOON AS POSSIBLE.
BUT π COULD NOT BRING HIMSELF TO GO, NOT YET. AS HE HAD TO FIND A WAY TO TELL WORMWOOD FIRST. SO, EVERY TIME π WOULD SAY TO RACHIEL.
"I will soon. Please just give me a little bit more time here."
AT FIRST RACHIEL WOULD COMPLY. AND SHE WOULD WAIT IN THE FOREST AT NIGHT. HIDDEN BEHIND THE BRUSH.
BUT EVENTUALLY HER PATIENCE RAN OUT. THOUGH ONE COULD NOT TELL BY HER FACE. AS NO MATTER THE SITUATION, HER SMILE NEVER LEFT HER LIPS.
SHE WOULD BEGIN TO SHOW HERSELF AT DAYTIME TOO. NO LONGER DID SHE HIDE FROM WORMWOOD. HOWEVER, HE WAS NOT SURPRISED WHEN HE SAW HER STANDING IN THE RIVER ONE MORNING. WORMWOOD WAS NOT SMART BUT NEITHER WAS HE STUPID.
HE NOTICED πS ABSENCES. AND HE GUESSED THAT IT HAD TO HAVE SOMETHING TO DO WITH THAT WINGED WOMAN.
YET HE KEPT HIS MOUTH SHUT. NOW THOUGH IT HAD TURNED OUT THAT HIS SUSPICIONS WERE RIGHT. AND STILL HE WAS UPSET.
"I told you to not come back here!"
WORMWOOD JUMPED OUT OF HIS TREE AND CONFRONTED HER. BUT AS ALWAYS, RACHIEL DID NOT SEEM TO PAY ANY MIND TO HIM.
SHE JUST STOOD IN THE STREAM. THE COLD WATER WAS RUSHING AROUND HER ANKLES. MEANWHILE THE SUN WAS WARMING HER SKIN.
AND SHE BREATHED IN THE RICH MUSTY FOREST AIR. EVEN THOUGH HER BODY HAD NO NEED FOR THAT FUNCTION. SHE NONETHELESS ENJOYED THE FEELING IN HER CHEST. AND AS SHE BREATHED OUT, SHE SPOKE.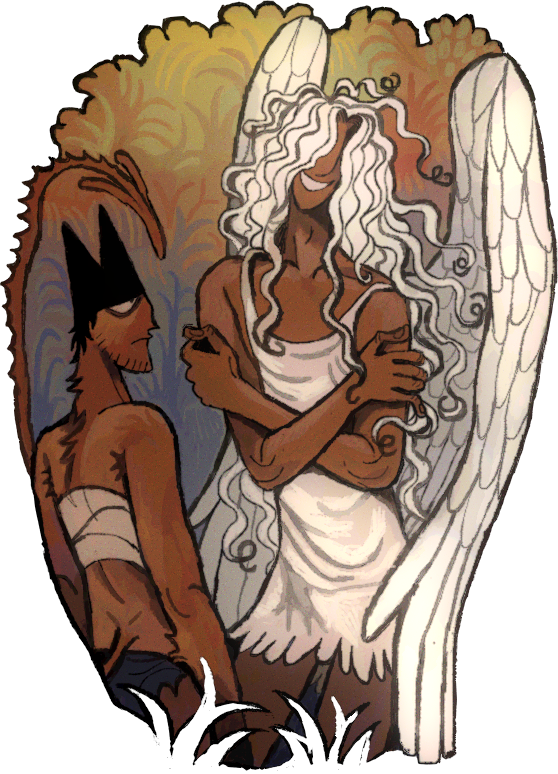 "It is true π! It is the most beautiful place!"
"Shut up! Shut up!"
π EMERGED FROM THE TREE LINE. AS HE WAS GATHERING FRUITS HE HEARD THE COMMOTION. HE WENT OVER TO WHERE THEY STOOD. AND AS SOON AS HE GOT THERE WORMWOOD WOULD GRAB HIM BY THE SHOULDERS.
HE LOOKED AT π. WORMWOOD WAS ANGRY FOR SURE. BUT THERE WAS ALSO GREAT DISAPPOINTMENT IN HIS EXPRESSION. BEFORE HE COULD SPEAK, RACHIEL CONTINUED.
"I have fallen in love! π there is no time to waste anymore! We need to be on our way! Now π!"
"Why don't we just all stay here!"
π RESPONDED.
"Rachiel! if you like it so much, we could just all live here forever! How about that?
π WAS FORCING A GRIN ON HIS FACE. HE KNEW THAT HIS WORDS WERE HOLLOW. YET HE DID NOT KNOW WHAT ELSE TO SAY.
"π!"
WORMWOOD YELLED. AND AT THE SAME TIME RACHIEL REPLIED.
"But π! That is the very reason why we have to leave. As with every passing day more of this beauty will fade and die!"
SUDDENLY WORMWOODS HANDS TIGHTENED THEIR GRIP. ALL OF HIS ANGER WAS REPLACED WITH COLD TERROR. RACHIELS WORDS WERE PIERCING HIS MIND. AND IT TOOK HIM A LOT OF EFFORT TO FIND HIS VOICE.
"What is she talking about?"
"It's… complicated."
π SIGHED.
"But I have not decided yet if I want to leave-"
"Decide against it!"
IT LOOKED LIKE AS IF WORMWOOD WAS BEGINNING TO CRY. YET RACHIEL ONLY CHUCKLED IN RESPONSE.
SHE DID NOT SAY ANYTHING. INSTEAD, HER AND π LOOKED AT EACH OTHER. AND THEY BOTH KNEW THAT THERE WAS NO DECISION TO BE HAD.
DESPITE THAT π STILL TOOK WORMWOOD IN HIS ARM. HE WHISPERED TO HIM THAT HE WOULD NEVER GO FROM THIS PLACE. AND WITH EACH WORD π LIED THROUGH HIS TEETH.
IT MADE HIM FEEL HORRIBLE. BUT HE DID NOT KNOW WHAT ELSE HE COULD HAVE SAID TO COMFORT HIM.
HOWEVER, WORMWOOD BELIEVED EVERYTHING. NOT BECAUSE HE WAS GULLIBLE. DEEP INSIDE HIS BRAIN, HE KNEW THAT NOTHING π SAID WAS TRUE.
IN THAT MOMENT, HE WAS NOT ABLE TO IMAGINE THE REALITY OF THE SITUATION. BUT SOON ENOUGH IT WOULD COME CRASHING DOWN AROUND HIM.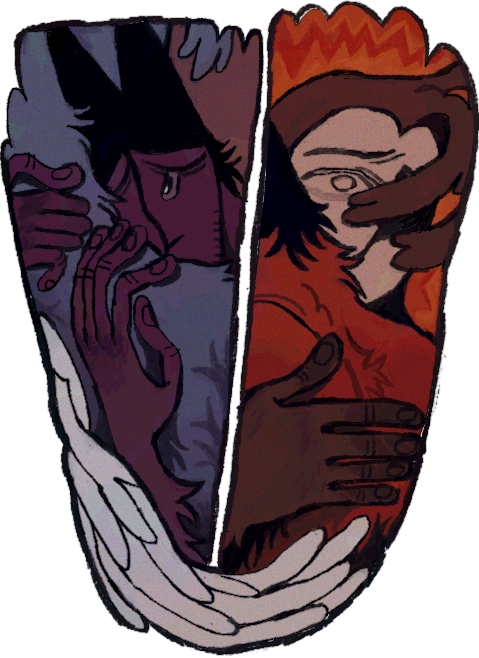 SO, THEIR TIME WOULD MOVE ON. AND NOW RACHIEL WAS A PART OF THEIR DAILY ROUTINE. AS SHE WOULD STAY WITH THEM.
YET WORMWOOD NEVER BECAME AS COMFORTABLE AROUND HER AS HE DID WITH π. HE STILL REFUSED TO TRUST HER. AND HE WOULD AVOID HER PRESENCE AT ALL COSTS.
π HOWEVER KEPT CLOSE WITH RACHIEL. AND EVERY TIME THEY HAD A MOMENT ALONE, RACHIEL WOULD CONTINUE HER URGING.
"I can not force you to leave."
RACHIEL WOULD SAY.
"But you do not have a choice π. You will only make it harder on yourself the longer you wait."
IT WAS AS IF π WAS BEING PULLED APART. AND HE SPENT MANY LONG NIGHTS THINKING ABOUT WHAT TO DO. WAYS TO TELL WORMWOOD.
BUT THERE WAS NOTHING HE COULD SAY. AS HE WAS SURE WORMWOOD COULD NOT UNDERSTAND. EVEN IF HE HAD TRIED.
IT WAS IN THIS TROUBLED TIME. THAT ONE NIGHT, WORMWOOD WOULD COME DOWN FROM HIS HAMMOCK. AND HE WOULD LAY NEXT TO π.
DESPITE HIS DISGUST WITH HIS WINGS, WORMWOOD WOULD CARESS THEM. AS π OFTEN DID TO HIMSELF. AND HE WOULD GET AS CLOSE TO HIM AS HE COULD.
WORMWOOD WOULD SWALLOW HIS PRIDE. AND THOUGH HE STILL MISTRUSTED THE SITUATION, HE COULD NO LONGER RESIST πS TOUCH. SO TOO HAD π MISSED WORMWOODS. AND THEY WOULD LAY WITH EACH OTHER FOR FIRST TIME SINCE RACHIEL HAD ARRIVED.
BUT IT WAS HER WHO WORMWOOD COULD NOT GET OUT OF HIS MIND. HE WANTED TO THINK ONLY OF π. AND AS THEIR LEGS AND ARMS WERE TIGHTLY INTERTWINED WORMWOOD WOULD SPEAK.
"I'm still scared of what she said."
π KNEW WHAT WORMWOOD MEANT BY THAT. AND HE WOULD LIFT HIS HEAD FROM WORMWOODS NECK. THOUGH HE STAYED SILENT. INSTEAD WORMWOOD SPOKE FURTHER.
"It is fine."
HE WOULD GASP BETWEEN HIS WORDS.
"She can stay. I don't care. As long as it makes you happy."
THERE WAS A PAUSE.
"And as long as you stay too."
STILL π WOULD NOT ANSWER. HE WOULD PRESS HIS FACE AGAINST WORMWOODS. MAKING THE CURVES OF THEIR CHEEKS FIT PERFECTLY. WORMWOOD COULD FEEL A KNOT BEGIN TO FORM IN HIS STOMACH. BUT IT CAME NOT FROM HIS BUILDING PLEASURE.
"I mean it."
HE WOULD SIGH AGAINST πS FACIAL DISC.
"I don't even mind that she is listening to us right now."
πS SIGHT WOULD WANDER TO THE LOOKOUT. AND EVEN THOUGH HE COULD NOT SEE RACHIEL HE KNEW THAT SHE WAS NOT FAR OFF.
LONG FINGERS WOULD HOLD THE SIDES OF HIS HEAD. MAKING π TURN BACK TO LOOK AT WORMWOOD. THEIR GAZE MET.
"I love you."
WORMWOOD SAID. AND THIS TIME π RESPONDED.
"I love you too."
THERE WAS A SLIGHT GRIN ON WORMWOODS LIPS. SO TOO DID π SMILE. AS THEY WOULD HOLD EACH OTHER CLOSE AGAIN.
AND EVEN THOUGH WORMWOOD STILL COULD NOT BELIEVE THE TRUTH. HE WOULD SAVOR πS SENT. TAKING DEEP BREATHS AGAINST THE FUR ON HIS CHEST. AS IF THIS WAS THE LAST TIME THAT HE WERE ABLE TO.
AFTER THEY HAD FINISHED, THEY WOULD NOT LET GO. FALLING INTO DEEP SLEEP IN EACH OTHERS ARMS.
IT WAS THE VERY SAME NIGHT THAT π ROSE AGAIN. SLIPPING GENTLY FROM THEIR EMBRACE AS TO NOT WAKE WORMWOOD. IN A COWARDLY MOVE HE WOULD LEAVE HIM SLEEPING.
AS π WOULD STEP OUTSIDE INTO THE NIGHT. IGNORING THE SHAME HIS DECISION BROUGHT. THERE STOOD RACHIEL, WAITING IN THE DARKNESS LIKE SHE DID ALL THOSE TIMES BEFORE.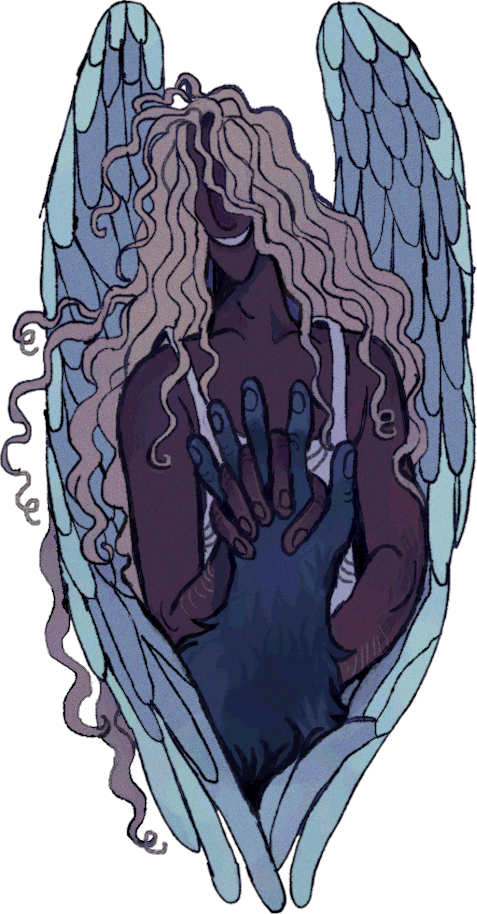 "At last, you are ready!"
HER VOICE SEEMED TO ECHO BETWEEN THE TREES. π HUSHED HER. HE TOLD HER TO BE QUIETER. BUT ALAS IT WAS ALREADY TOO LATE.
WORMWOODS FACE APPEARED IN THE LOOKOUT OF HIS TREE. AND HE KNEW IMMEDIATELY WHAT WAS TAKING PLACE. THERE WAS NO SURPRISE IN HIS EXPRESSION.
YET HE LOOKED TERRIFIED. HE RAN OUT TO WHERE π STOOD. AND HIS VOICE WAS SHAKING AS HE PLEADED.
"Don't do this π. Please."
"I have to, wormwood. I promise you I am not doing this for selfish reasons."
"For what reason are you doing this then!? Just talk to me for once instead of her!"
WITH THAT THERE WAS NO WAY AROUND IT ANYMORE. π FINALLY TOLD WORMWOOD EVERYTHING THAT HE KNEW. AS RACHIEL HAD SAID TO HIM. THE REASON WHY HE STARTED TO BEHAVE IN THOSE STRANGE WAYS.
HE SPOKE ABOUT THE FLESH AND ITS DEADLY NATURE. ITS CONNECTION TO THE TENDRILS. AND THE DEATH OF WORMWOODS PEOPLE. HE EXPLAINED HOW EARTH WAS ITS NEXT VICTIM AND HOW HE WAS THE ONLY ONE ABLE TO STOP IT.
π TRIED TO KEEP IT BRIEF. YET HE TALKED FOR A LONG TIME.
BUT JUST AS HE HAD PREDICTED WORMWOODS FACE TURNED GRIM. AND EACH WORD FROM πS THROAT SEEMED TO MAKE HIM MORE AGITATED.
"And you believe her!?"
"I do! Look what has been happening here. The drought, the flares, the pillars, my wings! None of this is normal. How can you not believe!?"
"What if she is just using you?"
π ROLLED HIS EYES. HE WAS BECOMING FRUSTRATED WITH WORMWOODS REASONINGS.
"See, you don't understand anything! But I didn't expect you to anyway."
RACHIEL FLICKED HER WRIST. AS SOON AS SHE DID THAT THE AIR LIT ABLAZE. THERE IN FRONT OF THEM A TUNNEL OF FIRE FORMED IN MID SPACE. SPARKS WERE FLYING OFF IT AND SINGED THE GRASS AROUND THEM.
THIS SIGHT FRIGHTENED WORMWOOD. AND THE TERROR GREW IN HIS BODY.
"π! Let's hurry!"
RACHIEL SPOKE. WORMWOOD WAS BECOMING DESPERATE NOW. HE FELL TO HIS KNEES AND GRABBED πS LEGS. THE TEARS WERE BLURRING HIS VISION AS HE STARTED TO TALK.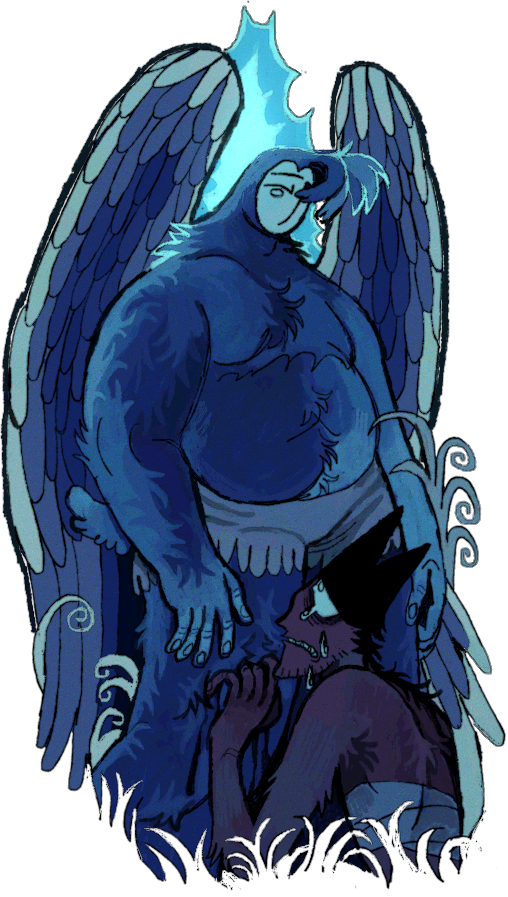 "Who cares if the world will end? It would have some day in any case! Let's just run away together! We can stay wherever it is still green. And when there is nothing left, we can spend our last hours together until the very end. Wouldn't that be nice?"
WORMWOOD WAS SOBBING NOW. π COULD ONLY SIGH IN RESPONSE.
"This is not just about you! I'm doing this for everyone's sake."
THEN SUDDEN ANGER BOILED UP IN WORMWOODS INSIDES. AS HE HEARD THOSE WORDS FROM π. AND THROUGH THE TEARS, HE STARTED TO RAISE HIS VOICE.
"Says the man who left his family behind! How can it be for everyone's sake? What about my sake!? You are a coward π! A coward and a liar!"
"Why do you even care?"
π SNAPPED BACK AT HIM.
"Just go on living like you did before you met me. What is the big deal? Was it not you who wanted me gone from the beginning?"
WORMWOOD COULD SAY NOTHING IN RESPONSE. THOSE WORDS MADE HIS BLOOD RUN COLD. HIS MIND WAS BURSTING YET HE WAS UNABLE TO FORM A SINGLE COHESIVE THOUGHT.
"Get off me."
π SPOKE. BUT WORMWOOD COULD ONLY DIG HIS NAILS DEEPER INTO πS SKIN. AS HE HELD ON EVEN TIGHTER. AND BETWEEN THE SOBBING HE COULD BARELY SPEAK.
"Don't do this to me π. Please. Please don't leave me. I'm begging you. I don't want to live like this again. I can't!"
"Goodbye Wormwood."
THESE WERE THE ONLY WORDS π COULD MANAGE TO SAY. WITH THAT HE FREED HIMSELF FROM WORMWOODS GRIP AND WALKED TOWARDS THE LIGHT.
WORMWOOD COULD NO LONGER THINK STRAIGHT. THE EMOTIONS IN HIS CHEST MIXED INTO A VILE STEW. HIS ENTIRE BODY WAS SHAKING. AND EVEN THOUGH HE HAD A HARD TIME BREATHING, HE WAS ABLE TO SCREAM AFTER π.
"You bastard! How can you do this!? Why does everyone have to make me suffer? You should have just killed me that night. Let me bleed to death. Finally put me out of my misery!
I hope you die there! Die and never come back!"
IN ONE STEP, π DISAPPEARED INSIDE THE BLUE FLAMES. WITHOUT HAVING LOOKED BACK AT WORMWOOD EVEN ONCE. NOW ONLY RACHIEL STOOD NEXT TO THE TUNNEL.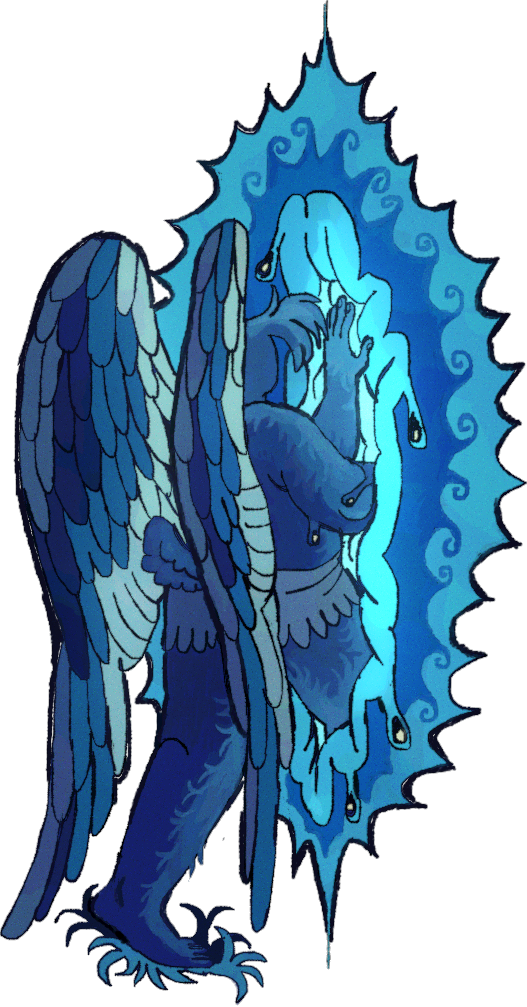 "Fear not!"
SHE SPOKE. AND AS ALWAYS, SHE WAS SMILING BRIGHTLY.
"For I will bring back π to you, at the end of our endeavor. Be he alive or dead!"
THOSE WERE THE LAST WORDS SHE SPOKE BEFORE ENTERING THE FIRE HERSELF. AND AFTER SHE DISAPPEARED TOO, THE TUNNEL CLOSED IN AN EXPLOSION OF SPARKS.
NOW THERE WAS NO ONE LEFT BUT WORMWOOD. AS HE SAT IN THE GRASS. SOBBING INTO HIS OWN HANDS. HE CRIED FOR A LONG TIME.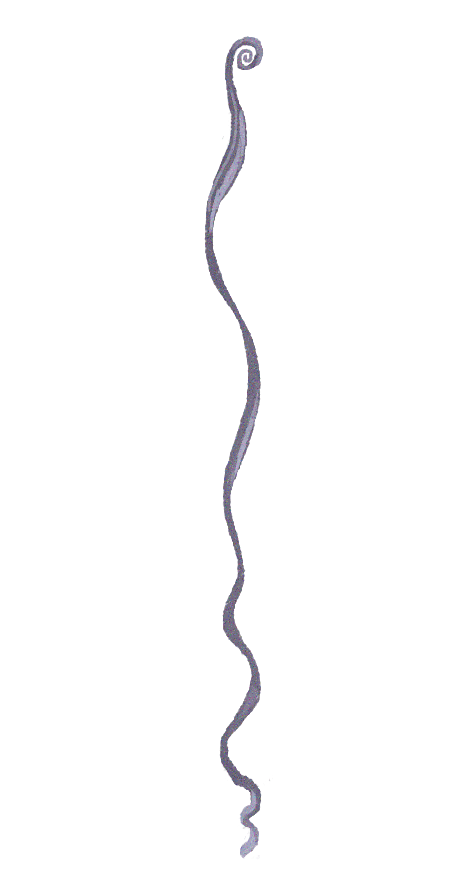 IT WAS ONLY WHEN A STRANGE SMELL ENTERED HIS NOSE THAT HE BOTHERED TO OPEN HIS EYES AGAIN. THERE WAS LIGHT IN THE DARKNESS OF THE NIGHT AROUND HIM.
BUT INSTEAD OF THE PREVIOUS COLD BLUE HUE, THIS LIGHT WAS YELLOW AND HOT. AND AS HE TURNED AROUND, HE SAW ITS HORRIBLE SOURCE.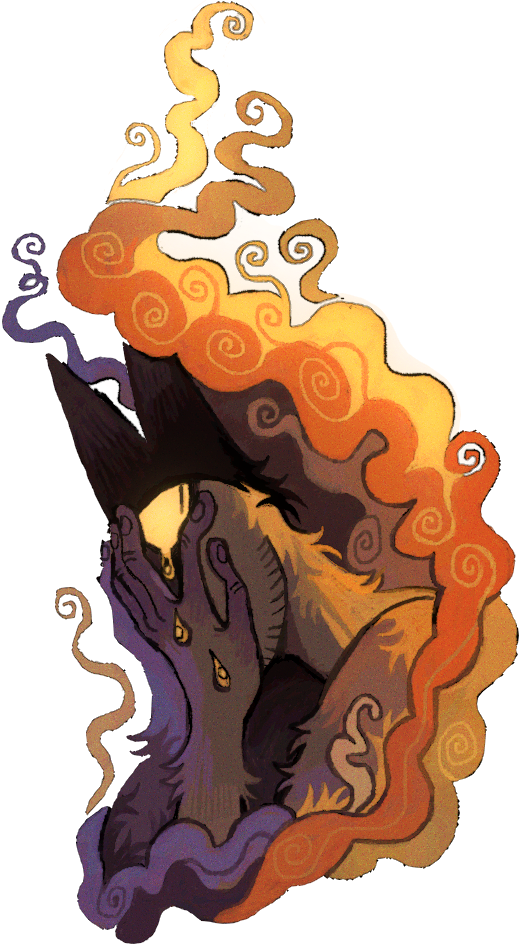 IT SEEMED AS IF THE SPARKS FROM RACHIELS TUNNEL NOT ONLY SCORCHED THE GRASS. BUT ALSO LIT IT ON FIRE.
AS THE FLAMES SPREAD, IT REACHED WORMWOODS TREE. SINCE IT WAS DEAD AND DRIED OUT, THE FLAMES WITHIN HAD NO TROUBLE GROWING. AND WHEN WORMWOOD HAD NOTICED, IT WAS ALREADY TOO LATE.
DESPITE THAT, HE RAN TO THE STREAM. IN A PANIC HE USED ANY BOWL OR POT THAT HE COULD FIND TO FILL WITH WATER. BUT HIS ATTEMPTS TO DROWN IT WERE FUTILE. AS HE COULD NOT CARRY ENOUGH TO MAKE A DIFFERENCE.
SO, HE WOULD TRY TO ENTER HIS BURING HOME. WANTING TO SAVE WHATEVER HE COULD OF HIS BELONGINGS.
THOUGH HE WAS NOT ABLE TO MAKE IT FURTHER THAN A FEW STEPS. THE HEAT AROUND HIM QUICKLY BECAME UNBEARABLE. AS THE FLAMES LICKED HIS FUR, THREATENING TO LIGHT IT UP. AND HE COULD NOT BREATH. BECAUSE OF THE SMOKE THAT WAS FILLING HIS LUNGS.
WHEN WORMWOOD STUMBLED OUT, HE FELL INTO THE GRASS. HE COULD ONLY COUGH AND WATCH. AS THE FIRE CONSUMED HIS OLD TREE.
HIS ONLY HOME HE EVER HAD. THE INFERNO WOULD RAGE THROUGH THE NIGHT. AND IT WOULD NOT SUBSITE UNTIL MORNING BROKE.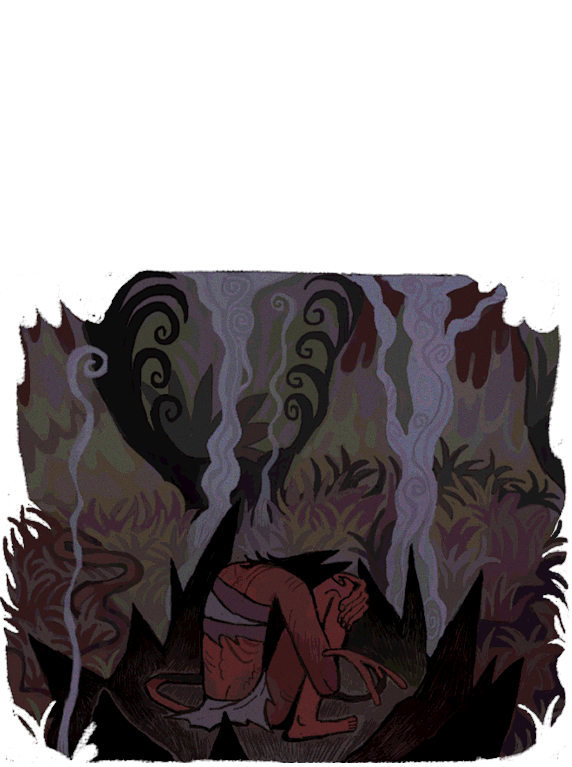 THERE HE SAT COVERED IN THE ASHES OF HIS HOME. AND IT WAS DEATHLY QUIET AROUND HIM.
NO BIRD CHIRPED NOR DID AN INSECT BUZZ. AS IF THEY WERE INTENTLY WATCHING THE SCENE. ALL WAITING FOR HIS RESPONSE.
BUT INSTEAD, WORMWOOD JOINED INTO THE SILENCE. NOT EVEN A SINGLE SOB ESCAPED HIS SORE THROAT. AS THE TEARS ROLLED DOWN HIS FACE.
WORMWOOD SAT THERE WHEN NIGHT FELL. AND HE STILL SAT WHEN THE NEXT MORNING CAME.
IT WAS LATE IN THE EVENING WHEN HE GOT ONTO HIS FEET AGAIN. WITH EACH MOVEMENT HIS BONES ACHED. HIS FUR WAS COVERED IN BLACK SOOT. AND HE HAD NOTHING MORE BUT THE TATTERED CLOTHES AROUND HIS BODY.
HE STARTED WALKING. IN THE VAGUE DIRECTION OF THE FAMILIAR FLARES FOR NO PARTICULAR REASON. HIS MIND WAS EMPTY.
THIS WAS THE ONLY THING THAT HE COULD DO. WALK AS FAR AWAY AS POSSIBLE FROM THIS CURSED GROUND. AFTER ALL, THERE WAS NOTHING KEEPING HIM HERE ANYMORE.
HE VANISHED INTO THE TREE LINE. NEVER TO RETURN TO THIS PLACE AGAIN.