IN THE BEGINNING THERE WAS THE PLANET. A SMALL ONE THOUGH FLUSH WITH LIFE AND LOVE.
THE BIRTHPLACE OF HUMANITY WHO CHOOSE ITS NAME. EARTH! SOIL! THE GROUND THEY WALKED ON! THE DUST THEY WERE MADE OUT OF AND TO WHICH THEY WOULD RETURN!
THE EARTH WILL BE WHERE OUR STORY TAKES PLACE ON.
THOUGH NOT IN OUR TIME AND NOT IN ANY OF OUR CHILDRENS TIME NOR THEIR CHILDRENS TIME. THIS STORY WILL TAKE PLACE A LONG TIME FROM NOW.
BETWEEN NOW AND THAT TIME LONG IN THE FUTURE, THERE WILL BE A GREAT PLAGUE. A DISASTER. ITS EXACT NATURE NOT KNOWN ANYMORE.
BUT IT WOULD BE DEVASTATING TO THE LIFE THAT ROAMED OUR EARTH. IT BROUGHT PAIN AND ROT AND DEATH. AND EVEN HUMANITY, WHO WALKED THE GROUND FOR SO LONG, WOULD NOT BE SPARED.
SO, THE AMOUNT OF PEOPLE WOULD DECREASE AND SO DID THE AMOUNT OF THE ANIMALS AND PLANTS. BUT IT WAS NOT ENOUGH TO STERILIZE OUR EARTH! THOUGH IT WAS GREATLY WEAKENED LIFE WOULD RECOVER.
AND HUMANITY TOO WOULD NOT BE EXTINCT. BUT THE GROUND WOULD SPLIT FOR THEM.
IN THE AFTERMATH, THE PEOPLE WERE NOT UNIFIED ANYMORE. AND THEY WOULD FORM TWO GROUPS.
AND OVER TIME, A GREAT TIME, UNIMAGINABLE TO A SINGLE MIND, THEIR BODIES CHANGED. ADAPTING TO THE NEW WORLD.
THEY WOULD RESEMBLE THEIR FORMER PEOPLE ONLY IN BLOOD AND BONE. FOR THEIR SHAPE LOOKED ALIEN TO THE PERVIOUS HUMANITY. BUT PERFECT FOR THE PLACES THEY MADE THEIR HOMES.
ONE GROUP TOOK SHELTER IN THE DEEP FORESTS OF THE EARTH. AS THE VEGETATION WAS THICK, THEY WOULD BEGIN TO CLIMB THE TREES. THEY LIVED AMONG THE BRANCHES.
AND THEIR BODIES BECAME COVERED IN FUR AND THEIR HEADS GREW HORNS. SO DID THEIR BACK HAVE A LONG TAIL FOR BALANCE.
AND WITH THEM A CERTAIN KIND OF TREE WOULD DEVELOP ALONG SIDE. IT PROVIDED THEM A SAFE PLACE TO LIVE. THEY ATE THE TREES PARASITES AND TENDED TO ALL ITS NEEDS, KEEPING IT IN GOOD HEALTH.
AND THEY NAMED THEM HOMETREES. AS THEY BOTH WOULD BE UNABLE TO THRIVE WITHOUT THE OTHER. AND THEY DID NOT LEAVE THEIR HOMETREES, ONLY TOUCH THE GROUND TO HUNT AND DRINK.
THEY WERE NAMED THE DEMONS. THE PEOPLE OF THE TREES. KNOWN TO BE ILLUSIVE AS WERE THE ANIMALS SHARING THE FORESTS WITH THEM. AND THEY WERE MASTERS AT GROWING THEIR OWN INFRASTRUCTURE.
THEY INHABITED THE WHOLE FOREST EXPANSE OF THE NORTHERN HALF OF THE TWIN CONTINENTS.
THE OTHER GROUP INSTEAD BEGAN TO ROAM THE BOWELS OF EARTH. IN THE GREAT CAVERNS THEY LIVED. LIKE THE HUMANS OF OUR ANCIENT TIMES. BUT FAR DEEPER.
THEY ALSO WERE COVERED IN FUR AND THEIR FACES BECAME BONY DISCS. THE OUTLINE OF THE FACIAL DISC BEING UNIQUE TO EACH PERSON.
AND THEY WOULD CREATE THEIR OWN CAVES AND TUNNELS. AS THEY WOULD SPEND MOST OF THEIR LIVES UNDERGROUND. ONLY SURFACING TO HUNT AND GATHER AND TEND TO THEIR ANIMALS WHO COULD NOT LIVE LIKE THEM.
THEY WERE NAMED THE TERRESTROIDS. THE PEOPLE OF THE CAVES. KNOWN TO BE KEEPERS OF KNOWLEDGE. CREATORS OF EXTENSIVE ARCHIVES CONTAINING THEIR OWN HISTORY AND EVERYTHING THEY KNEW OF EARTH.
AND THERE WAS GREAT DIFFERENCE BETWEEN THE TERRESTROIDS OF THE NUMEROUS VILLAGES. AS THEY WERE SPREAD OVER BOTH TWIN CONTINENTS AND HAD THE GREATER POPULATION OF THE TWO GROUPS.
AND SO, THE EARTH KEPT ON SPINNING. FOR THEIR APPEARANCES CHANGED BUT THEIR SPIRITS WERE STILL DISTINCTLY HUMAN. THE PEOPLE KEPT ON LIVING SIMPLE LIVES.
AND THERE WERE WARS AND YEARS OF FAMINE BUT SO WERE PEACE AND YEARS OF PROSPERITY. AS COMPLEX WERE THEIR RELATIONSHIPS AS OF THEIR ANCESTORS, THE HUMANS.
LONG FORGOTTEN WAS THE DISASTER THAT SPLIT THEM. A MYTH OF THE ANCIENT PAST. NOT EVEN KNOWN BY THE VAST MAJORITY OF PEOPLE. AS FOR THEM THE WORLD ALWAYS LOOKED AND WORKED LIKE THIS AND NEVER DIFFERENTLY.
BUT THE DAYS OF TRANQUILITY SEEMED TO BE NUMBERED. UNBEKNOWNST TO ALL EARTHLINGS, A THREAT WAS LOOMING. ON THE COSMIC HORIZON A PREDATOR WAS ON THE HUNT.
AND EARTH WAS CAUGHT IN ITS JAWS! AS THE BODY HIDDEN ABOVE THE HEAVENS BEGAN TO FEAST. EARTH ENTERED ITS NEXT EXTINCTION EVENT.
IN A VILLAGE INSIDE A HOLLOW MOUNTAIN. AROUND THE TIME OF THE ARRIVAL OF THE BODY. BELONGING TO THE TERRESTROIDS OF THE MEDIAN REGION BORDERING THE ARCTIC. A CHILD WAS BORN TO THE GATHERER OF THE VILLAGE.
THE SCRIBE OF THEIR PEOPLE. THE ONE IN POSITION OF KEEPING THE ARCHIVE.
IT WAS HER SECOND CHILD OF THREE. AND HIS NAME WAS π. YOUNGER BROTHER TO ALEPH WHO WAS BORN YEARS EARLIER. AND OLDER BROTHER TO EULER WHO WOULD NOT BE BORN FOR SEVERAL YEARS.
SOON AFTER THE BIRTH OF EULER THEIR MOTHER WOULD PASS. AND ALEPH WOULD TAKE HER PLACE IN THE LINEAGE OF GATHERERS, AS IT WAS CUSTOMARY. HE WOULD GROW UP IN THAT POSITION. AND ALONGSIDE HIM, π WOULD ALSO GROW INTO ADULTHOOD. AND EULER WOULD BECOME A CHILD WITHOUT HER MOTHER.
THIS WILL BE WHEN OUR STORY BEGINS.
Chapter 1: THE WATER PATH
Part 1
IT WAS LATE IN THE EVENING. A LINE OF MANY PEOPLE CONGREGATED AROUND THE SOUTHERNMOST GATE OF THE MOUNTAIN.
A MAN WAS SEATED AT THE VERY END. AN EXTENSIVE LIST OF NAMES IN HIS HANDS. HE WOULD ONLY GRANT ACCESS TO THE OUTSIDE OF THE GATE, IF THE LIST HELD THE NAME OF THE PERSON REQUESTING. THOUGH, THERE WAS NO PHYSICAL BARRIER BETWEEN THE CAVERN AND THE OUTSIDE, EVERYONE HELD RESPECT TOWARDS THE CUSTOM.
AND ALL AROUND THE LINE FAMILIES WERE HAVING TEARFUL LAST EMBRACES. LOVERS KISSING EACH OTHER GOODBYE.
AS FOR MOST OF THE PERSONS IN LINE WERE YOUNG AND STRONG PEOPLE. ALL CLOTHED IN STURDY ATTIRE AND CARRYING SUPPLIES. SO MUCH PACKED IN THEIR BAGS THAT IT COULD WELL LAST FOR MANY WEEKS.
OUTSIDE THE CAVERN, ALL THE PEOPLE GRANTED EXIT WERE ALSO STANDING TOGETHER. AS EACH ONE GOT HANDED AN ADDITIONAL WEIGHT TO CARRY.
FROM A BIG WAGON, CONTAINERS WERE BEING LIFTED. AND ALL WERE FILLED WITH WATER. THOUGH IT SEEMED THEY SURELY HAD AN OVERABUNDANCE OF IT. EVERYONE WAS PREPARING FOR A LONG JOURNEY.
AS THE PEOPLE CONTINUOUSLY PASSED THE GATE, A FIGURE JOINED THE LINE. THEIR FACE HIDDEN UNDERNEATH A THICK HOOD. OTHERWISE, THEY WERE CLOTHED IN SIMILAR STRONG GARMENTS AS EVERYONE ELSE. AND THE LINE KEPT ON MOVING. SOON IT WAS THEIR TURN.
"Name?"
ASKED THE MAN.
"Iota from the Arctic Ridge."
HE WAS EYEING THE FIGURE SUSPICIOUSLY. THE MAN LOOKED THROUGH HIS LIST FOR A LONG TIME. AND WITH EACH ADDITIONAL SECOND IT TOOK, THE FIGURE GREW MORE IMPATIENT.
"I'm sorry, there is no such name documented."
HE SIGHED AND CONTINUED.
"π? Is it you again?"
THE FIGURE TOOK OFF THE HOOD OVER HIS FACE. REVEALING THE DISTINCTIVE HEART SHAPE OF HIS FACIAL DISC. THERE WAS NO QUESTION. IT WAS π. AND HE LOOKED FRUSTRATED.
"Just let me pass already! I applied fairly! Several times! I fit all the criteria! Why can't you just let me pass!?"
"I'm sorry there's really nothing I can do."
THE MAN REPLIED.
"You are a fine young man π. I'm certain you would do well and if it were my decision, I would let you go… But Aleph firmly requested not to allow you to pass. I don't want to get in any trouble and so should you."
THE FACE OF π BECAME HOT WITH ANGER. IT WAS THE VERY SAME THING HE HEARD EVERY TIME HE CAME HERE. EVEN THE MAN SEEMED BORED WITH THE ANSWER. AS IT WAS THE THIRD TIME ALREADY THIS WEEK, THAT HE HAD TO DENY π TO EXIT.
AND HE WANTED TO REBUT THE MAN. SCREAM AT HIM AND MAKE A SCENE. BREAK THROUGH THE GATE AND JUST DISAPPEAR INTO THE TREE LINE. BUT HE SWALLOWED HIS PRIDE. IT WAS NOT WORTH TRYING AGAIN. AS NONE OF THIS EVER SEEMED TO WORK THE PREVIOUS TIMES.
"π? Please leave. Don't make me get the guards."
HE TURNED HIS HEAD, READY TO RESPOND. BUT THE WORDS DIED IN HIS THROAT. AS PEOPLE BEHIND HIM STARTED TO TALK AMONGST EACH OTHER. AND SOME SEEMED ANNOYED AT THE LONG WAIT.
STILL FULL OF ANGER AND NOW FEELING ASHAMED, π LEFT WITHOUT SAYING ANOTHER WORD. FINALLY ALLOWING THE LINE TO CONTINUE WITHOUT ANY OTHER ISSUE.
THE PEOPLE MET OUTSIDE AND TOOK THEIR FINAL PREPARATIONS. EVERYONE WHO WOULD NOT GO, MADE THEIR WAY BACK INTO THE MOUNTAIN. AS THE SUN BEGAN TO SET AND THE SKY TURNED DARK.
ALL WHO WERE LEFT MADE THEIR WAY TO THE FORESTS EDGE. AND SOON EVERYONE DISAPPEARED DOWN THE THIN PATH. THEY WERE THE LAST GROUP TO DEPART FOR THAT DAY.
Part 2
π WALKED THROUGH THE PASSAGES FOR MANY HOURS. TAKING THE LONGEST POSSIBLE ROUTE BACK TO HIS CAVE. IT WAS VERY LATE IN THE NIGHT WHEN HE FINALLY ARRIVED. AS NOT ONLY DID HE NEED TO CALM HIS NERVES.
HE ALSO HOPED THAT ALEPH WOULD BE ASLEEP BY THE TIME HE CAME HOME. THOUGH THIS HOPE WAS CRUSHED WHEN HE ENTERED THEIR CAVERN.
ALEPH SAT ON THE SMALL DINING ROCK. HE WAS DEEP IN THOUGHT TRANSCRIBING PAPERS. SAME AS HE DID MOST NIGHTS. WHEN HE NOTICED π IN THE DOORWAY HE JUMPED UP FROM HIS SEAT.
"What took you so long?"
ALEPH ASKED. HE WAS TRYING TO SOUND CALM. BUT STILL THERE WAS GREAT WORRY IN HIS WORDS.
"Haven't you heard from your entourage already… Don't they tell you everything I do?"
πS TONE OF VOICE WAS MOCKING. THOUGH HE DID NOT INTEND HOW STRONG IT CAME OUT, HE ALSO DID NOT REGRET IT.
ALEPH SIGHED AND WALKED OVER TO HIS BROTHER. HE OF COURSE, KNEW EXACTLY WHERE π HAD BEEN.
IRONICALLY HIS PEOPLE DID CATCH WORD OF THE HAPPENINGS AT THE GATE AND PROMPTLY TOLD HIM. ALTHOUGH THE REASON FOR IT WAS THE CUSTOMARY DAILY RECORD KEEPING THAT ALL GATHERERS WERE RESPONSIBLE FOR. ALEPH DID NOT MIND THE BENEFIT OF ALWAYS KNOWING MOST OF πS WHEREABOUTS.
"The Water Path should only be traversed by strong experienced travelers-"
"And young people wanting to gain experience!"
π INTERJECTED. ALEPHS EXPRESSION WAS STERN. AND THEY LOCKED EYES AS π CONTINUED.
"I've read the criteria. I've prepared well. I'm very certain I can do it! I want to help too."
THE FACE OF ALEPH TURNED TO A LOOK OF CONCERN. FOR A MOMENT HE ALMOST SEEMED SCARED.
"How will it help anyone when you end up seriously hurt or worse-"
ALEPHS VOICE WAS RAISED AND π FLINCHED IN RETURN. NOT EXPECTING HIS BROTHER BEING SO LOUD AT NIGHT. IT WAS EVEN SURPRISING TO ALEPH HIMSELF. SO, HE TOOK A DEEP BREATH.
"Why can't you just trust me?"
"I do! I trust you π! But I don't trust the world. It will not be kind to you."
"It doesn't need it to be! I can take care of myself! Aleph!"
NOW πS VOICE GREW LOUDER. HE BECAME EVEN MORE FRUSTRATED THAN HE WAS BEFORE. AND HIS TONE TURNED HARSH. AS THE ANGER CLOUDED HIS MIND. HE COULD NO LONGER CHOOSE HIS WORDS WISELY.
"Why do you always have to treat me like a child? I'm 22. I'm old enough to live my own life!"
"And you can. You are free to live whatever life you want inside our mountain."
"Maybe I'm sick of the mountain? I want to see other things! I want to see the forest- "
AND π HELD HIS HANDS BEFOR HIS MOUTH. IN A LAST ATTEMPT TO KEEP THE WORDS IN. BUT ALAS THEY HAD ALREADY ESCAPED. THERE WAS A LONG PAUSE BETWEEN THE TWO.
AND ALEPH HELD IN LAUGHTER. AS HE SEEMED TO HAVE ANTICIPATED π TO SLIP HIS TONGUE.
"Oh, it's this again. I see now. This is not about helping other people, is it π? Selflessly joining the Water Path to aid the citizens of the Sandstone Caverns out of the goodness of our heart? Of course not."
ALEPH WOULD CONTINUE WITHOUT WAITING FOR HIS BROTHER TO SPEAK.
"You are just bored and well, if you think your life here is so bad and uninteresting, why don't you finally continue the literature studies you never finished? Or you could work any occupation here in the mountain. You know, the ones that are desperately needed now since half of our people are gone and more are off to go.
But I know you won't π. So don't talk to me about wanting to help."
π LOOKED AWAY IN SHAME. ALEPH SPOKE THE TRUTH AND THEY BOTH KNEW IT. BUT IT WAS HARD TO ADMIT. AND ALL THE EMOTIONS SWELLED UP IN HIS BODY AGAIN. ANGRY AND EMBARRASSED AT BEING CALLED OUT LIKE THAT. BUT ALSO, UPSET AND SAD ABOUT BEING STUCK HERE WITH NOWHERE TO GO.
IT WAS NOT HIS FAULT THAT HE COULD NOT BE HAPPY HERE NO MATTER WHAT HE DID. IN HIS MIND IT WAS NOT. AS IF THIS LUSH AND PROSPEROUS MOUNTAIN VILLAGE WAS A PRISON MADE ONLY FOR HIM. TO HIM IT FELT LIKE THAT. HE COULD ONLY RESPOND IN A MURMUR.
"You don't understand anything…"
"I do π. I really do. All these rules are for your own good. It will make sense when you're older. You will thank me then."
"Nonsense! You sound just like Mama-"
HE COULD NOT FINISH HIS SENTENCE. AS ALEPH GRABBED πS WRIST. HE LOOKED UPSET.
AND FOR A MOMENT π WISHED HE COULD TAKE BACK WHAT HE SAID. HE KNEW EXACTLY HOW MUCH IT HURT ALEPH TO TALK ABOUT THEIR MOTHER. YET HE FELT JUSTIFIED. SO, DESPITE HIS BETTER JUDGMENT HE SPOKE FURTHER.
"You act just like Mama. You speak like her, you even hold yourself the same way she did. Just because she treated you like this doesn't mean you have to do it to me too."
AND THEY LOOKED AT EACH OTHER AGAIN. ALEPHS GRIP ON πS WRIST BEGAN TO LESSEN. π COULD FEEL THAT HIS BROTHERS FINGERS WERE TREMBLING.
ALEPH HAD A THOUSAND THINGS TO SAY. BUT HE COULD NOT TALK A SINGLE WORD. AS HE KNEW THEY WOULD NOT COME OUT IN A KIND WAY. SO, HE SWALLOWED AND THEN SPOKE.
"Go to bed π."
IT SOUNDED AS IF HE WAS HOLDING BACK TEARS. AND SO DID π. HE WALKED OFF WITHOUT SAYING A WORD IN RESPONSE.
THE MOMENT π ENTERED THE SNUG, HE STARTED TO CRY. HE COULD NO LONGER HOLD IT IN. AS ALL THE FRUSTRATION AND ANGER FROM TODAY HAD TO MANIFEST SOMEHOW. BUT ALSO, GUILT.
AS HE CAME TO REGRET HIS WORDS IMMEDIATELY, HE KNEW HE COULD NOT UNDO THEM. AND THOUGH IT WAS RARE THAT HE WOULD SPEAK IN SUCH A WAY TO HURT ALEPH, IT WAS NOT THE FIRST TIME HE DID. BUT SO DID ALEPH OFTEN USE WORDS TO HURT π. HE SAT ON THE FLOOR AND CRIED FOR A LONG TIME.
"Sorry to interrupt…"
A VOICE CAME FROM THE DARK ROOM.
"But, you did not happen to meet Canto today and brought me any more snail shells from the meadow? Just asking."
IT BELONGED TO EULER. SITTING UPRIGHT ON THE BED, SHE LOOKED AT π FROM ACROSS THE ROOM THAT THEY ALL SHARED.
"I'll visit her tomorrow. Shouldn't you be asleep?"
"Shouldn't you two not fight anymore at night? You both promised me that."
IT WAS TRUE. THEY PROMISED HER TO NOT GET INTO ARGUMENTS ANYMORE. AT BEDTIME ESPECIALLY. BUT THIS PROMISE HAD BEEN BROKEN MANY TIMES ALREADY.
AND πS STOMACH TURNED. AS MUCH AS HE TRULY DESPISED ALEPH FOR THE THINGS HE DID TO HIM, EULER SHOULD NOT BE AFFECTED BY IT IN ANY WAY.
"Sorry, can I make it up to you? I'll bring you as many shells as I can find tomorrow."
"Yes!"
SHE WAS EXCITED. AND π COULD ALMOST FEEL A LAUGH ESCAPING HIS THROAT.
"But I'd still like it if you could stop arguing with Aleph-"
"But he was the one who started it!"
EULER DID NOT REPLY. AS SHE WAS AWARE THAT IT HAD NO USE. NO PLEA OF HERS WOULD EVER MAKE THEM STOP. AND EVEN THOUGH SHE WAS LITTLE, SHE UNDERSTOOD THAT SHE HAD TO LEARN TO LIVE WITH IT. AFTER A PAUSE INSTEAD SHE ASKED.
"Can you come to bed too? I can't sleep when there's no one else here, you know that."
"Yeah alright."
AS HE LAID ONTO THE HAY MATT. WRAPPING HIS BLANKETS AROUND HIM. HE SPOKE.
"Goodnight Euler."
"Goodnight π! Good night Aleph!"
SHE SAID LOUDLY ENOUGH TO BE HEARD THROUGHOUT THEIR ENTIRE SMALL CAVE. BUT THERE WAS NO RESPONSE TO BE HEARD. NOT FROM ALEPH. AS HE SLIPPED DEEP INTO HIS WORK AGAIN.
π TURNED TO THE COLD CAVERN WALL. PRESSING HIS FOREHEAD AGAINST IT. AND HIS BODY BECAME TIRED FROM ALL THE DAYS HAPPENINGS. SO WERE HIS EYELIDS HEAVY FROM THE CRYING. IT DID NOT TAKE LONG FOR SLEEP TO TAKE HIM AT LAST.
Part 3
THE NEXT DAY ARRIVED SOON. AND JUST LIKE HE TOLD EULER, π WOULD GO ON TO VISIT CANTO. WHEN IT WAS STILL EARLY IN THE MORNING, HE WAS ALREADY UP AND WAITING FOR HER. AND HE PLANNED TO STAY THERE FOR THE ENTIRE DAY. AS HE DID NOT WANT TO SEE ALEPH AT ALL.
THE MEADOW BELONGED TO CANTOS FAMILY. FOR MANY GENERATIONS ALREADY, THEY WERE THE SHEPHERDS AND WEAVERS OF THE MOUNTAIN. AS HER MOTHER WOULD SHEAR THE SHEEP EVERY YEAR. AND THEN SHE WOULD SPIN THE WOOL INTO YARN.
HER FATHER WOULD TAKE THE YARN AND WEAVE IT INTO TEXTILES. AND HE WOULD SEW THE PEOPLES CLOTHES. AS MOST OF THE MOUNTAINS CITIZENS WORE THE FABRICS MADE BY THE HANDS OF HER PARENTS.
CANTO ENJOYED HER WORK AS A SHEPHERD. AND SINCE SHE WAS WELL OF AGE, SOON IT WOULD BE HER TURN TO TAKE OVER HER MOTHERS POSITION.
BOTH CANTO AND π KNEW EACH OTHER SINCE THEIR CHILDHOODS. SO DID HIS MOTHER AND HER PARENTS USED TO HAVE A FRIENDLY RELATIONSHIP. AND BECAUSE BOTH FAMILIES TRUSTED ONE ANOTHER, THE MEADOW BECAME ONE OF THE FEW PLACES WHERE IT WAS ALLOWED FOR π TO BE OUTSIDE OF THE MOUNTAIN. ALEPH TOO WOULD CONTINUE TO ALLOW IT. THOUGH ONLY EVER IN CANTOS COMPANY.
AND WHEN CANTO STEPPED OUTSIDE THE CAVERN ENTRANCE, SHE COULD ALREADY MAKE OUT THE SILHOUETTE OF HER FRIEND.
HE WAS IN THE VERY DISTANCE. DOWN IN THE TALL GRASS. MANY OF HER SHEEP GATHERED NEAR HIM WHERE HE LAYED. AS THEY WERE CURIOUS CREATURES. HOWEVER π DID NOT SEEM TO PAY MUCH MIND TO THEM.
CANTO MADE HER WAY DOWN THE SLOPE. AND WHEN SHE WAS THERE, SHE LEANED HER HEAD ABOVE HIS. SHE COULD TELL THAT π DID NOT FEEL WELL. AND SHE ALSO KNEW THAT THE REASON WAS MOST LIKELY ANOTHER ARGUMENT BETWEEN HIM AND HIS BROTHER. AS THESE BECAME MORE AND MORE COMMONPLACE.
"You are up early."
"Hm."
π FELT TIRED. AND HE HAD A HARD TIME FORMING WORDS. HIS MIND WAS STILL FEELING FOGGY FROM THE NIGHT BEFORE.
CANTO UNDERSTOOD THAT ANY ATTEMPT AT CONVERSATIONS NOW WOULD BE SHORT LIVED. SO, SHE DID NOT SPEAK ANYMORE. INSTEAD, SHE LAID DOWN NEXT TO HIM. AND THEY BOTH WATCHED AS THE SKY LIT UP AND THE SUN WAS RISING BEHIND THEM.
WELL INTO THE DAY CANTO BEGAN WORKING ON HER ROUTINE TASKS. WALKING DOWN THE CIRCUMFERENCE OF THE MEADOW. SHE CHECKED THE FENCING FOR ANY BROKEN PARTS. AND WHEN SHE FOUND ONE, SHE WOULD FIX IT WITH THE TOOLS SHE CARRIED ON HER BACK.
WHILE SHE DID THAT, π WOULD OFTEN EXPLORE THE MEADOW. SOMETIMES EVEN SNEAK AROUND THE SMALL PINE TREE PATCHES SURROUNDING THE FENCING.
BUT TODAY HE WAS STILL LAYING IN THE GRASS. LOOKING OVER THE FOREST EXPANSE BELOW HIM.
AS HE WALKED EVERY INCH OF THE MEADOW A THOUSAND TIMES ALREADY. HE COULD NOT FIND ANY JOY IN DOING IT ANYMORE. ESPECIALLY AFTER LAST NIGHT.
WHEN CANTO HAD FINALLY FINISHED HER WORK, THE SKY BEGAN TO DARKEN AGAIN. AS IT WAS USUAL FOR THE SHORT DAYS OF THE LATE WINTER MONTHS. SHE MADE HER WAY OVER TO HIM. AND FOR A MOMENT THEY BOTH LOOKED OVER THE VIEW OF THE FOREST TOGETHER.
IN THE VERY FAR DISTANCE THE GRAND PILLARS STRETCHED FROM THE HEAVENS TO THE EDGE OF THE HORIZON. ONCE WHEN THEY FIRST CAME FROM THE SKY, THEY WERE JUST SKINNY TENDRILS. OVER TIME HOWEVER THEY GREW. THEY HAVE NOT YET FRAMED THE SCENERY FOR MANY YEARS. BUT THEY HAVE BEEN THERE SINCE BOTH CANTO AND π WERE CHILDREN.
AND CLOSER, YET STILL FAR, A LONE BRIGHT FLARE LIT UP ABOVE THE FOREST. A BEAUTIFUL SPECTACLE OF LIGHT. BUT IT WAS RARE TO CATCH ONE IN ACTION. THOUGH, NOT EVEN SUCH A UNIQUE PHENOMENA COULD GRAB πS ATTENTION TODAY. SO, CANTO SPOKE.
"Worse?"
"Oh Canto! It is so much worse! I cannot bear it any longer!"
π WHINED IN RESPONSE. AND CANTO LET OUT A SIGH.
AS SHE AGAIN SAT IN THE GRASS NEXT TO HIM. SHE OFFERED TO SHARE HER BREAD AND TEA. AND π ATE AND DRANK AND IT DID MAKE HIM FEEL JUST SLIGHTLY BETTER.
"He won't let me go on the Water Path. No matter what I do. He banned me from every gate."
"That one journey that everyone is leaving on lately? To be honest I don't even know what the whole deal with it is."
CANTO REPLIED. AND πS HEAD PERKED UP FORM THE GRASS AS HE SPOKE.
"The solution to the crisis in the continent to the very south beyond earths spine. A response to the drought in the Sandstone Caverns that has been going on for many years but worsened in recent months. The Water Path will be a proposed trail that will carry fresh water reserves from villages of the arctic and northern mountains to the ones in need. To prevent a similar fate befalling our people, to the one that befell the villages of the demons… Or something."
π COULD RECITE IT FROM MEMORY. AS IT WAS WRITTEN LIKE THAT ON THE LETTER THAT ALEPH RECEIVED FROM THE CAVERNS OF THE ARCTIC RIDGE ALL THOSE WEEKS AGO. IT WAS THEIR PEOPLE WHO CAME UP WITH THE TRAIL IN THE FIRST PLACE.
"Yeah, I get what it is. I mean I just don't think it will work very well. If I were to join, I would probably spill everything before even leaving the mountain."
SHE LAUGHED.
"Well, I don't really care if it works. It would have been such a good excuse to get into the forest!"
CANTO WOULD ROLL HER EYES AT πS WORDS.
THE FOREST.
HE HAD BEEN PINING FOR IT AS LONG AS SHE COULD REMEMBER. THOUGH SHE NEVER UNDERSTOOD HIS INFATUATION WITH THIS PLACE, SHE KNEW THAT IT MEANT A LOT TO HIM.
"And you really thought Aleph would have let you go."
"I hoped. A little bit."
AND CANTO THOUGHT, AS SHE TOOK ANOTHER BITE FROM HER BREAD.
"If they won't let you pass the gate, why don't you just sneak into the group from the outside?"
"You think I haven't tried?"
π SPOKE.
"Aleph told all the leaders. When they notice me they will just escort me back home."
BUT THEN SUDDENLY π SAT UP. HIS EYES WERE WIDE WITH EXCITEMENT.
A THOUGHT SPRANG UP IN HIS BRAIN. HIS MIND BEGAN RACING. AND HE COULD NOT GET THE WORDS OUT FAST ENOUGH.
"But what if I join them further back? When they are already a couple days into the journey? They would surely not send me back home all the way on my own! And it would not be worth it to force others to track back with me. They would have to take me along! Canto you're a genius!"
"Huh?"
CANTO LOOKED AT HIM. SHE COULD UNDERSTAND WHAT HE SAID, YET SHE WAS SKEPTICAL.
"And how will you get there? Days into the journey?"
π WAS SMILING NOW. AND CANTO HAD NOT SEEN HIM THIS HAPPY IN A LONG WHILE.
"I'll just walk there. I'll take a path around it-"
"All on your own? You are kidding me."
BUT π WAS ALREADY ON HIS FEET. IT SEEMED AS IF HE WAS NOT PAYING ATTENTION TO ANYTHING THAT CANTO SAID ANYMORE. INSTEAD, HE CONTINUED ON.
"Aleph has to have maps of the path. I'll get one of them and just follow the trails! I have most supplies already! I can just pack a little more food and blankets and-"
"And what about him? Aleph? He will not be happy about it."
BUT π DID NOT FEEL WORRIED.
"I'll deal with that when I come back."
AND HE COULD NOT WAIT ANY LONGER. THE IDEA THAT JUST CAME TO LIFE MOMENTS AGO HAD ALREADY OVERTAKEN HIS ENTIRE BRAIN. AND HE KEPT TALKING ABOUT THE WAYS THAT THIS PLAN WOULD WORK. BUT HE SPOKE SO FAST AND WAS SO FAR AWAY, CANTO COULD NOT CATCH A SINGLE WORD.
"You should maybe think it over some more!?"
CANTO CALLED OUT TO HIM. BUT π WAS NOW GONE THROUGH THE CAVERN ENTRANCE.
AND SHE WAS LEFT STANDING ON THE MEADOW ALONE. WITH ONLY HER SHEEP AS COMPANY. AND UNBEKNOWNST TO HER, SHE WOULD NOT SEE π AGAIN FOR A VERY LONG TIME.
OVER THE NEXT DAYS π WOULD GATHER ALL THE SUPPLIES. EVERYTHING HE COULD NEED. AND HIS BAGS SOON GREW HEAVY.
BUT HE THOUGHT IT WAS FOR THE BEST TO OVERPACK RATHER THAN MISS VALUABLE THINGS. SO, HE STORED NOT ONLY FOOD AND WATER BUT ALSO BLANKETS TO REST ON, INSTEAD OF THE COLD AND DAMP FOREST FLOOR.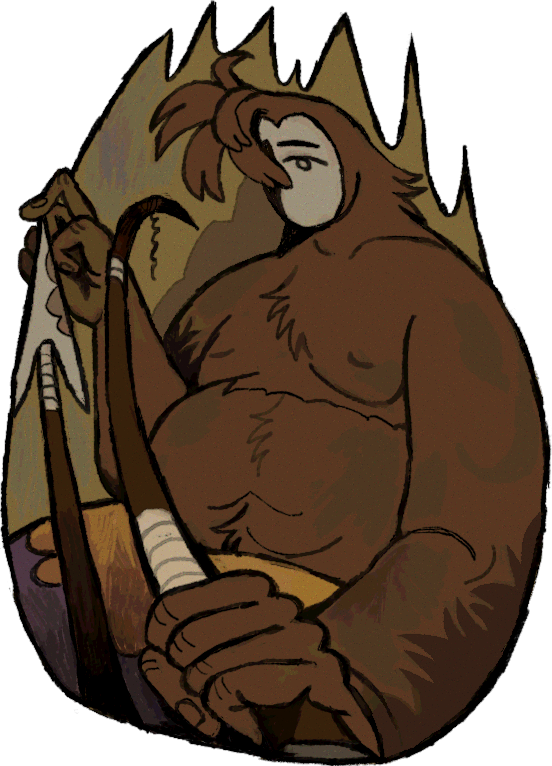 AND HE PACKED HIS OLD BOW AND ARROWS FOR SELF DEFENSE. π ONCE WAS INTERESTED IN ARCHERY BUT HE HAD NOT PRACTICED IT SINCE HE WAS IN HIS ADOLESCENCE. THOUGH IN HIS OPINION IT WAS BEST TO TAKE IT ALONG ANYWAYS.
HE WAS CERTAIN TO AVOID ALEPH AS MUCH AS HE COULD. WHEN THEY HAPPENED TO MEET, THEY DID NOT EXCHANGE MORE THAN A FEW WORDS.
AND HE WOULD GET THE MAP. THOUGH IT TURNED OUT THAT ALEPH ONLY POSSESSED A SINGLE ONE THAT π COULD FIND. AND HE WOULD SURELY NOTICE RIGHT AWAY IF IT WENT MISSING.
SO, IN A MASTERFUL TRAIN OF THOUGHT, HE COPIED THE MAP ON A SPARE PIECE OF PAPER. π WAS NOT GIFTED IN THE ARTS. HOWEVER, IT WAS SUFFICIENT TO MAKE OUT THE PATHS HE WOULD NEED TO TAKE. IN HIS MIND AT LEAST, HE WAS CERTAIN THAT IT WOULD WORK.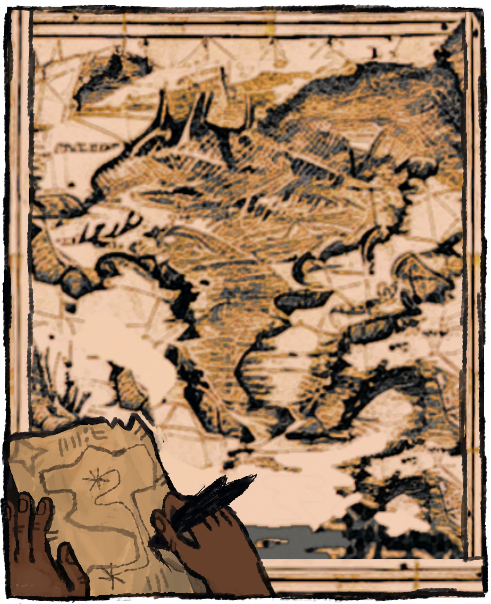 THE PATH HE CHOSE TOOK HIM AROUND THE EAST OF THE MOUNTAIN. THEN HE WOULD ENTER THE FOREST. THERE THE TRAILS WOULD LEAD HIM IN A WESTERN DIRECTION FOR SOME DAYS. EVENTUALLY, HE WOULD GET TO A SMALL RIVER DELTA. A WELL-KNOWN RESTING PLACE FOR TRAVELERS OF THE WATER PATH. THERE HE WERE TO MEET THE GROUP AND TOGETHER THEY WOULD BE ON THEIR WAY.
AND HE COULD IMAGINE EVERY SINGLE STEP HE WOULD TAKE PERFECTLY IN HIS BRAIN. THE EXCITEMENT OVERTOOK HIS BODY. HIS MIND COULD NOT THINK ABOUT ANYTHING ELSE ANYMORE.
THE NIGHT BEFORE HE PLANNED ON LEAVING, HE COULD NOT SLEEP A SINGLE SECOND. AND SINCE HE COULD NOT REST, HE DECIDED HE WOULD JUST GO RIGHT AWAY.
HE HAD TO SPEND SOME NIGHTS IN THE FOREST ANYWAYS. SO, FOR HIM ONE MORE WOULD NOT BE A PROBLEM.
HE GOT DRESSED AND PICKED UP HIS BAGS THAT HE HAD PREPARED. THAT NIGHT ALEPH WAS ATTENDING A CONFERENCE AT THE ARCHIVES. THUS, HE WOULD NOT HAVE TO WORRY ABOUT WAKING HIM. BUT WHEN HE WAS ALMOST OUT OF THE DOOR. HE HEARD HIS NAME BEING SPOKEN QUIETLY.
"π? Where are you going?"
EULER WAS STANDING ACROSS THE ROOM. HE HOPED SHE WOULD STAY ASLEEP. BUT IN REALITY, HE FELT RELIEVED THAT HE COULD TALK TO HER ONE LAST TIME.
"I'm… Going on the Water Path."
"Did Aleph finally allow it!?"
"Yeah, somewhat. I mean, not really… But listen Euler-"
HE WENT OVER TO HER. AND HE GOT DOWN ON HIS KNEES TO BE ON EYE LEVEL WITH HER.
"Don't tell Aleph where I went… At least not for some days, ok? he's just going to be needlessly worried and make a scene, you know. I'll be back soon in a couple of weeks."
SHE LOOKED AT HIM WITH WIDE EYES.
"I will. But only if you promise me to bring snail shells. Ones that I don't have yet. But really promise me. Not like those other promises. Remember when you said you would get me more from Canto? you forgot! You thought I would forget too, right? but I did not, you idiot!"
AND π SMILED.
"I will! I will bring you as many as I can carry! I promise you that."
π TOOK HIS SMALL SIBLING IN HIS ARMS. HUGGING HER VERY TIGHTLY. AND SHE HUGGED HIM BACK.
"Goodbye Euler."
"Goodbye π! Have a nice journey!"
AND WITH THAT HE DISAPPEARED OUT OF THEIR CAVE. AND THEN OUT OF THE MOUNTAIN ON THE EASTERN SIDE. DOWN ROCKY PATHS THAT WERE NOT WALKED BY MANY PEOPLE REGULARLY. BUT THAT WAS THE POINT. AS HE DELIBERATELY CHOOSE OBSCURE PATHS SO TO NOT BE WITNESSED WHILE LEAVING.
DESPITE THAT, HE STILL CROSSED WAYS WITH FEW FARMERS. WHO WERE ALSO AWAKE AT THIS EARLY HOUR.
BUT THE FURTHER HE WALKED DOWN THE SLOPE OF THE MOUNTAIN; LESS BECAME THE NUMBER OF PEOPLE HE WENT PAST. SOON HE WAS TRULY ALL ALONE. AND RIGHT BEFORE THE SUN APPEARED ON THE HORIZON, HE REACHED THE FORESTS EDGE.
AND JUST AS HIS MAP TOLD. THERE WAS A TINY UNKEMPT OPENING LEADING DEEP INTO THE OLD GROWTH. AND HE JUST STOOD THERE FOR A WHILE.
THE SLIGHTEST SPECK OF DOUBT CROSSED HIS MIND. BUT IT WAS FORGOTTEN QUICKLY. HE TOOK A STEP ONTO THE TRAIL. AND ALL AT ONCE, HIS WHOLE BODY FELT AS IF IT WAS PULLED BY AN UNSEEN FORCE.
THERE WAS NO ROOM IN HIS HEAD LEFT FOR DOUBT. AS HIS BRAIN FILLED WITH EXCITEMENT. SO MUCH JOY AND HAPPINESS THAT HE HAD NOT FELT FOR MANY LONG YEARS. AND WITH EACH STEP HE TOOK DEEP BREATHS OF THE COLD MISTY MORNING AIR.
HE KNEW THEN THAT HE COULD NOT GO BACK. NOT EVEN DID HE TURN HIS HEAD ONCE TO CATCH A LAST LOOK AT HIS MOUNTAIN. AS FOR HIM THERE WAS ONLY FORWARD.
π VANISHED INTO THE DARKNESS OF THE BUSH. DESTINED TO NOT RETURN TO THIS PLACE. AS FATE HAD IT, HE WOULD NOT SEE HIS HOME AGAIN FOR A VERY LONG TIME.
FOR LONGER THAN HE COULD HAVE EVER DREAMED OF BEING GONE.